Keyboards
Cooler Master MasterKeys Pro L Keyboard Review: Spectrum Ad Infinitum
A Closer Look at the Cooler Master MasterKeys Pro L Keyboard »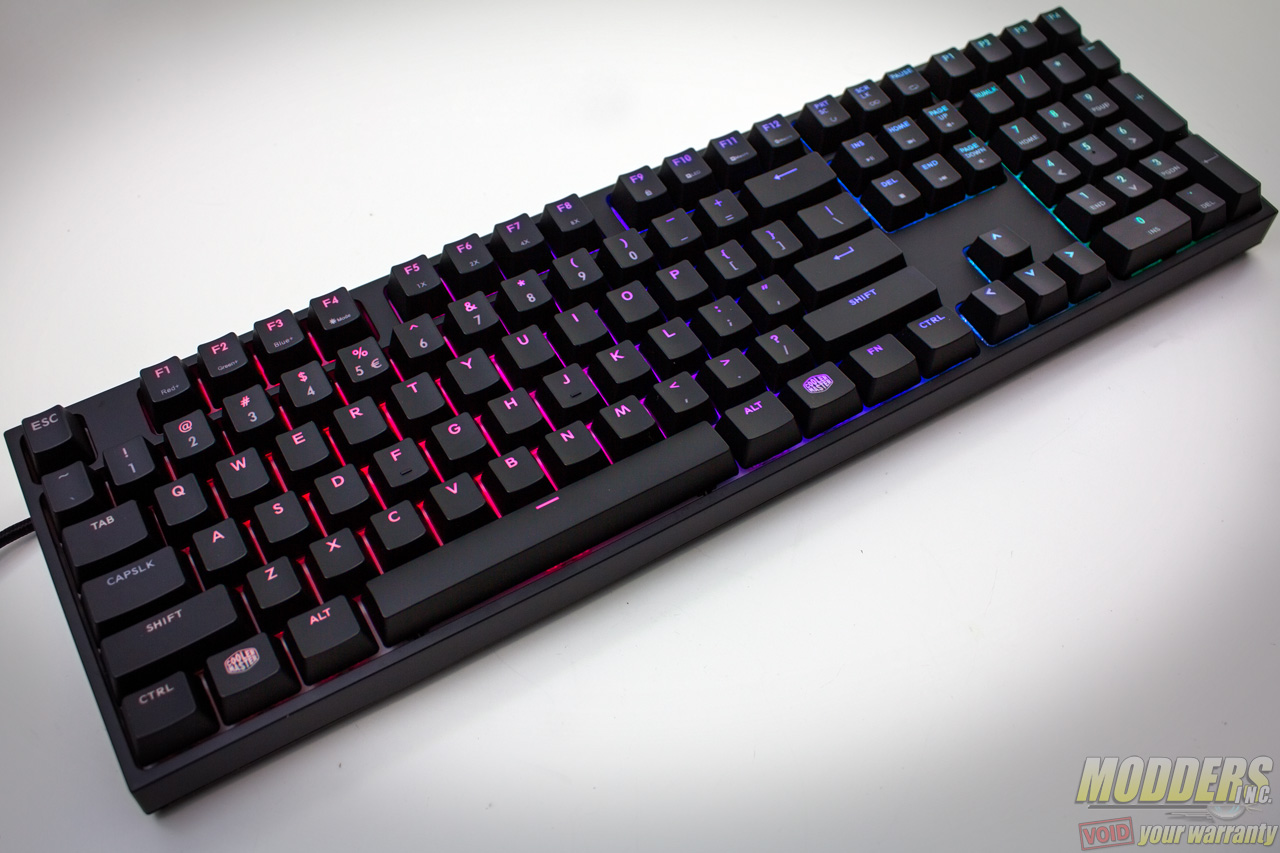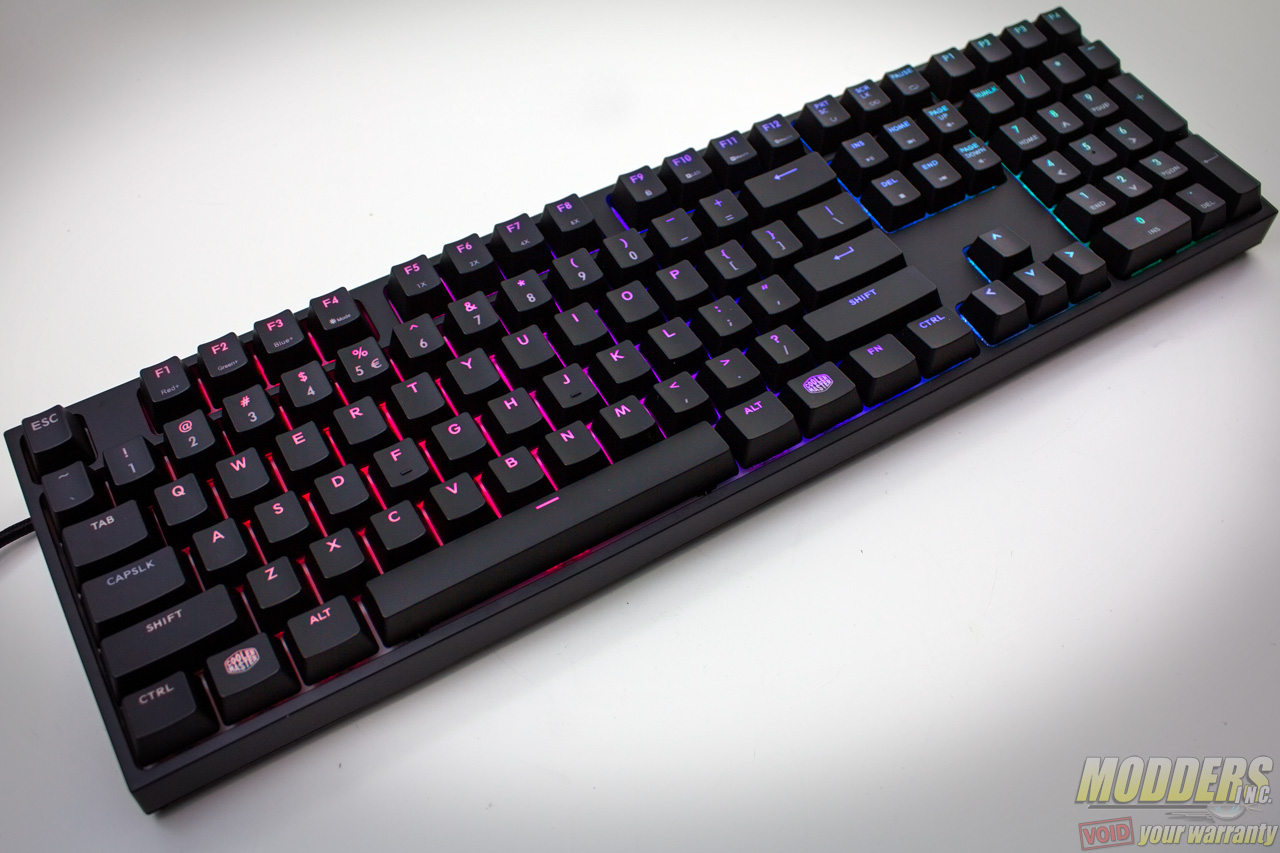 The Cooler Master MasterKeys Pro L is a full-size keyboard that defies convention with its bright Cherry MX RGB LED backlight on a traditional conservative frame. This dichotomy is inherent in the MasterKeys Pro L's design for it is comfortable for both work or play; as a productivity workhorse or as a PC gaming controller. It has NKRO over USB functionality, dedicated live switching profile buttons, live macro recording and offers ten-level per-color channel RGB adjustment via key combos which can extend further to a 16.8M wide color gamut with the MasterKeys Pro L software installed. It is new but it is familiar. It is aesthetically muted but it is colorfully loud. It is flexible but it is precise. It is a master and a servant at the same time.
[sc:sponsor sponsor="Cooler Master" product_link="http://gaming.coolermaster.com/en/products/keyboards/" product_name="MasterKeys Pro L" product_price_link="http://amzn.to/1V5u0aI" product_price="$169.99″ ]
More than a name change from the QuickFire series, the new MasterKeys Pro L also sports new box art styled in the same vein as Cooler Master's current "Make It Yours" crop of products. A full-size view of the MasterKeys Pro in print lets buyers know that this is the "L" full layout version as opposed to the "S" tenkeyless version. Localized layouts are available, indicated with a sticker on the side and the switch type is also printed on the box cover to separate it from the two other switch options.
Inside, the actual keyboard is housed in a protective bag while the accessories are underneath the partition at the top.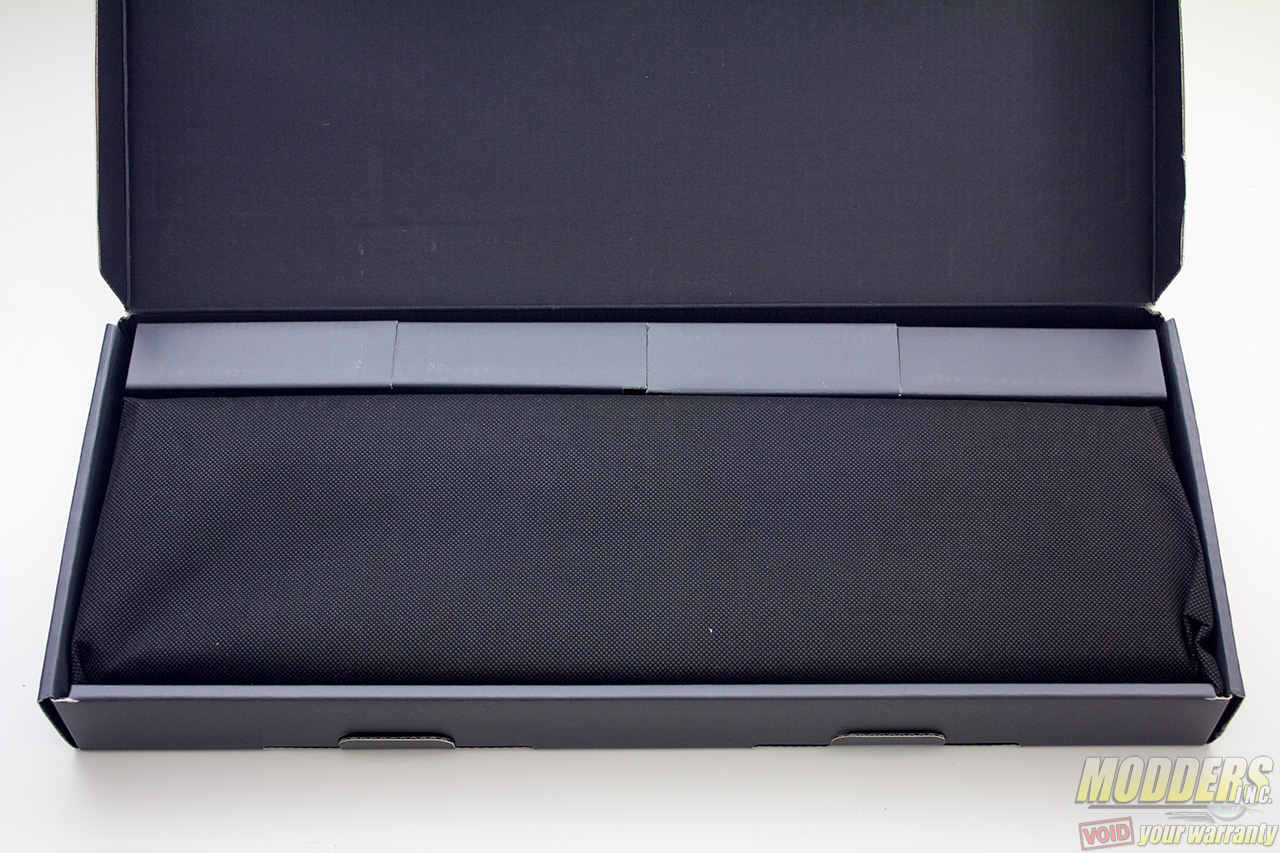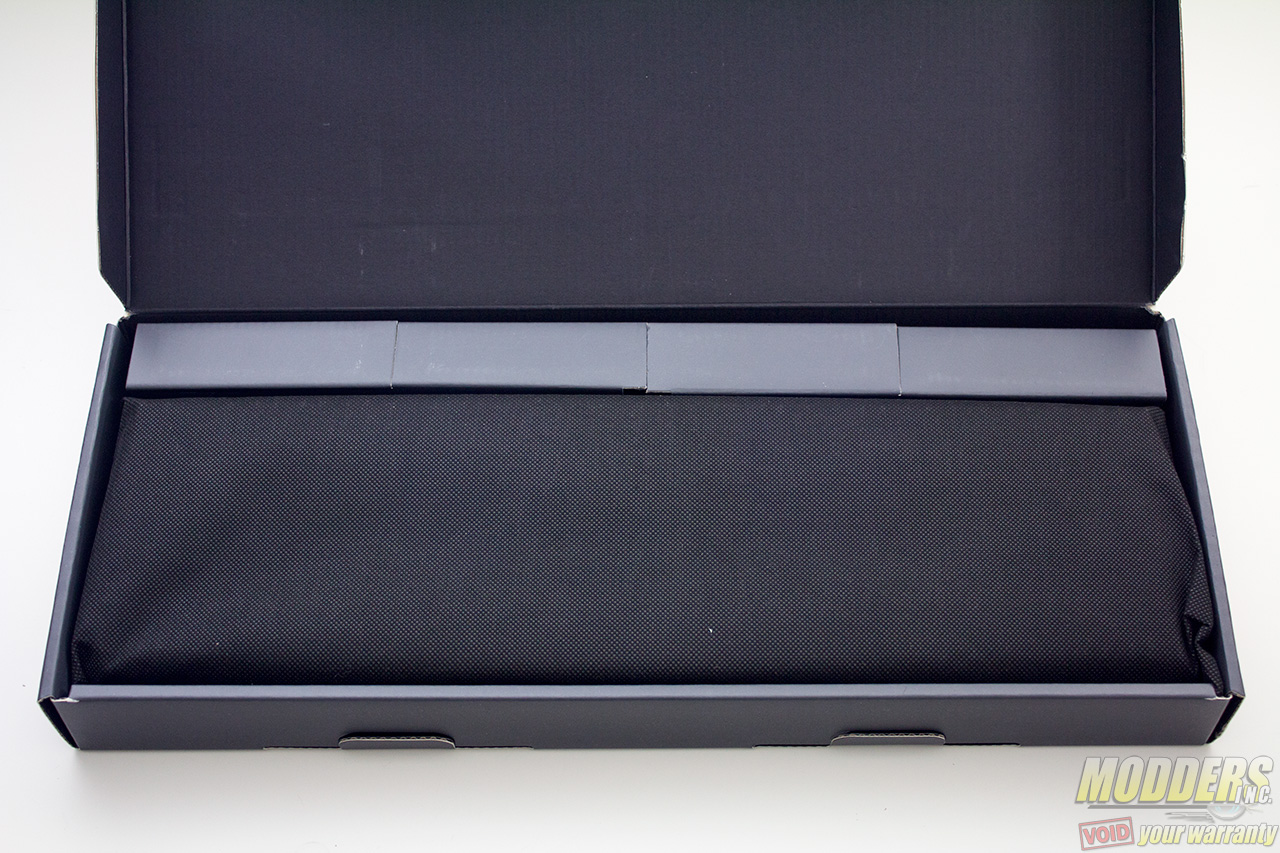 Included is a wire keycap puller, gold-plated USB cable and quick user's guide for getting familiar with the MasterKeys Pro L's various functions. The 1.8m USB cable is sleeved with a micro-USB male connector on the other side.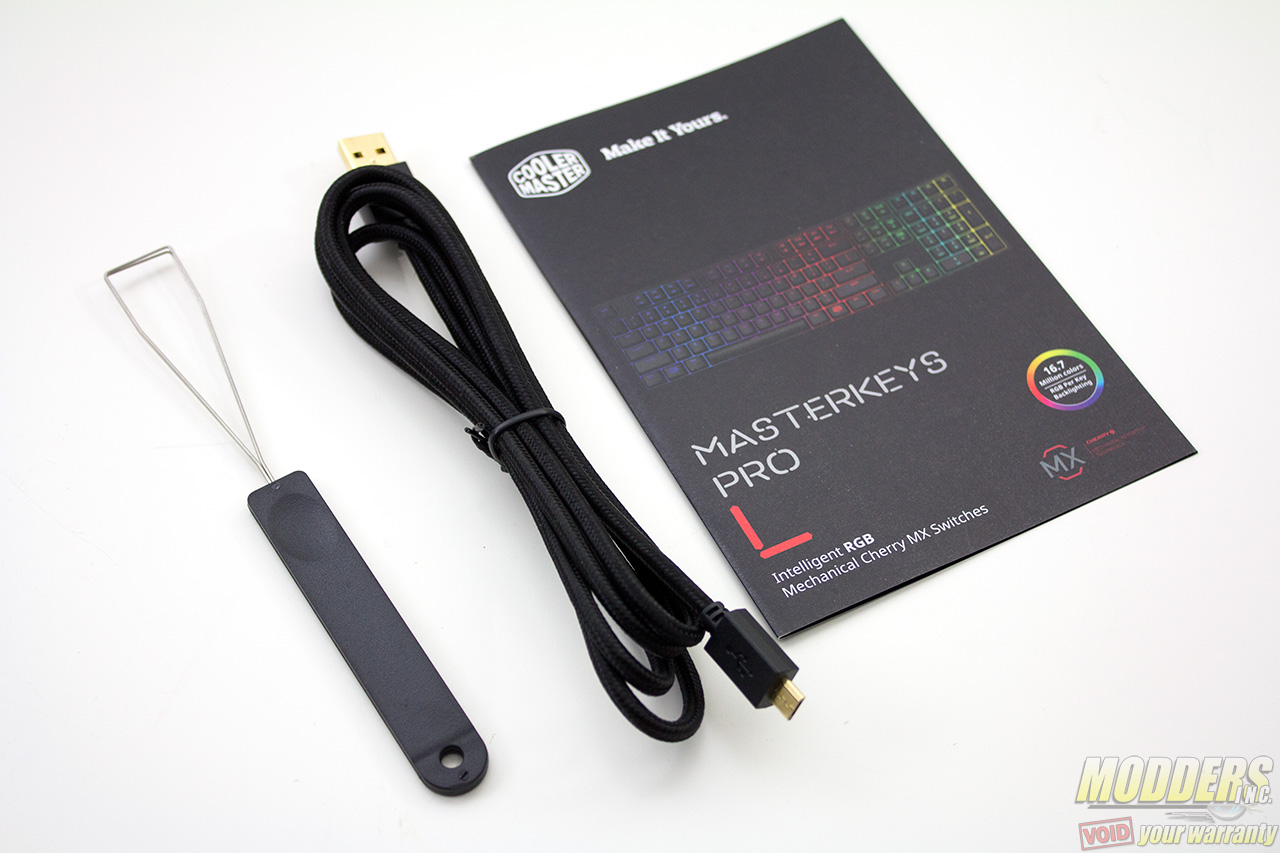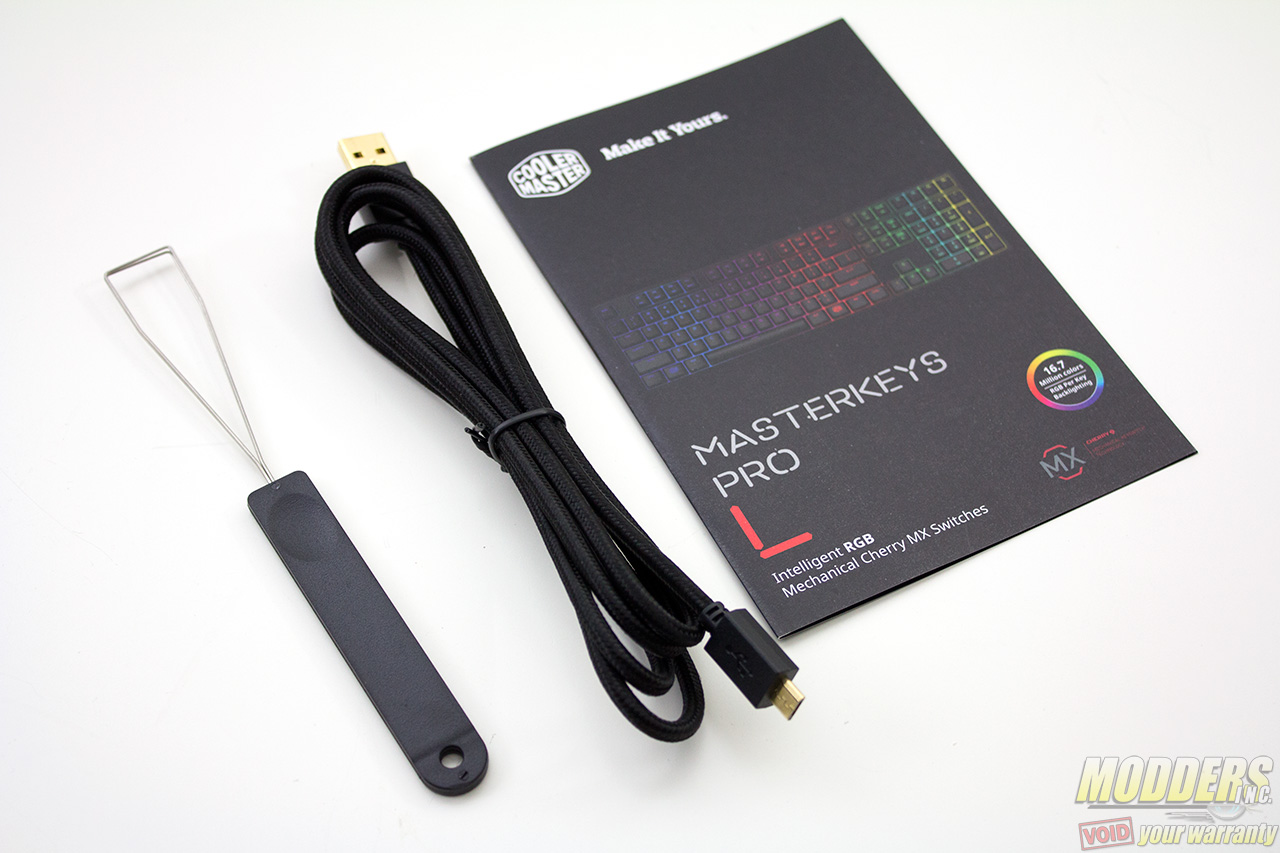 Specifications:
| | |
| --- | --- |
| Key switch | CHERRY SWITCH (Red/Brown/Blue) |
| MCU | ARM Cortex M3 with 72MHz |
| LED | RGB SMT |
| LED Drive | Three LED Drive, 12 PWM per each |
| Response Rate | 1000Hz |
| Repeat Rate | Four levels 1x/2x/4x/8x |
| N-Key and 6-key Rollover | Supported |
| Anti-Ghosting | Full |
| Software | Supported |
| Layout | L – Full key, S – Tenkeyless |