Keyboards
AZIO MGK L80 Mechanical Keyboard Lineup Review
Closer Look at AZIO MGK L80 Keyboard »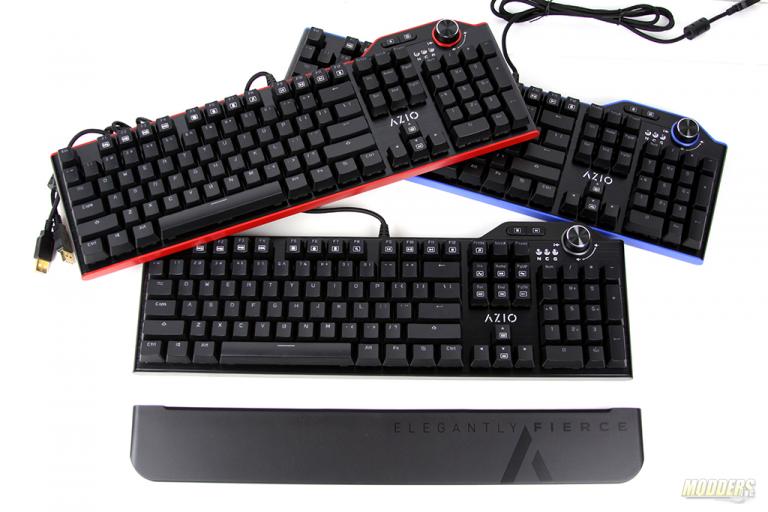 The MGK L80 series is the latest line of gaming keyboards manufactured by AZIO. Available in red, blue or RGB backlighting, the MGK L80 offers mechanical gaming comfort with a choice of either Kailh brown or blue switch mounted on an elegant brushed aluminum surface. The three MGK L80 keyboard otherwise shares similar features with a detachable magnetic wrist rest, analog volume control and more. As with any gaming keyboard, NKRO via USB is expected as well as having the ability to disable the Windows key while gaming.
Review Sample Provided by: AZIO
Product Name: MGK L80 Mechanical Gaming Keyboards
Price at time of review: $ 139.99 USD MSRP (RGB) | $ 99.99 USD MSRP (Blue) | $ 99.99 USD MSRP (Red)
Product was given in exchange for work done to produce this review.
As you can see from the packaging boxes above the design and layout of the information is shared between these keyboards. The description of features and some of the special options of MGK L80 line you can find on the back of the packaging. I really like the open face layout here. Nothing is hidden and features are self-explanatory. While looking over some of the specifications of these keyboards I came to find that there are no software/drivers that need to be loaded. These keyboards are totally plug-n-play.
That could be both good nor bad. On one hand, it is very convenient as its ready to use out of the box, but lack of software means there are no extra options for refined control such as programming back-lighting behaviour or assigning macro.
The internal packaging is the the same across all three MGK L80 keyboards. The actual keyboard itself was wrapped in a protective plastic bag and embedded between two foam C-clamps. The USB cable was nicely tucked away in the top section of the box.
As you might have guessed, there aren't many accessories that came with MGK L80 Keyboards. The only other contents of the packaging were the key puller, a 'thank you' card and a user guide.
Specifications
MGK L80 RGB
| | |
| --- | --- |
| MODEL | MGK-L80-01 |
| INTERFACE | USB |
| SWITCH TYPE | KAILH BROWN |
| BACKLIGHT | RGB |
| N-KEY ROLLOVER | FULL NKRO (WIN) |
| CABLE | 6 FT. BRAIDED |
| OS SUPPORT | WINDOWS XP, VISTA, 7, 8, 10 |
| DIMENSIONS | KEYBOARD / 5.8 x 17.5 x 1.4 IN |
| | PALM REST / 2.5 x 17.5 x 0.5 IN |
| WEIGHT | 2.3 lbs / 1060 g |
| BOX CONTENT | L80 KEYBOARD / KEY PULLER / THANK YOU CARD / USER GUIDE |
| WARRANTY | 3 YEARS LIMITED |
MGK L80 Red & Blue
MODEL
MGK-L80-02
MGK-L80-03
INTERFACE
USB
USB
SWITCH TYPE
KAILH BROWN
KAILH BLUE
BACKLIGHT
RED LED
BLUE LED
N-KEY ROLLOVER
FULL NKRO (WIN)
FULL NKRO (WIN)
CABLE
6 FT. BRAIDED
6 FT. BRAIDED
OS SUPPORT
WINDOWS XP, VISTA, 7, 8, 10
DIMENSIONS
KEYBOARD / 5.8 x 17.5 x 1.4 IN
PALM REST / 2.5 x 17.5 x 0.5 IN
WEIGHT
2.3 lbs / 1060 g
BOX CONTENT
L80 KEYBOARD / KEY PULLER / THANK YOU CARD / USER GUIDE
WARRANTY
3 YEARS LIMITED