Page 2 »
This technological marvel utilizes the latest innovations in cutting-edge technology: 5600 DPI twin laser, rapid fire mode, internal Sentinel-X™ memory and our patented security, Storm Guard™. The Sentinel Advance is designed for one purpose and one purpose only – to search and destroy. Overpower your enemies with speed and precision beyond their imagination. Conquest is at your fingertips – Sentinel Advance.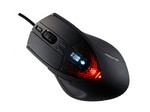 Sponsor: Cooler Master
[hr]
First Impression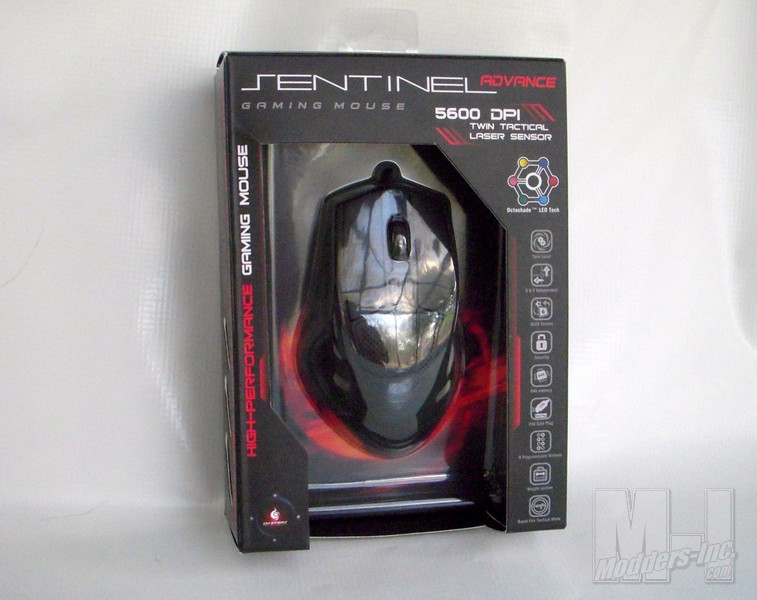 Today I will be looking at the new gaming mouse from Cooler Master. We all know Cooler Master from their great line of Cases for PC as well as CPU coolers and miscellaneous products such as fans and what not. Cooler Master has decided it's time to expand their product line and move into gaming peripherals. The Sentinel Advance Gaming Mouse is the debut product into that arena. The Sentinel has many great features which I'm excited to explore during the review. Two that I'm especially exited about are the built in OLED screen on the mouse as well as the ability to change the lighting colors on the mouse. Before I get to far along with the features lets take a look overall look at how the Sentinel arrived to us.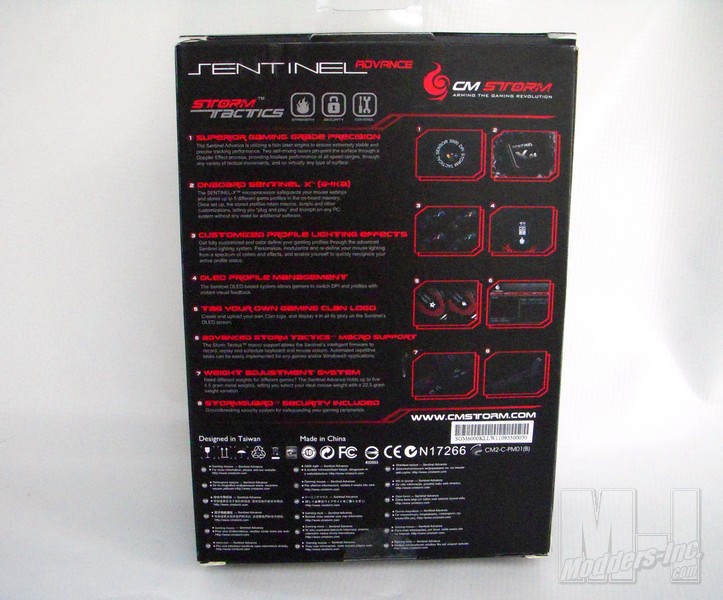 The Sentinel comes well packaged inside a nice black case with red accents. The Mouse itself is clearly seen through the clear plastic formed face of the packaging. On nearly every side of the packaging you will find product features and specifications about the mouse. If you were to see this in a store there is no way you would be confused with what the Sentinel is all about. I have to say I am very impressed with the packaging and just the overall look of the artwork. It's very informative and classy.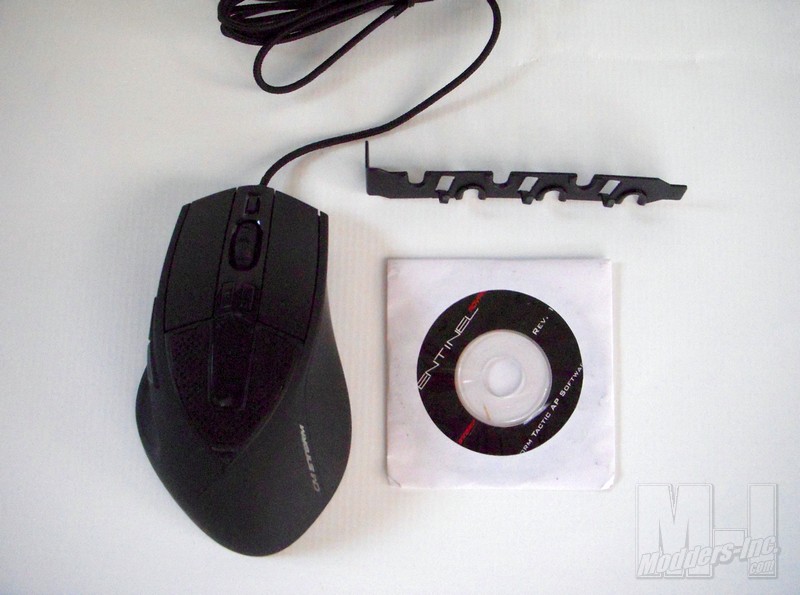 Inside you will find The mouse, a driver CD and a unique anti-theft add on PC slot bracket. This is a fairly standard package aside from the bracket and is to be expected. Lets move onto the closer look section to see what this mouse is all about.
Specifications :
Model:
SGM-6000-KLLW1-GP
Available Color:
Black and Gray
Material:
Rubber Grip / ABS Plastic / Mesh Bezel / Metal Plate
Dimension:
(W) 3.3 X (H) 5.3 X (D) 1.6 inch
(W) 83.5 X (H) 135 X (D) 40 mm
Weight:
161.5 g / 0.356 lb
Sensor:
5600 DPI Storm Tactical™ Twin-laser Sensor
X&Y Axis Configuration:
Independent and programmable
Maximum Tracking Speed:
6.00 m/s 235 IPS
Maximum Acceleration:
50g
Polling Time:
1.0ms
Speed Measurement:
Real-time
Dynamic Surface Adaptation:
Tracks on all surfaces, ensures minimal lift-off distance
Onboard Memory:
64Kb
Form Factor:
Right Hand Ergonomic
Button Assignment:
8
Illumination:
IC controlled Illumination with 7 colors and variable lighting effects
DPI Display:
OLED
Weight System:
Yes, 4.5g X 5 pcs