Following the 700K and 600K mechanical keyboard releases, Cougar's next gaming keyboard offering is of the membrane variety with the 500K. The Cougar 500K looks exactly like the 700K (which we previously reviewed here) with the split spacebar and macro key banks but Cherry MX switches are not under the keycaps but membrane switches. Since this is a gaming peripheral, Cougar has made sure that like the 600K and 700K keyboards, the 500K has N-key rollover functionality and anti-ghosting features as well. More information is available at the official press release below:
COUGAR 500K Gaming Keyboard Changes Forever the Membrane Keyboard Market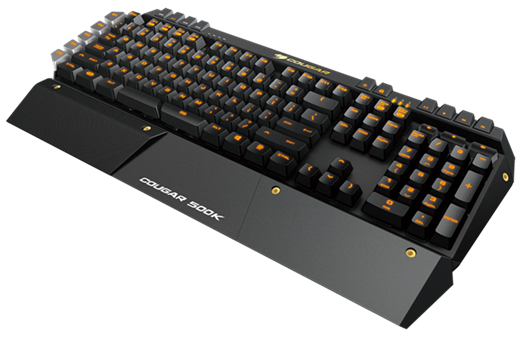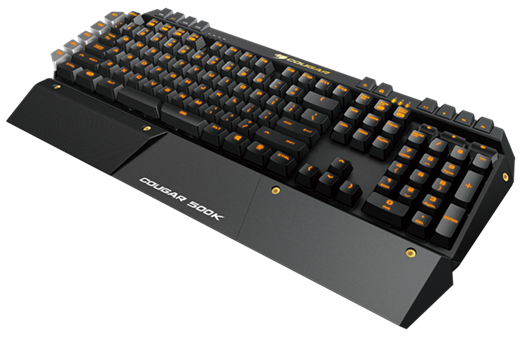 December 2014, Taipei, Taiwan– COUGAR, a leading player in the computer gaming hardware market announces today the release of a breakthrough product: the COUGAR 500K Gaming Keyboard. The 500K is the most recent addition to COUGAR's series of gaming peripherals. Its main target are gamers who either due to habit or due to a wish to minimize hardware cost prefer to use membrane keyboards and at the same time do not want to be in inferiority when playing against mechanical keyboard users. The 500K achieves this by being one of the extremely few real N-Key Rollover membrane keyboards on the market and by including all the pro gamer functions of the acclaimed COUGAR 700K.
When it comes to features and functionality, the 500K is the best membrane keyboard currently available. For a start, being an N-Key Rollover membrane keyboard it outclasses all the non-NKRO keyboards and competes directly with high end mechanical keyboards. Apart from doing away with the precision gap between membrane and mechanical keyboards, the 500K also includes a whole set of premium gaming-oriented features. It sports the same layout as the acclaimed 700K: Apart from the standard keyboard keys, it includes 6 fully customizable G-keys and dedicated keys for macro recording, configuration profile switching (both for itself and for COUGAR Fusion mice), backlight control, Windows key locking and multimedia functions. It also includes a palm rest with a detachable component to increase comfort when playing FPS.
All this functionality can be managed through the COUGAR UIX™ Device Management System. This software, provided for free for all compatible COUGAR products, allows gamers to unleash the full power of their devices: an easy and intuitive configuration of key functions; macro recording, storage, configuration and macro export and import and many other functions.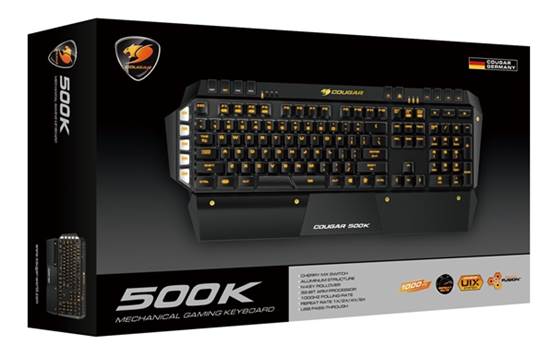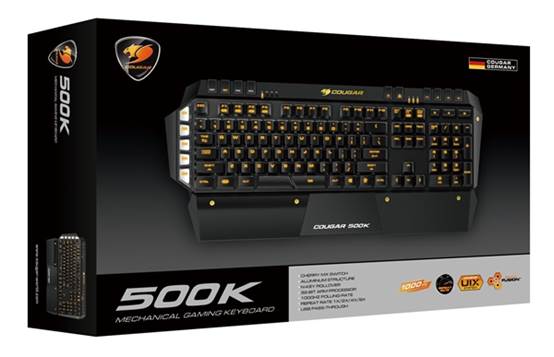 For more information, please visit www.cougar-world.com
About COUGAR
COUGAR products target enthusiast gamers who not only demand state-of-the-art PC chassis and highly efficient power supplies, but also want to enjoy gaming with the best peripherals. COUGAR provides these enthusiasts with cutting-edge high quality gaming products. Founded in 2007 by a group of enthusiasts in Germany who were tired of the boring looks of PC hardware, COUGAR aims to blend passion with innovation. COUGAR products are renowned for the highly stylish concepts and strict quality requirements.