« Building in the V22
Final Thoughts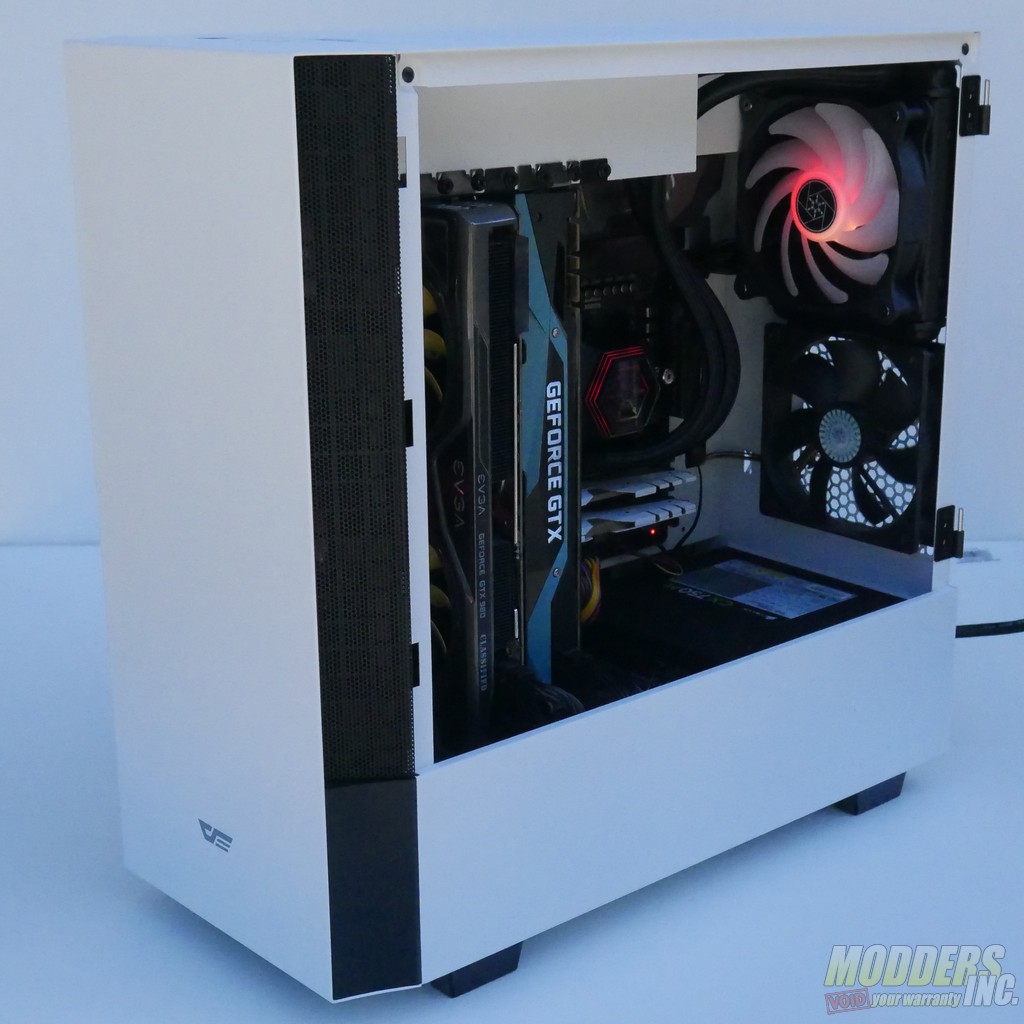 It was clear right from the moment that I opened the box that darkFlash was doing things right.  The packing job was impeccable, the case looked clean and elegant, and all of the panels were properly matched in both color and texture.  While darkFlash still needs to work on their online documentation, but their design work is top notch.  I found myself frequently marveling at design touches like the hinge and magnets panel and dust filter mounting and wondering why they aren't used in more cases.  The magnets eliminate the stiffness of plastic clips, while the hinges eliminate the common issue with magnetic filters sliding around.  It's an elegant solution to a common problem.  And the thoughtful design details don't stop there.  All throughout the case I found little details that showed that darkFlash's designers had taken the time to think through and test every little piece of the case.  Even things that you normally wouldn't think about, like external cable management, are carefully considered and implemented on the V22.  The case even comes with a cleaning cloth and I/O dust covers.  To come back to that text on the front of the box, darkFlash calls the V22 a "Luxury Middle Tower".  After working with this case, it's clear that the V22 is going for luxury the old fashioned way.  Not by packing in gimmicks, and not by trying to do everything at once.  The V22 is luxurious in that it is elegant, refined, and intuitive.  Sometimes, that's the best kind of luxury.
| | |
| --- | --- |
| Pros | Cons |
| The rotated layout makes building in the V22 easy | Not designed for custom water cooling |
| Clever tool-less side panel and front dust filter | Online documentation needs improvement |
| Excellent cable management | The front panel is a little tricky to remove |
| Split side panel hides cables and power supply without compromising ease of building | No internal cable grommets |
| Classy exterior design | Top dust filter could have been magnetic |
| External cable management | Space for 80mm fan at top of case, but no mounting holes |
| Metal and plastic elements have excellent color matching | |
| Drive cage and trays are designed with right angle SATA power connectors in mind | |
| Packaging is superb | |
So who is this case for?  If you are looking for a dedicated water cooling case, the V22 might not be what you need.  While the V22 can comfortably support up to a 240mm radiator and even a full pump/reservoir combo if you are creative, custom water cooling isn't really its forte.  However, if you don't plan to go all out on water cooling, the V22 is definitely worth taking a good look at.  darkFlash has done an excellent job designing this case, and I highly recommend considering it for your next build.  It's an all around well designed case that offers an exceptional build experience and manages to be classy without being boring.  It looks like darkFlash is serious about competing with the best of the best, and I expect that we'll be hearing a lot more about them in the near future.