A Closer Look - Exterior »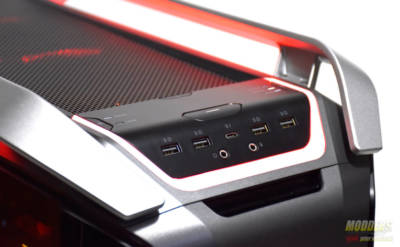 In 2007, Cooler Master unveiled the original Cosmos 1000 full tower case.  At CES 2017, they had the 25th anniversary Cosmos II on display in the Cooler Master suite.  Most recently, they previewed their all new Cosmos C700P at Computex 2017. Well, the wait is finally over. On September 28, 2017 Cooler Master finally released the Cosmos C700P to a great response from the public. The Cosmos C700P has the feel of previous generations, with all the modern features such as USB 3.1 and a tempered glass side panel. Like the most recent generation of Cooler Master cases, the Cosmos C700P supports Cooler Master's FreeForm Modular system. This allows you to essentially strip down the case and rebuild it to your own personal taste, and truly "Make it Yours." So let's see how it is to build in the Cosmos C700P.
Review Sample Provided by: Cooler Master
Product Name: Cosmos C700P
Product was given in exchange for work done to produce this review.
Packaging
Measuring 29.5" x 16" x 29", the box the Cosmos C700P is massive.  The front of the packaging has the Cooler Master "Make It Yours" logo on the top left-hand corner.  The Cosmos C700P branding is printed across the bottom. Just below that is mention of the dual-curved tempered glass panel. Covering most of the front of the box is a depiction of the case itself, showing off the glass side panel view of the case. There is also a fragile sticker to the right, on the top. The front of the box also makes mention of the Cosmos C700P being RGB ready.
The rear of the box also has a depiction of the case. However, this time showing off the rear side panel. On the top is the Cosmos C700P branding to the left and the Cooler Master logo to the right.  Below the product branding is a brief description of the Cosmos and its history. Across the bottom are a list of key features of the case in several languages
The right side of the packaging has a picture of the front of the case. The left side of the packaging has a list of the specifications of the Cosmos.  The top of the box is where you find information like the UPC code, serial and model number. Also, the Cooler Master logo and Cosmos C700P branding are printed on the top as well.
When the box is first opened, you fine the accessory box set in hard foam. This box contains things like screw, standoffs, zip ties and brackets for the 5.25" bays. After removing the foam, we next find the user guide, placed on top the Cosmos C700P wrapped in plastic. The front and rear side panels are taped closed to prevent possible damage. The tempered glass side panel has a small fragile sticker on the bottom right corner.
Specifications
Product Name
COSMOS C700P
Model Number
MCC-C700P-MG5N-S00
Available Color
Gun Metal / Black
Materials
Outlook
Aluminum, Steel, Plastic
Body
Steel
Side Panel
Tempered Glass, Steel
Dimensions (LxWxH)
639 x 306 x 651mm
Weight
26.2 kg
Motherboard Support
Mini-ITX, Micro-ATX, ATX, E-ATX (Support 12″ x 11″)
Expansion Slots
8
Drive Bays
5.25″
1
2.5″/3.5″ HDD
2
2.5″ SSD
2
Drive Bays support
5.25″
2
2.5″/3.5″ HDD
8 or 9 (with ODD bay removed)
2.5″ SSD
2
I/O Port
USB 3.1 Gen 2 Type C x 1,
USB 3.0 x 4,
Fan Speed & RGB control buttons,
Audio In / Out (supports HD Audio)
Pre-installed Fans
Front
140mm fan x 2, 1200RPM
Rear
140mm fan x 1, 1200RPM
Fan Support
Top
120/140mm fan x 3
Bottom*
120/140mm fan x 2
Front
120/140mm fan x 3
Rear
120/140mm fan x 1
Liquid Cooling Support
Top
120mm, 140mm, 240mm, 280mm, 360mm (requires removal of ODD cage)
Bottom*
120mm, 140mm, 240mm
Front
120mm, 140mm 240mm, 280mm, 360mm, 420mm (requires removal of ODD cage)
Rear
120mm, 140mm
Clearances
CPU Cooler
198mm
GPU
490mm (without 3.5″ HDD cage)
320mm (with 3.5″ HDD cage)
Power Supply Support
Bottom Mount,
ATX PS2
Lighting Support
RGB Control Board x 1 (Cycle, Static, M/B modes) to embedded lightings One RGB connection available
EAN Code
4719512063712
UPC Code
884102036392
Note
* Required additional cooling bracket