Page 2 »
Cooler Master has chiseled it's name in stone in not only the CPU cooling market, but in the chassis department as well. With such venerable cases as the CM 690, the Cosmos and the Stacker, it is no surprise that their latest line of high flow chassis, the HAF (High Air Flow)series has become one of the most desired cases among computer enthusiasts. First to come was the full tower HAF 932, which was followed by the mid tower version the HAF 922, both turning out to be top notch gaming cases, but it isn't stopping there. This week we have the privilege of taking a look at Cooler Master's new flagship, the Cooler Master model RC-942-KKN1, better known as the HAF X.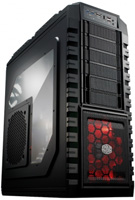 Sponsor: Cooler Master
[hr]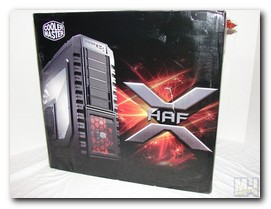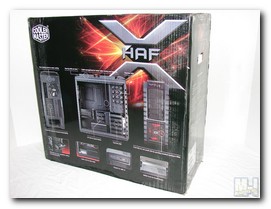 The Cooler Master HAF X arrived in it's retail box, which was in good shape. The box has a rather glossy finish and sports a nice huge image of the HAF X on the front. On the rear of the box we find several images of the case at different angles, as well as a few shots of several distinct features of the chassis. Then of course is the familiar Cooler Master logo and the HAF X's new big bold logo, which I must say I find very appealing.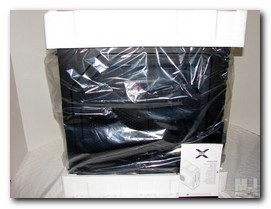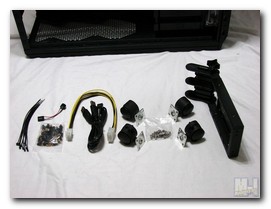 Inside the box the HAF X is covered in plastic and the top and bottom are encased in thick styrofoam for protection. You will also find a user manual with installation guide just inside the box. Inside the case is a brown card board box, which contains the case accessories. These accessories include; installation hardware (screws and stand-offs) wheels (two with a break), cable ties, a case speaker, 8-pin power cable extension, VGA bracket and a special cable used to convert USB 3.0 to USB 2.0.
Specifications:
Color
Black
 
Material
Steel + Plastic
 
Dimension (W / H / D)
230 x 599 x 550 mm / 9.1 x 23.6 x 21.7 inch
 
Weight
Net Weight:14.35 kg / 31.6 lbs ; Gross Weight:16.08 kg / 35.5 lbs
 
M/B Type
M-ATX / ATX / E-ATX / GIGABYTE XL-ATX
 
5.25″ Drive Bay
6 (2 converted SATA HDD drive bay available)
 
3.5″ Drive Bay
5 Hidden
(2 in 1 2.5″ and 1.8″ SSD drive support)
 
2.5″/3.5″- SATA HDD Drive Bay
2 (converted from 5.25" drive bays)
 
I/O Panel
USB 3.0 x 2,USB 2.0 x 2, IEEE 1394a x 1, e-SATA x 1, Audio x 1, Mic x 1,
 
Expansion Slots
9
 
Cooling System
Front:230 x 30 mm red LED fan on/off x 1
Top:200 x 30mm fans x 2 (one optional)
Side:200 x 30mm fan x 1
Rear:140 x 25mm fan x 1
VGA Fan Duct:120 x 25 mm or 120 x 38 mm fan x 1(optional)
VGA Holder:80 x 15 mm fan x 1(optional)
 
Power Supply
Bottom / Standard ATX PS2(optional)
Features:
SATA Dock for easy installation without the need of removing side panel
USB 3.0 on front I/O panel
Air duct to cool the latest graphic cards
Up to 1 x 230 mm red LED fan and 3 x 200 mm fans
9 slots support triple VGA cards
Adjustable VGA card holder to support heavier GPU cards
Power supply partition to conceal cables
Advanced cable management with rubber grommets
Spacious interior for larger component parts
Rugged black coated interior