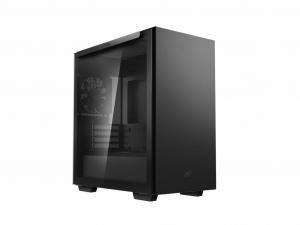 Bigger is better right? Well not all the time and it depends on your needs. What if you want all the features of a larger case but it needs to be much smaller. Then you might want to take a look at the DeepCool Macube 110. The Macube 110 is the smallest version of the Macube series of cases but has plenty of features. One nice touch is that there is a built-in and adjustable GPU support bracket.
We HIGHLY suggest that you watch the video as there is much more helpful and useful information about the DeepCool Macube 110.
Closer Look at the DEEPCOOL MACUBE 110 MICRO ITX CASE
The right side of the DeepCool Macubw 110 features a tempered glass panel that is slightly dark tinted as to not totally hide your hardware when the lighting is off. The tempered panel uses an "over the edge" lower bracket and magnets at the top to keep the panel securely in place. This is a much better option than the usage of thumbscrews.
The image above makes the DeepCool Macube 110 look larger than it really is. As we can see with the displayed dimensions below you are getting a smaller case and if you compare it to the Macube 310 at 424.6mm×494.6mm(L×W×H) you can see just how much.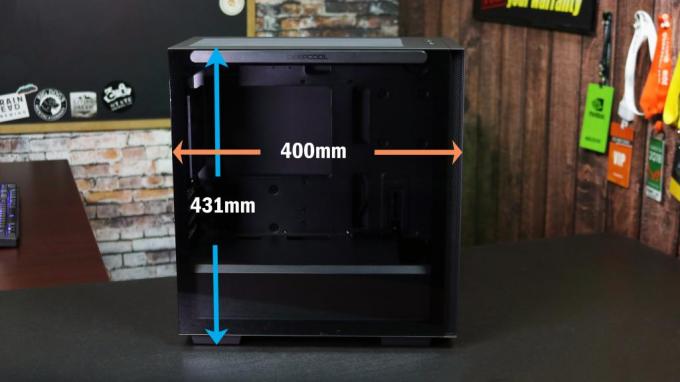 With the left side panel taken off, we get a good look inside. A clean and useful interior makes it easy to install your hardware. There is not a bunch of stuff in the way and nothing you need to remove to allow for more clearance. The back panel and lower covers have pass-through holes to make routing and connecting your wire easy. There are no rubber pass-through grommets, but having them in a smaller case would affect the airflow inside.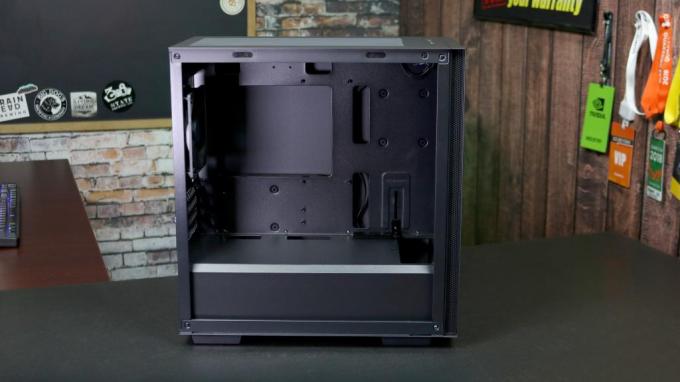 The right side of the case is a steel panel with two thumbscrews that hold it into place. Slightly pulling the panel towards the back releases it enough to allow for easy removal.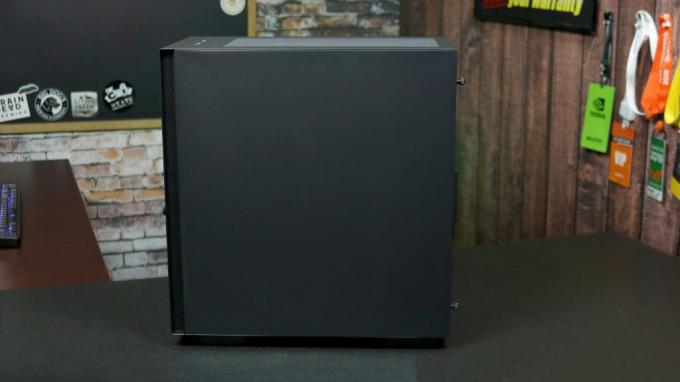 With the panel removed we get a look at a few things. Right away you notice the large opening behind the motherboard mounting area. This serves a few purposes such as making it easier to swap out any cooling solutions you have or an upgrade. Secondly, this allows for a good amount of airflow to keep the motherboard/processor area cool. We also get to see that there are a few places to mount your SSD's and HDD's. The SSD' can be mounted below the motherboard opening and just to the left of it. There is also a small storage cage that can hold either SSD' or 2 x HDD's.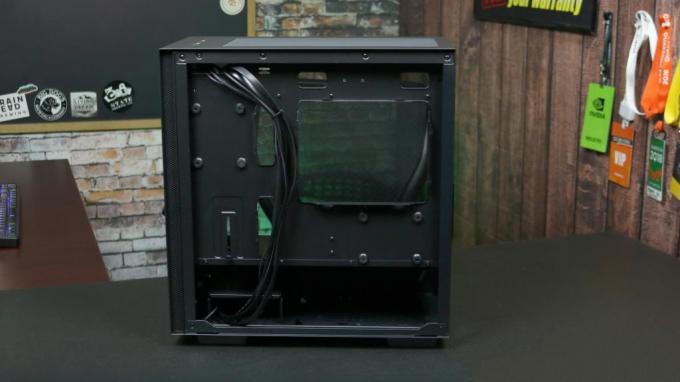 The Macube 110 maybe be smaller in size but its width is about the same as an ATX case. This is caused by the fact that a standard ATX power supply can be used. So no need to buy an SFX power supply.
Four slots are given for those thicker GPU's or add-on cards you might be using.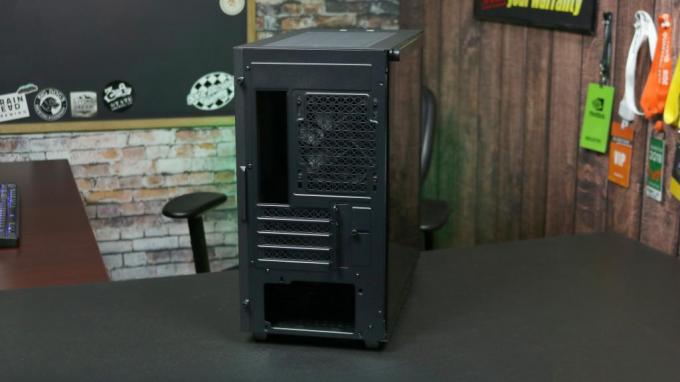 The front of the case features a steel panel and no punch-outs for drive bays. Those days are pretty much all but gone now. Along both edges of the front panel, we have about a .50 inch air intake and at the bottom, you get a hand hole to use for removing the front panel.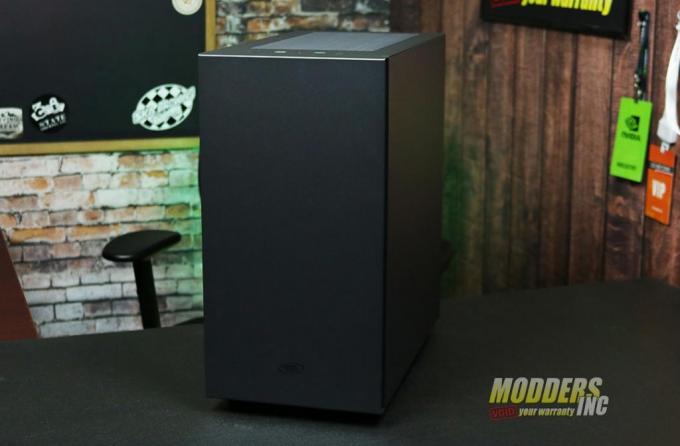 With the front panel off you can see that there is pretty wide open space and that you can mount multiple fans and up to a 280mm radiator.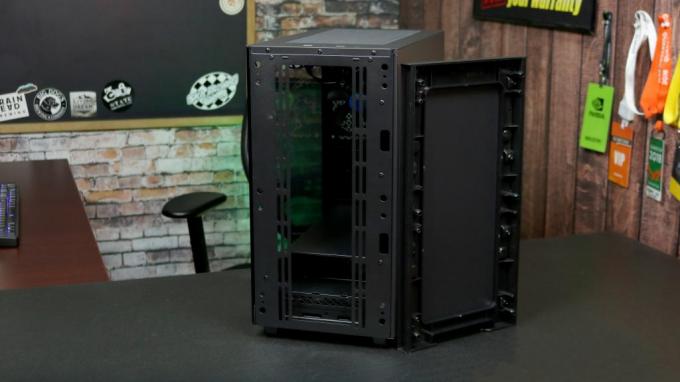 The top of the case features a magnetic filter screen and has the same abilities as the front panel as you can install multiple fans and up to a 280mm radiator. There are the standard power, reset, USB, and audio connections at the front of the top.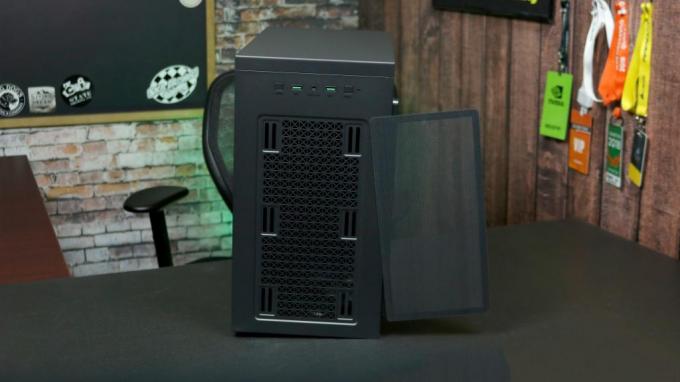 Large plastic feet that are about 1 inch in height elevate the Macube 110 of the floor for plenty of airflow. A non-magnetic screen is provided and covers the inlet of the power supply. From here we can also see where the small hard drive case is mounted and can be moved to a second location.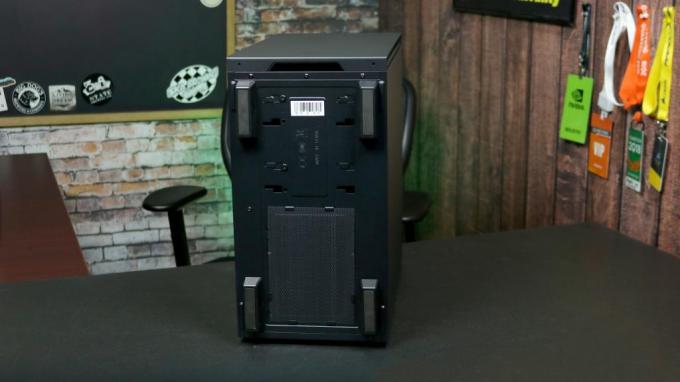 Technical Spec
| | |
| --- | --- |
| Product Dimensions | 400mm×225mm×431mm(L×W×H) |
| Carton Dimensions | 470mm×288mm×470mm(L×W×H) |
| Net Weight | 6.2KG |
| Gross weight | 7.3KG |
| Colors | Black |
| Materials | ABS+SPCC+Tempered Glass |
| 3.5″ Drive Bays | 2 |
| 2.5″ Drive Bays | 2 |
| External 3.5" Drive Bays | 0 |
| 5.25″ Drive Bays | 0 |
| Power Supply Type | ATX PS2 (maximum length: 160mm) |
| I/O Ports | USB3.0×2、Audio×1 |
| Expansion Slots | 4 Slots |
| Cooling Fans Compatibility | Pre-installed: Rear: 1×120mm DC fan; Optional: Front: 120mm×3/140mm×2, Top: 120mm×2/140mm×2 |
| Liquid Cooler Compatibility | Front: 120/140/240/280; TOP: 120/140/240/280 Rear: 120; |
| CPU Cooler Height Limit | 165mm |
| VGA Length Limit | 320mm |
| Cable Management | 20mm clearance |
| EAN Code | 6933412714385 |
| PN Code | R-MACUBE110-BKNGM1N-G-1 |
Final Thoughts
If you are looking to downsize what you have now or are planning to build a new daily work system then I would say that you would be on the right track with the DeepCool Macube 110. It has the feature you need and not all the extras you don't. At the $50 USD price point (at the time of this review) the quality, style, and features are right on point. The lack of a fully screened front panel will probably scare off those that go by what others say in groups online, but there is a good amount of airflow through-out the case to keep all the hardware cool.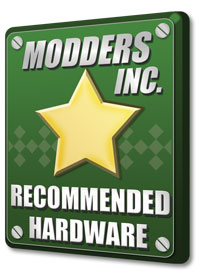 We HIGHLY suggest that you watch the video as there is much more helpful and useful information about the DeepCool Macube 110.