A Closer look at the Silverstone ML08 »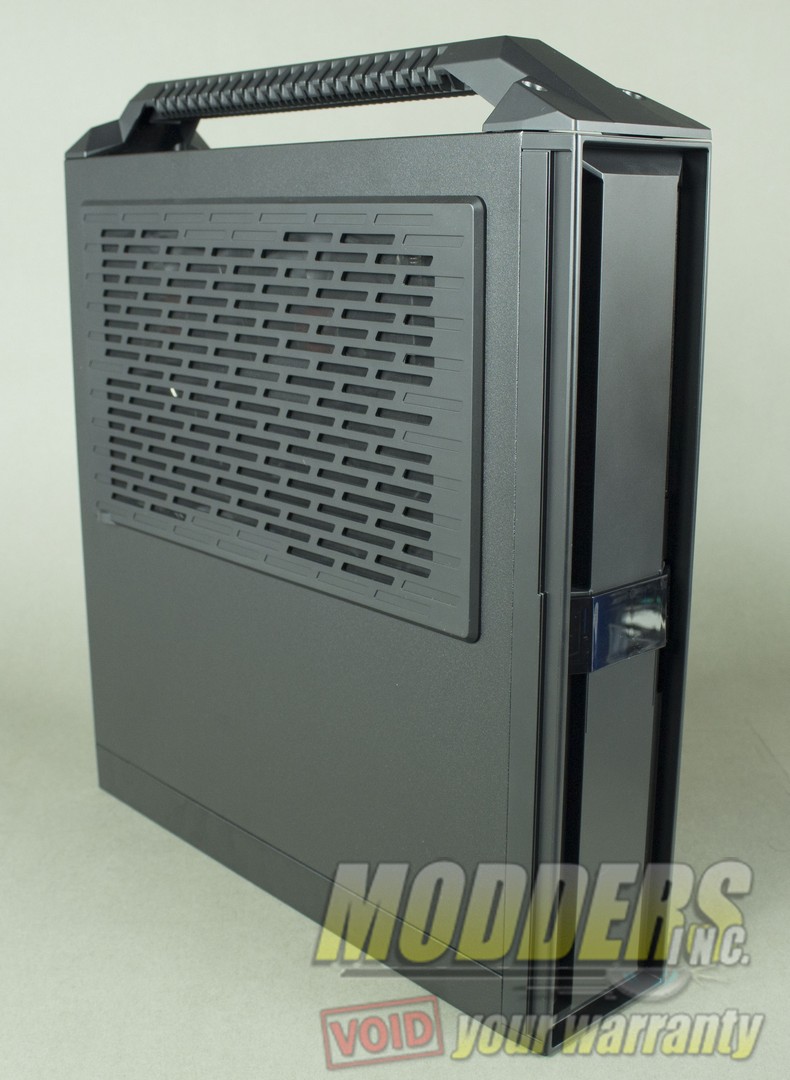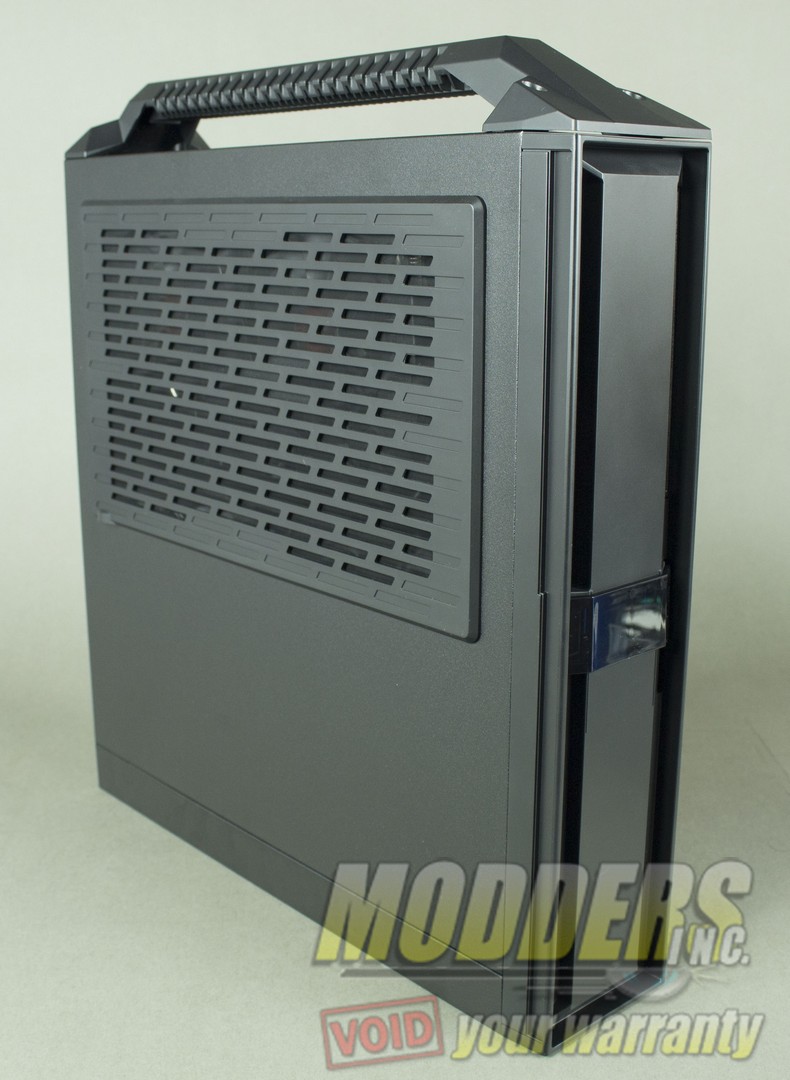 "Does this SFF system make my desk look fat?"
The ITX form factor, once the redheaded step child of the motherboard has become a crowd favorite. This could be for many reasons, the growth of popularity with LAN parties, users realizing they do not need massive towers to house their single GPU configs or simply they love the compact style. Silverstone has become a staple and in many ways the template for other companies when designing their own SFF style chassis.
Silverstone was one of the first manufacturers to embrace the SFF form factor with their SUGO 01 chassis. Since then, they have continued to grow and push the form factor with the SUGO, Raven, Fortress and the star of this review: the Milo series. The Milo series takes a different approach than Silverstone's previous ITX systems and uses a home theater style frame. Their latest of which is the ML08 which comes in three additional variants from the regular version which are equipped with an optional carrying handle and/or a side-panel window.
A majority of Silverstone's budget friendly chassis, come in this plain cardboard box style with printed black text format. This is done to keep the cost of the end product down and pass the savings onto the customer.
On the packing we have an isometric style drawing, and the specifications of the chassis.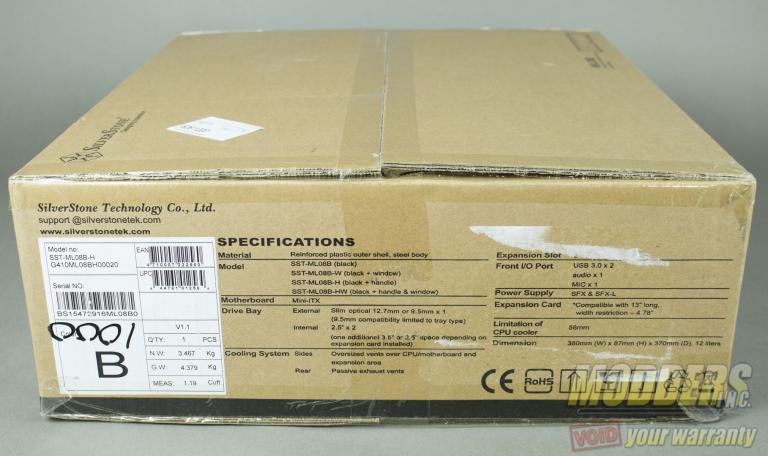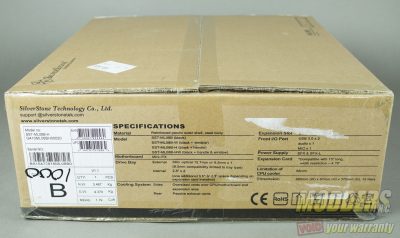 Silverstone uses rigid Styrofoam to hold not only the case but the handle as well.  Personally I prefer to see foam over Styrofoam, as the rigidity of Styrofoam can transfer to the chassis. This can result in dents and/or scuffs to the chassis.
To combat the risk of scuffing, Silverstone places the ML08 in a soft breathable, almost felt-like material. Only the case comes wrapped in the soft material, the handle is only protected by the rigid Styrofoam. With this said, the handle when not mounted to the case does have some give to it. One of the other things I do not like about using Styrofoam over foam is it never fails that the case builds up static and must be discharged.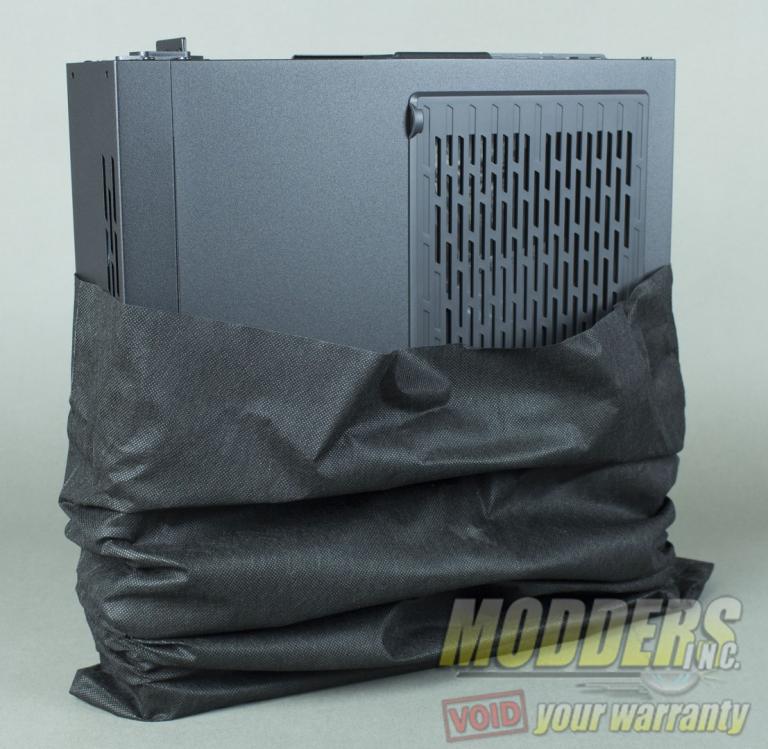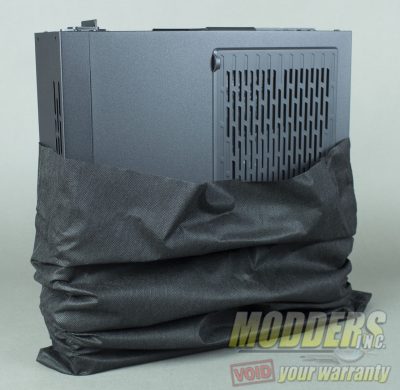 The felt material did a very good job of keeping the case safe in transit, as can be seen in the photos I have not installed the handle yet. The handle is actually the last part of the case to be installed since it locks the top panel in place to the internal frame.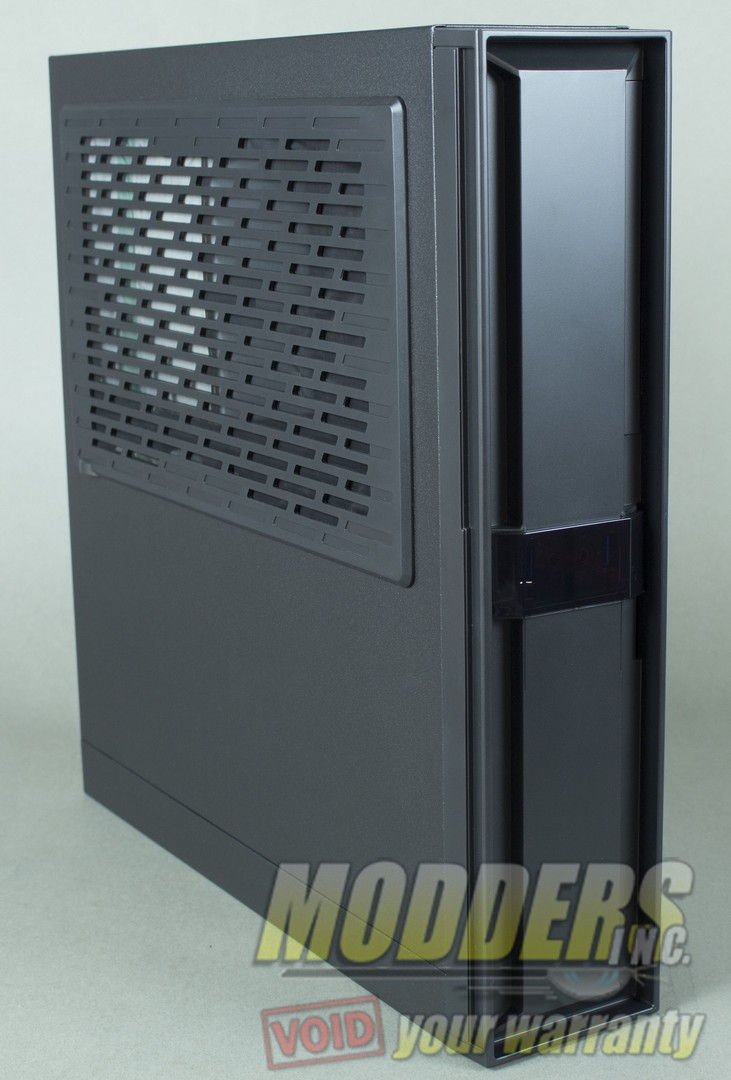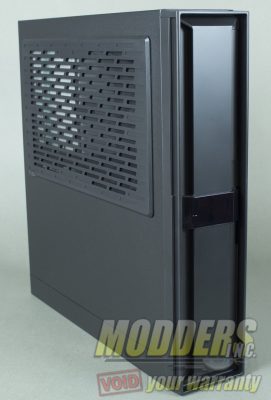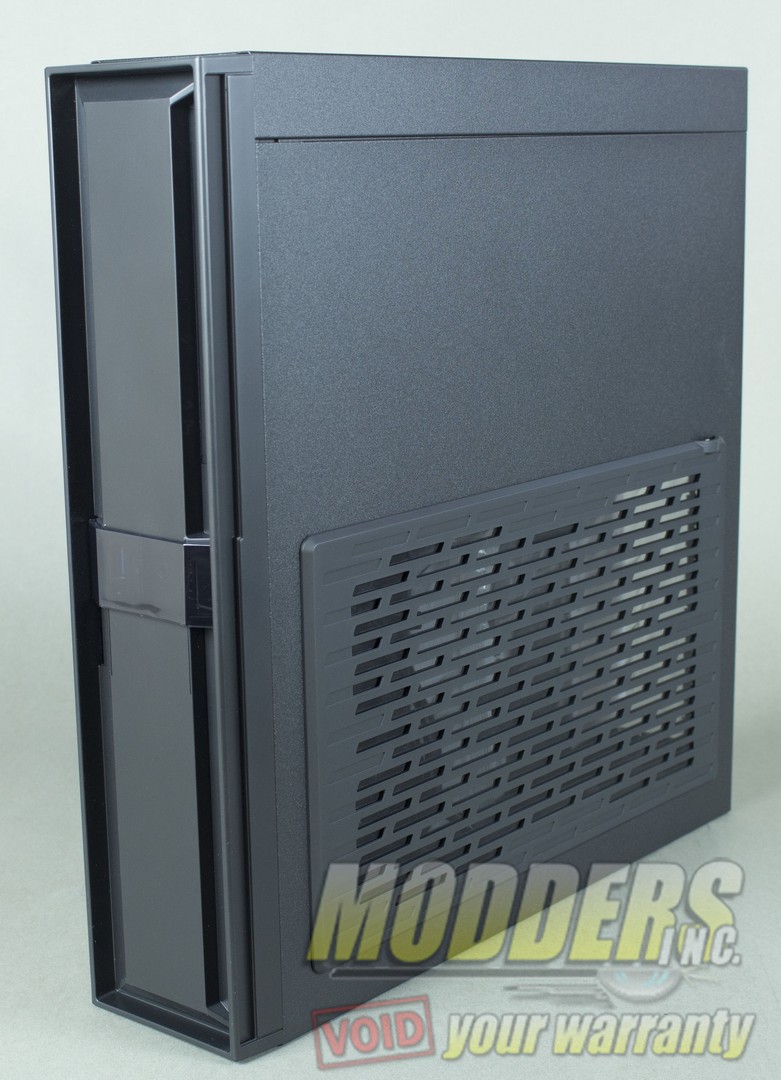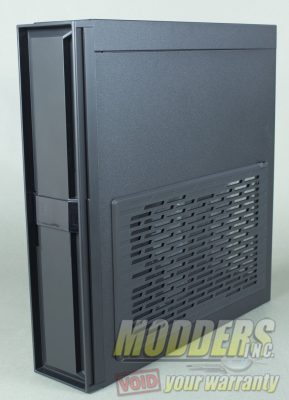 Inside the case we can find a box containing all the accessories for the case and zip-lock bag with instructions for the case.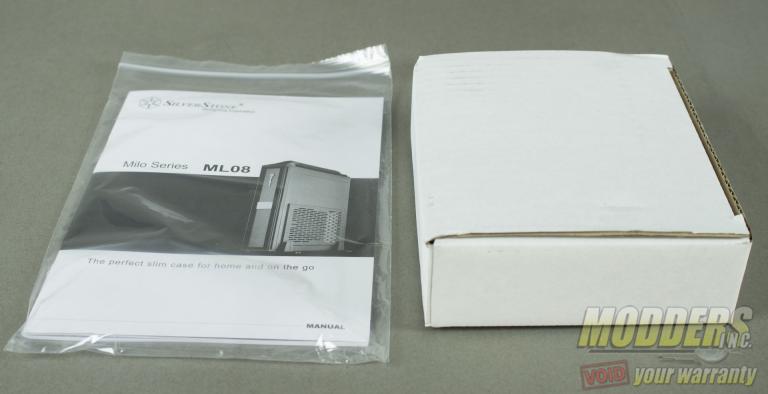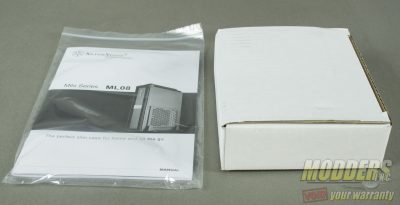 Inside the accessory box we can find rubber feet, two PCIe riser cards, zip ties, screws, adjustable plastic stands, PSU retention bracket, adjustable PCIe brace and Silverstone case badge.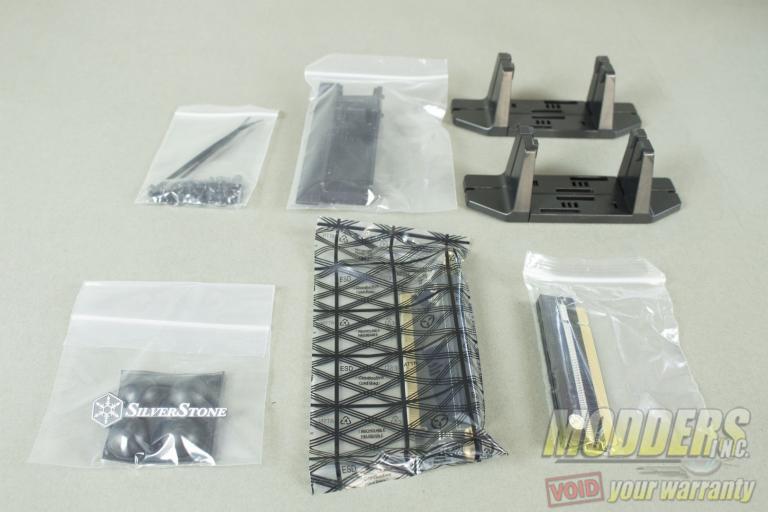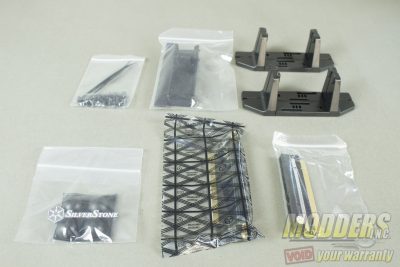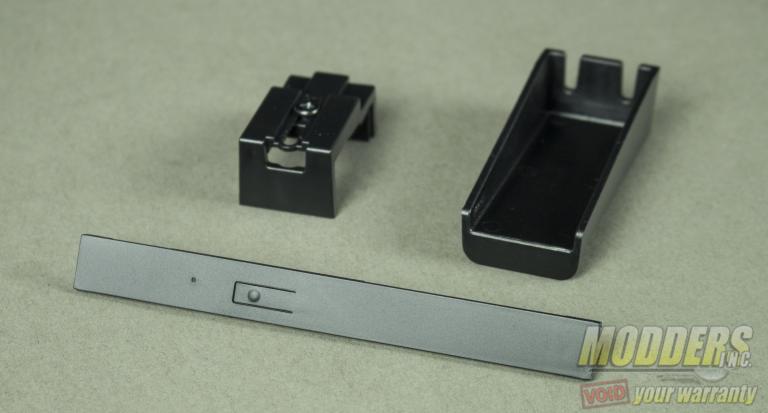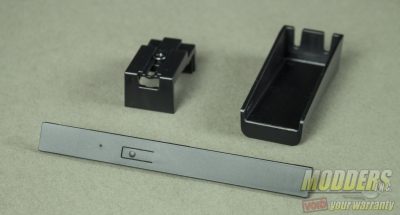 Model Number
SST-ML08B (black)
SST-ML08B-W (black + window)
SST-ML08B-H (black + handle)*
SST-ML08B-HW (black + handle & window)*sample in this review
Material
Reinforced plastic outer shell, Steel body
Motherboard
Mini-ITX
Drive Bay
External-1x Slim optical 12.7mm or 9.5

Internal-2x 2.5″ or an additional 3.5″/2.5″ drive depending on length of expansion card installed.

Cooling System
Rear:Passive exhaust vents

Side: Over sized vents over CPU/motherboard and GPU area.

Front I/O
2x USB 3.0

1x audio

1x mic

Power Supply
SFX & SFX-L
Max GPU length
Up to 13″ long (330mm) and 4.78″ (121mm)
Max CPU cooler length
58mm
Net Weight
3.2kg, with handle 3.5kg
Dimensions
380mm (W) x 87mm (H) x 370mm (D)