Closer Look and Assembly »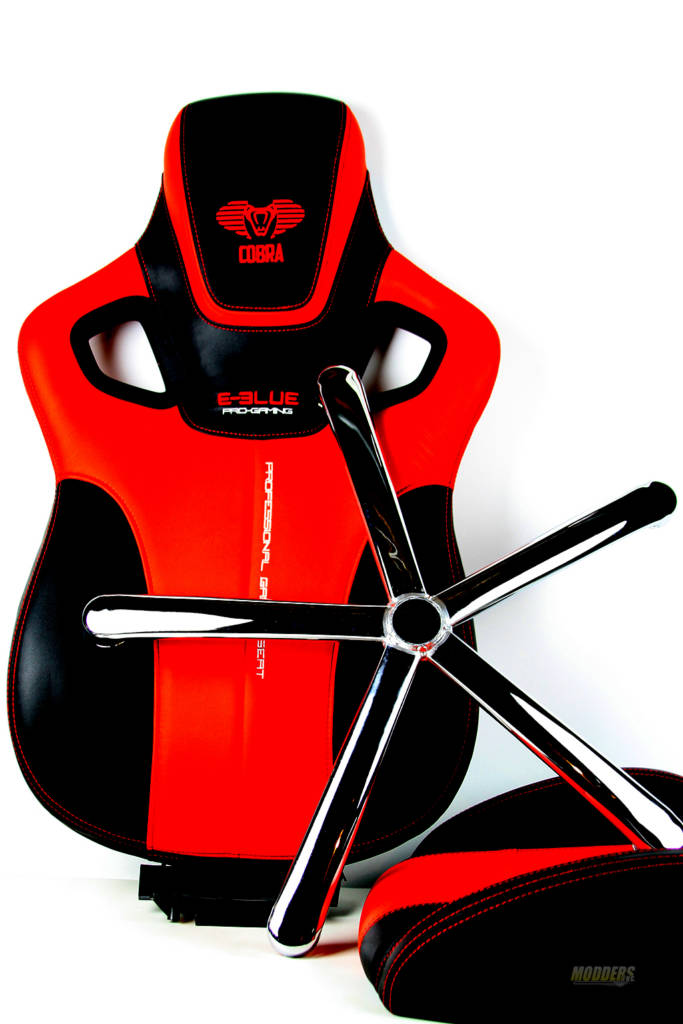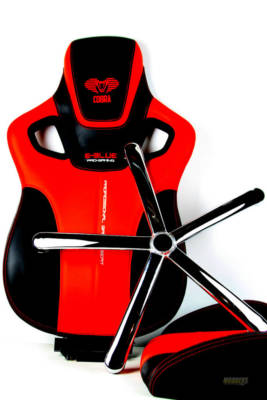 Let's face it, today's gaming world is rapidly changing. With addition of eSports to competitive gaming we see more and more of professional gamers dedicating their skills to tournaments. Their weapons of choice vary drastically. We see mechanical keyboards, high definition headsets, multi button laser mice and of course the gaming chairs. There are number of popular gaming chairs on the market that offer a great support for the lumbar and neck. As you game for hours at a time it is very important to feel as comfortable as possible so your concentration stays in the game and not on the comfort of your body. E-BLUE is one of the manufactures of eSports equipment for the masses. Their newest release of Professional Gaming Chair is Cobra-Pro. Cobra-Pro offers comfort as well as durability and ease of operation to gamers. At affordable price of Cobra-PRO, E-BLUE sure does turn heads and possesses a thread to its competitors.
Review Sample Provided by: E-BLUE
Product Name: Cobra-PRO PC Gaming Chair
Price at time of review: $ 249.97 USD MSRP
Product was given in exchange for work done to produce this review.
Technical Specifications
The Cobra-Pro PC Gaming Chair provides ergonomic comfort with ultra breathable fabric. The unique open design allows for great breath-ability while the ergonomic structure provides support and reduces fatigue during long sitting sessions.The ergonomic build features a modest seat and body size combined with the softest leather texture e-blue has to offer.
Ventilation-focused design for maximum comfort during long gaming sessions.
High quality PU leather and cushioning for added comfort.
360 degree adjustable rotating armrests.
118 degree adjustable rocking seat tilt.
Breathable, comfortable, long-lasting PU leather.
Class 4 TUV Gas Spring
Adjustable seat height with a light, stainless steel base holding up to 1500kg of static load weight.
Advanced polyurethane leather for better comfort and excellent breath-ability, as well as ease to clean.
First impressions are always most important ones. The shipping container COBRA-PRO arrived in is measures 4 feet by 2 feet by 3 feet. The weight of the shipping box was a little hard to calculate however, with an approximation it is 60 LB. There are numerous images of the chair on the shipping box with very little details of the quality or size.
COBRA-PRO comes in three different color schemes, Red, Blue and Grey. My sample ended up to be a COBRA-PRO RED. Unpacking the large shipping box wasn't hard. All of the components you see above were secured in-place with cardboard. All of the assembly parts are shipped in a smaller boxes which were part of the large shipping container. Scratch sensitive components such as the back of the chair, seat and footing were all protected with bubble wrap.
I was truly impressed of the quality of the leather and weight of the back and the seat of COBRA-PRO.