« Bundled Software & UEFI BIOS
|
Sub-System Benchmarks (Storage, Audio, Network, Gaming) »
Test System
| | |
| --- | --- |
| Processor | AMD Ryzen 7 1700X (Retail) |
| CPU Cooler | Cooler Master Master Liquid ML240L RGB |
| Motherboard | Gigabyte AORUS AX370-Gaming K5 VS. ASUS PRIME X370 Pro |
| Memory | Crucial Ballistix Elite 16GB (2x8GB) DDR4-3466 @ 3200MHz 16-18-18-35 (XMP 2.0) |
| Storage | Samsung 960 EVO 500GB M.2 NVMe SSD |
| Case | Phanteks Enthoo Pro Tempered Glass Edition |
| Drivers | Radeon Software Adrenalin Edition 18.3.2 |
| Video Card(s) | Sapphire NITRO+ Radeon RX Vega 64 Limited Edition |
| VR Headset | N/A |
| Monitor | Acer XG270HU 1440p 144Hz TN panel  |
| Operating System | Windows 10 x64 Pro with latest updates |
For this review, I used a first-generation Ryzen 7 1700X, set to its stock clocks. My overclocking results, which we'll dig into later, were validated using the Cinebench and a handful of the compression tests, which proved very memory sensitive on this system. The 16GB kit of Crucial Ballistix Elite DDR4-3466 memory was not stable above 3,200MHz, with 16-18-18-35 XMP timings. Incidentally, the ASUS PRIME X370 Pro I tested this motherboard against ran identical hardware (processor, NVMe M.2 SSD, and memory), but wouldn't run the kit any faster than 2,666MHz. Rather than attempt the level the playing field, I let Gigabyte run with the faster memory, as memory clock is a valid consideration when it comes to choosing an AM4 motherboard.
Although there are instances where one motherboard outperformed the other, it is rare that you would notice these differences tangibly. The only exception to this is for the benchmarks that show an advantage due to the faster memory. In every other case, performance between these two systems is close enough that we're not able to recommend one over the other from a raw numbers perspective.
I used a Cooler Master Master Liquid ML240L closed-loop liquid cooler to keep temperatures in check. I installed the latest working BIOS, which was version F22 when I performed my testing, which brought support for AMD's Ryzen+ processors. All current updates and drivers available at the time of the review were installed. Each test was conducted at least three times for accuracy, then averaged, with the exception of PCMark 10, which already does three passes.
System Benchmarks
SiSoft SANDRA
Aida64 Engineer
PCMark 10
CineBench R15
WinRAR
7-zip
x.264 FHD
x.265 HD
Handbrake
Gaming Benchmarks
3DMark Firestrike (Default)
Unigine Superposition (1080p Extreme)
Sniper Elite 4 (DX12 Max preset @ 2,560 x 1,440)
The Witcher 3: Wild Hunt (Vsync off, Unl.fps, Ultra @ 2,560 x 1,440)
System Benchmarks

SiSoftware's SANDRA suite offers a number of benchmarks designed to test the performance of various system components. For our purposes, we ran the Processor Arithmetic and Processor Multimedia tests and combined them into a single graph. The first test is designed to measure arithmetic performance or determine how good the processor is at churning out calculations. The Multimedia test scores the processor on how quickly it manages to generate a picture of the Mandelbrot fractal, using 255 iterations for each data pixel. Although we tend to lump SANDRA's tests into the synthetic category, this test is a real-world application for putting the processor's SIMD instructions to work. Although all four tests are represented in a single graph, the scores of each test use different units. For instance, the Dhrystone and Whetstone Processor Arithmetic scores are in GIPS (billions of instructions per second) and GFLOPS (billions of floating point operations per second), respectively. The Processor Multimedia tests, on the other hand, represent their scores as Megapixels per second. As you can see, the faster memory in the Gigabyte system made a bit of a difference in SANDRA's processor tests.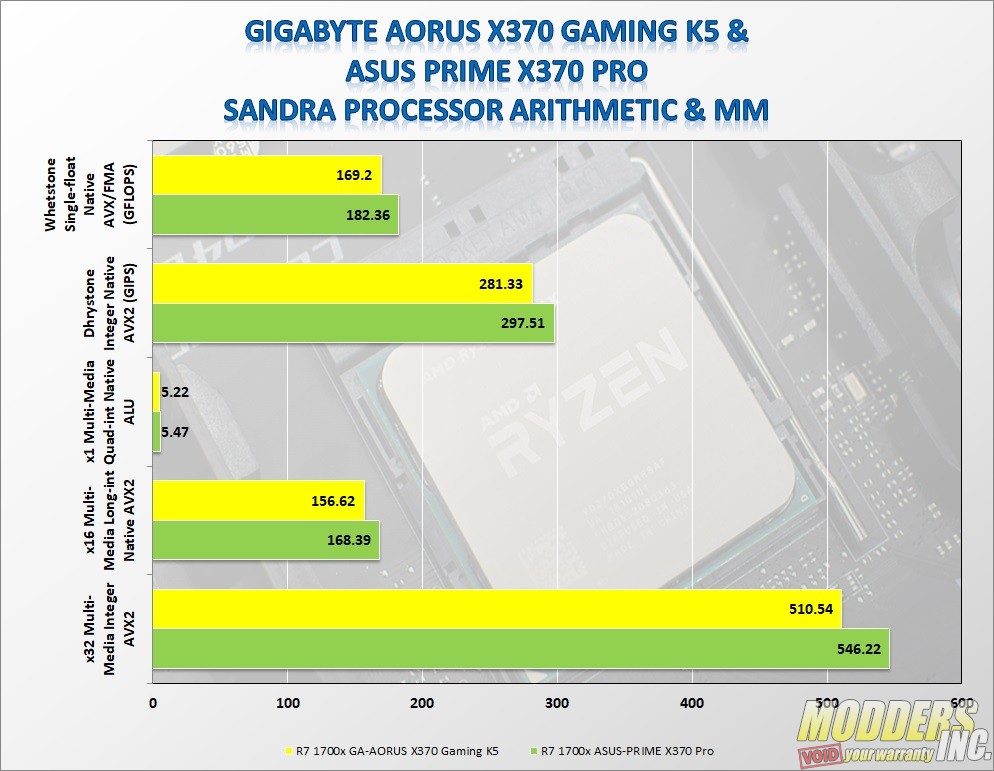 SANDRA's Memory Bandwidth test is a fairly straightforward test that does what it says, reporting its results as Gigabytes per second (Gbps). The 3,200MHz memory had an advantage in both the Integer and Floating Point bandwidth tests compared to the 2,666MHz memory in the ASUS system.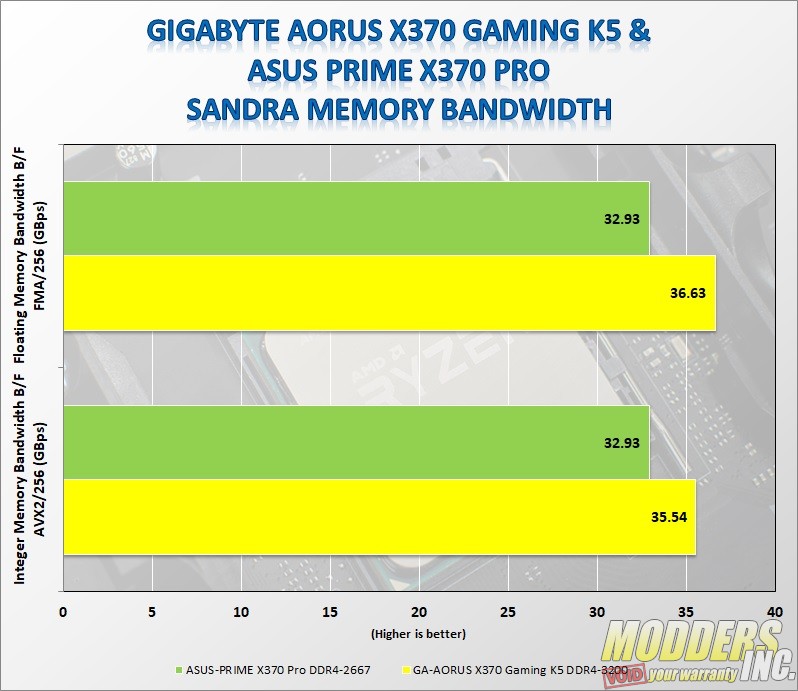 The AIDA64 suite has various benchmarks for CPU, FPU, and memory testing: CPU Queen is an integer benchmark that tests branch prediction and misprediction penalties. CPU PhotoWorxx tests the SIMD integer arithmetic execution units of the CPU and the memory subsystem. CPU ZLib is a compression benchmark that tests the combined CPU and memory performance.
CPU AES is a multi-core encryption benchmark that uses Advanced Encryption Standard data encryption. CPU Hash is an integer benchmark that measures performance using the SHA1 hashing algorithm. FPU Julia measures single precision FP, FPU Mandel measures double precision FP, FPU SinJulia measures extended precision FP while FPU VP8 is a video compression test utilizing the FPU Julia fractal module. In these tests, the two systems appear to trade blows but still perform similarly.
Using AIDA64, memory performance is benchmarked, including latency tests as well as read, write, and copy speeds. Here, Gigabyte's memory bandwidth advantage unsurprisingly gave this board a leg up on the ASUS board with slower memory.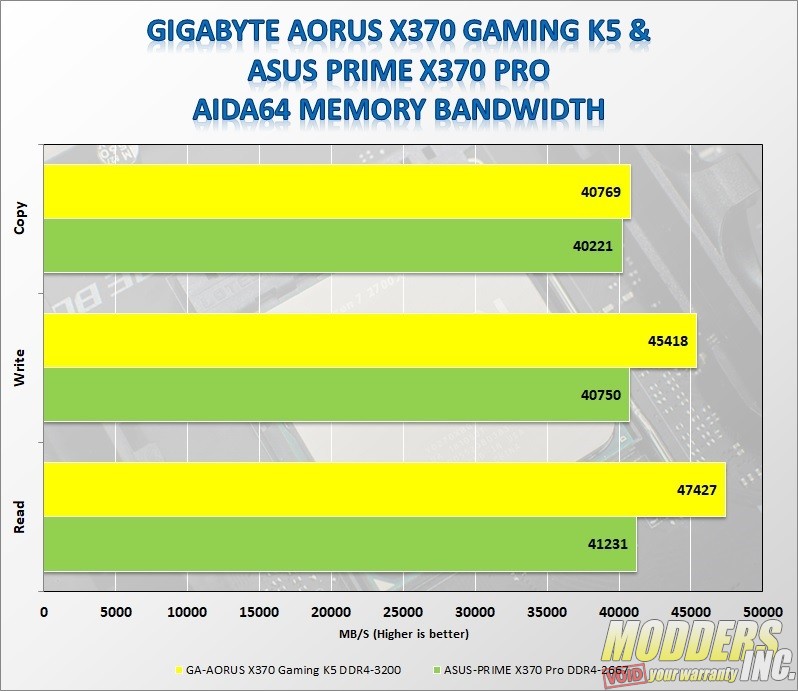 PCMark 10 mimics real-world workloads such as web browsing, image editing, video conferencing, and graphics rendering. The benchmark breaks the tests into three categories and gives a final score as well. These scores were very close, but the AORUS X370 Gaming K5 came out on top yet again.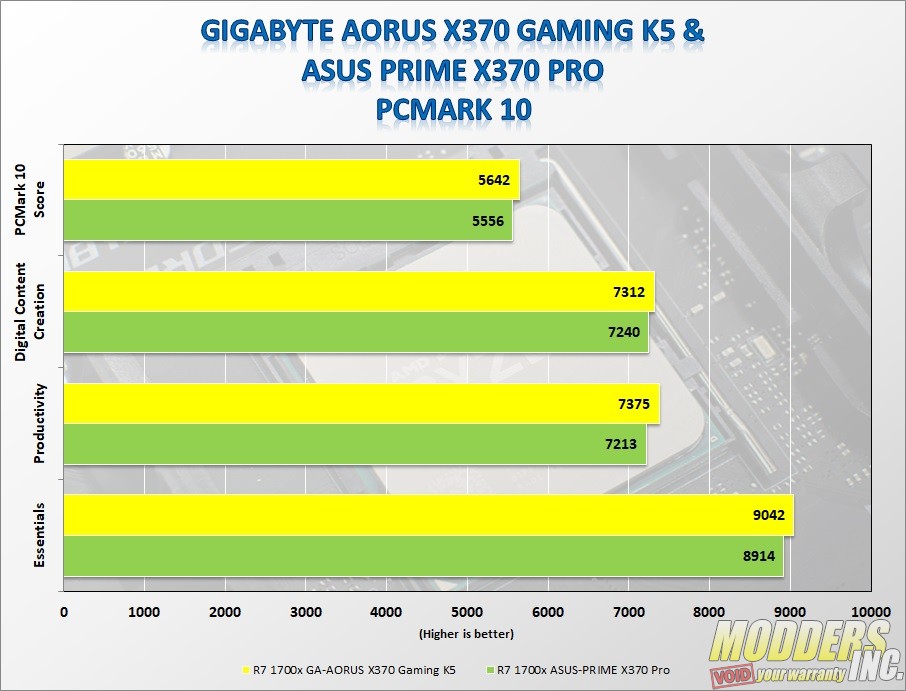 MAXON's Cinebench R15 offers a processor test for the CPU and an OpenGL test for the GPU. We relied on the single-thread and multi-thread CPU-centric tests, then performed our overclock and reran those tests to see what kind of gains we achieved. The Single Thread scores, at stock clocks and when overclocked, were both within the margin of error. We were surprised to see the ASUS board seemed to offer better stock performance from the R7 1700X, while the Gigabyte board did better when overclocked.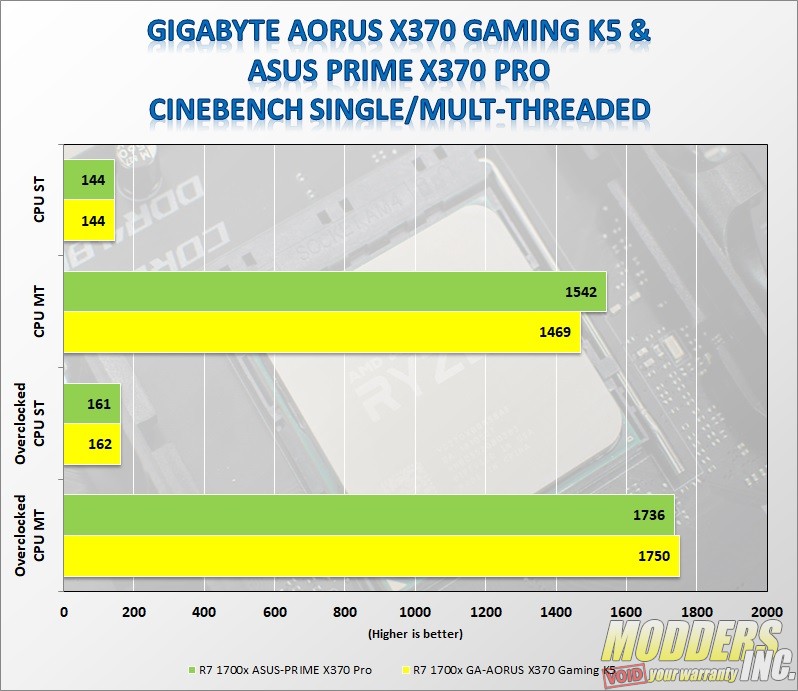 x264 is a popular free software library for encoding video streams into the H.264/MPEG-4 AVC format. x264 FHD measures how efficient a system is in encoding H.264 video and produces results in frames-per-second.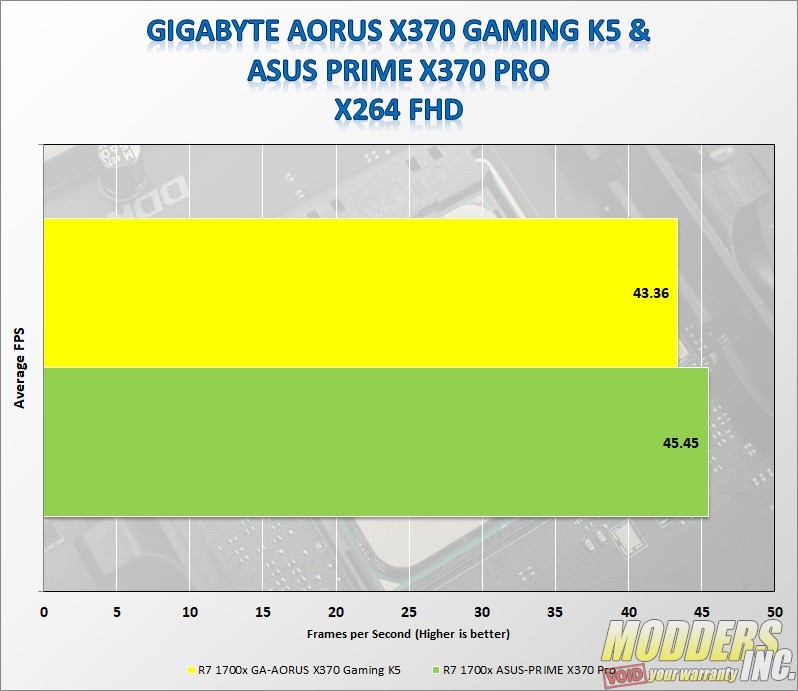 H.265/HEVC video encoding is the future of video able to compress significantly larger resolution videos including 4K and make streaming feasible. The downside is that hardware support is still few and far between so processing requirement is steeper than current H.264/AVC standards. x.265 is an open-source implementation of the H.265 standard and x.265 HD benchmark tests the CPU's ability to process an HEVC video.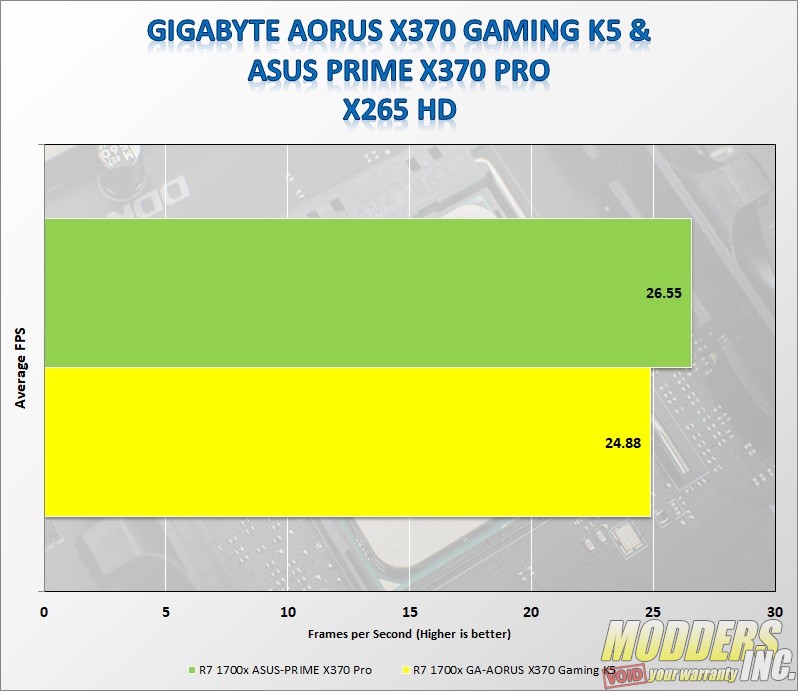 Handbrake is free open-source video transcoder that can convert various video file formats to compatible video files for other typical media viewing applications such as in an iPhone or Android tablet. A 1GB H.264 MKV file was converted using the built-in iPod Preset (5G Support), manually timed. The results are in seconds and the lower number is the better result. These three multimedia tests seemed to favor the ASUS system with its slower memory, suggesting that the Gigabyte system may have suffered slightly due to higher latencies.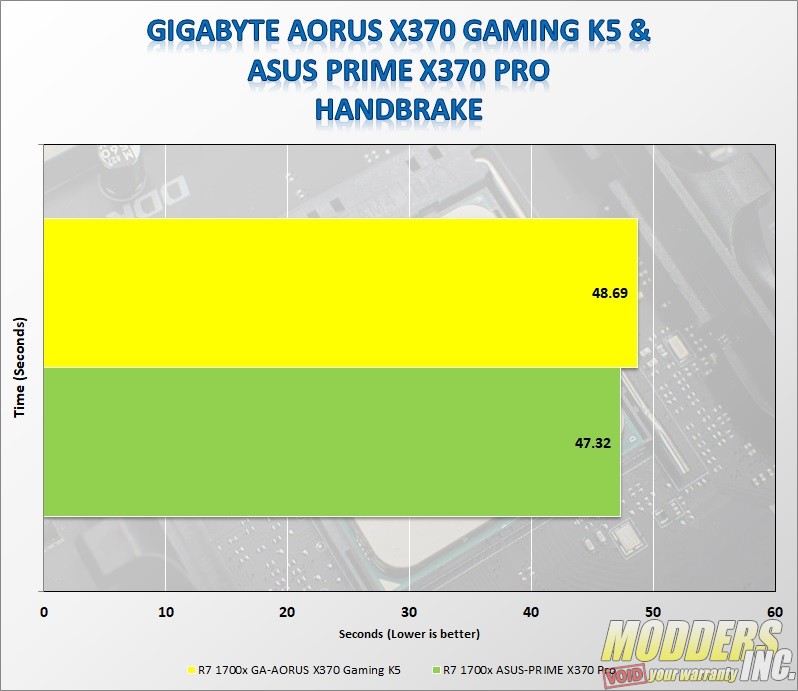 7-zip is an open source (GNU) compression program utilizing LZMA method as the default. These scores were too close to call. Incidentally, 7-zip was the only test that would error-out while we were attempting to get the ASUS board to run with the memory clocked up to 3,200MHz.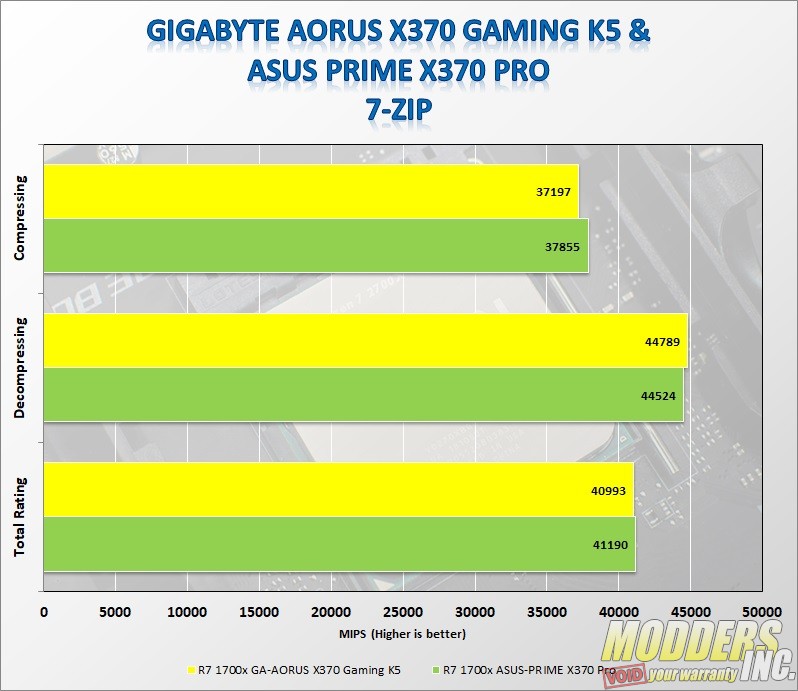 WinRAR is a Windows version of a popular compression software created by Eugene Roshal in 1993, widely used for its flexibility. Like 7-zip, this utility has a built-in benchmark that measures the system's compression and decompression capabilities. Once again, the results were too close to call.