« Sub-System Benchmarks (Storage, Audio, Network, Gaming)
Overclocking
We covered the handful of overclocking features this motherboard sports in greater detail above. If you're interested in pushing the limits of your Ryzen processor, this board will not let you down. If you are looking to try your hand at exotic overclocking, this board probably won't cut it. The Turbo B-Clock overclocking feature is interesting, but not something we tend to rely on, at least not when the low-hanging fruit of an unlocked multiplier is ripe for the plucking like it is on AMD's platform. To get our overclocked scores in Cinebench, we merely went into the UEFI menu, accessed the advanced settings, chose the M.I.T. tab, selected the first XMP profile to dial in the default timings, chose 3200MHz for the speed, and then set the CPU frequency to 3.95GHz, which we've found is a reliable everyday overclock on the Ryzen 7 1700X we use for testing. To get the system stable, we did add 0.25V to the Dynamic Vcore setting in the Advanced CPU Core Settings submenu.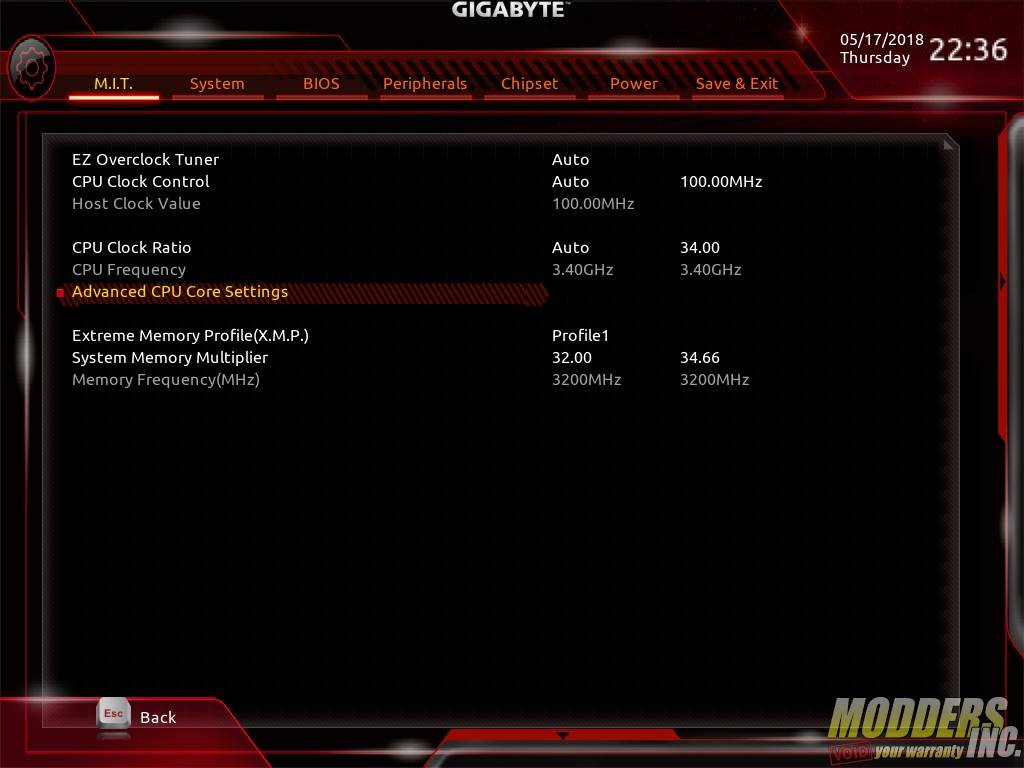 Our thermals looked good throughout the testing, and the performance jump was satisfyingly tangible.
If you're looking at jumping onto AMD's platform right now, you're probably wondering about whether this board has what it takes to handle the Ryzen+ processors. We have good news. Just before I published this article, I put the Ryzen 7 2700X into this board and booted it up. It managed an impressive 1,756 multi-threaded score and 177 single-core score at the processor's stock settings, which include a base clock of 3.7GHz. When we overclocked the processor to 4.3GHz, it yielded a jaw-dropping 180 and 1,945 for the single- and multi-core scores, respectively. So yes, Ryzen+ appears to feel right at home in the Gigabyte AORUS X370 Gaming K5.
Final Thoughts
When you look up this board online, you'll probably notice that it sits right between the AORUS X370 Gaming K3 for about little bit less and the AORUS X370 Gaming 5 for a bit more. But if you're spending less than $150 for an X370 motherboard, then this model offers a good mix of high-end features, gorgeous aesthetics, and user-friendliness to make it the best option of the three. We detailed many of the differences between this board and the Gaming 5, so if you did want a little extra, then we'd upgrade rather to that one rather than take a step down.
Overall, Gigabyte has put together a solid X370 motherboard that competes well with the ASUS PRIME X370 Pro, our first AM4 board. The superior memory compatibility also gives Gigabyte's AORUS X370 Gaming K5 an edge that many AM4 motherboard shoppers will appreciate having. For those who are looking at obtaining a Ryzen+ processor, we're happy to report that affordable X370 motherboards like this one are a viable alternative to the high-priced X470 motherboards currently on the market, and yeah, that Wraith Prism cooler does look pretty nice against this all-black board.