« System Benchmarks (CPU, Memory, Compression, Multimedia)
|
Overclocking & Final Thoughts »
Subsystem Benchmarks
CrystalDiskMark "is designed to quickly test the performance of your hard drives. Currently, the program allows you to measure sequential and random read/write speeds." It's one of the most commonly used utilities for testing drives, and it shows just how adeptly AM4 motherboards handle NVMe M.2 drives like the Samsung 960 EVO we used. Because the storage drive is identical, it is no surprise that our scores were very closely matched.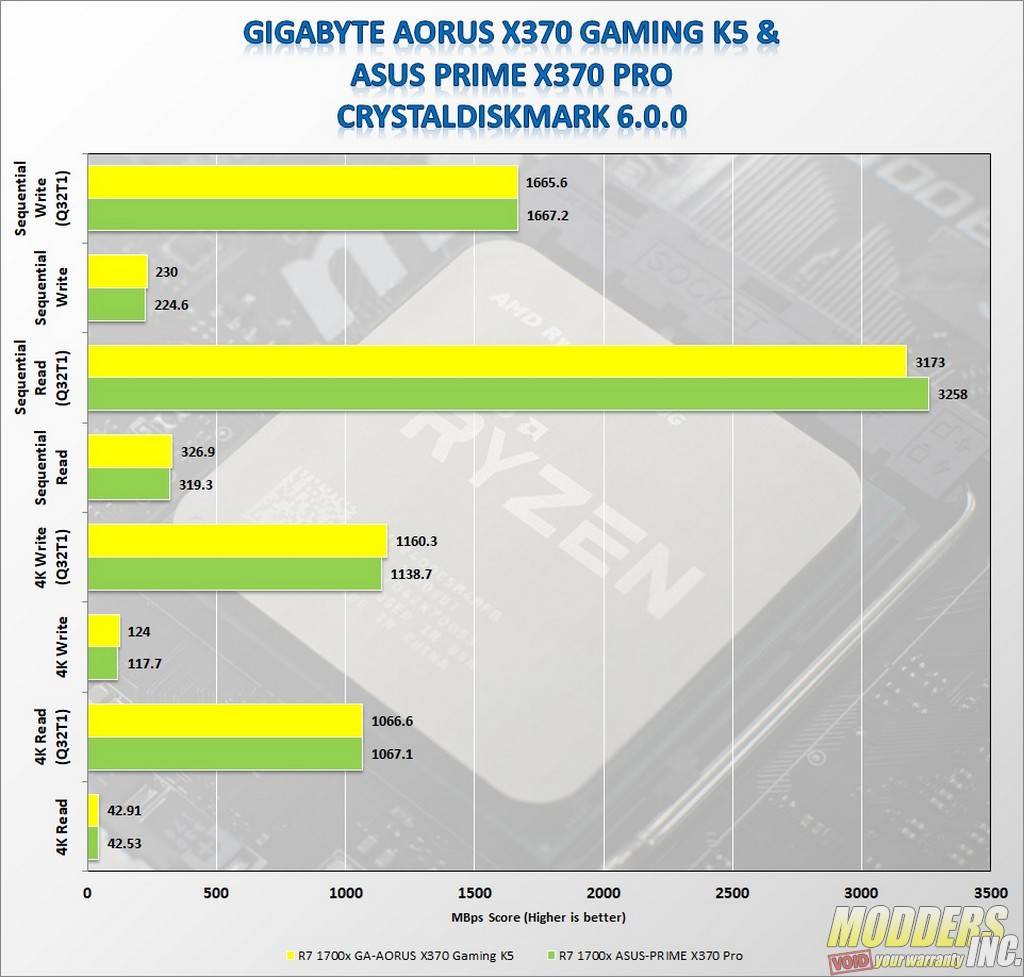 On-board Audio
Before proceeding with audio benchmarks, Deferred Procedure Call (DPC) latency must be first checked to make sure that the system is capable of producing usable results when the RightMark Audio Analyzer benchmark is performed. DPC is a Windows function that involves prioritizing tasks within the OS and high DPC latencies can be caused by several things including hardware device conflict. The DPC Latency Monitor graphically displays the latency level of the system in real time.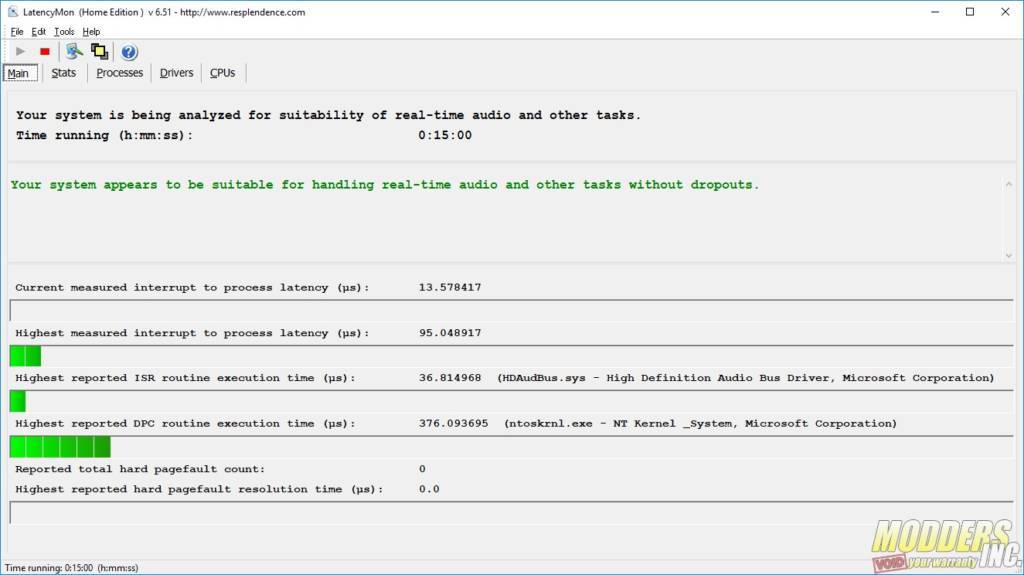 After leaving the system running for 15+minutes, the ISR and DPC routine execution times peaked at 36.81 and 376.09 microseconds, respectively, and are well under the 4,000 microseconds limit, at which point the system becomes unsuitable for real-time audio playback. RightMark Audio Analyzer tests using a short 3.5mm audio cable that goes in the rear line-in and line-out ports to effectively listen to the system's own audio output. We run the 44kHz, 48kHz, 96kHz, and 192kHz tests at 16-bit and 24-bits, with all effects disabled. Here, the Gigabyte board's performance was rather lackluster compared to the ASUS board, which features better isolation for its audio components. That being said, the Gigabyte motherboard still managed to produce Good to Very Good scores in most tests, so this won't be a deal breaker unless you consider yourself an audiophile. 

Wired Network Connectivity
Network testing was conducted with a 4-port Netgear ProSafe 5-Port GS105 Gigabit Switch and a pair of 6-ft long Cat5E cables connecting the server PC and the test motherboard. The server system consists of an Acer Predator Helios 300 laptop running an Intel Core i7-7700HQ processor with an Intel Gigabit NIC. Interrupt Moderation was disabled, running TCP and UDP tests.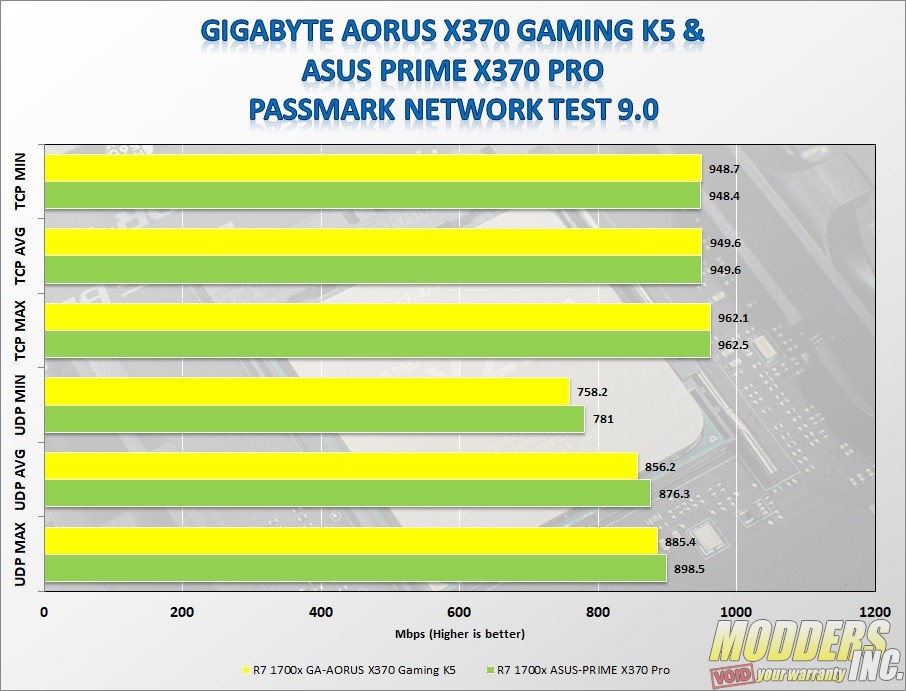 Gaming Tests
Futuremark's 3DMark is a semi-synthetic gaming benchmark that calculates both graphics and CPU-bound physics in a controlled series of tests and provides scores that can be compared with other gaming platforms. Unigine Heaven is a synthetic benchmark that is completely GPU bound for testing possible PCI-E graphics performance inconsistencies.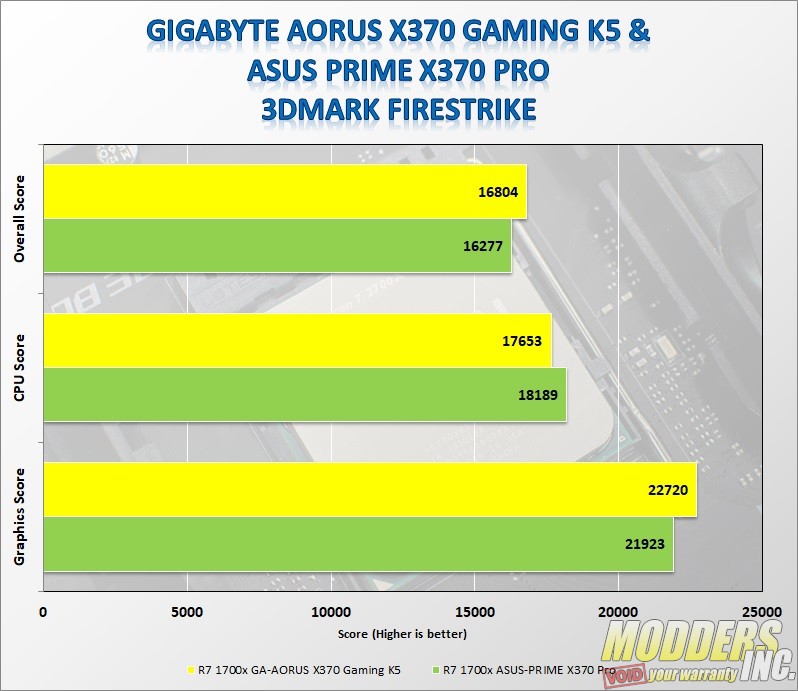 The Unigine Superposition benchmark is a graphics-centric utility designed to stress your GPU under heavy workloads. It was built on the updated UNIGINE 2 Engine. I ran the Superposition benchmark with the Sapphire NITRO+ RX Vega 64 LE at the 1080p Extreme and High settings, using the DirectX API. The test reports average, maximum, and minimum framerates, which I recorded after a single run. At the High setting, this card scored an average of 76.61fps, maximum of 96.07fps, and a minimum of 62.81fps. At the Extreme preset, the average, maximum, and minimum frame rates were 33.9fps, 40.51fps, and 26.63fps, respectively.
The Witcher 3: Wild Hunt is CD Projekt Red's expansive RPG starring Geralt of Rivia, a mutated -but still ruggedly handsome- witcher who is seeking Ciri, his all-but-officially adopted daughter as she flees the dangerous and deadly Wild Hunt. This game has been out since 2015, but it still puts a lot of stress on modern GPUs. If you were still unsure whether memory bandwidth really makes a difference, here's some real-world proof.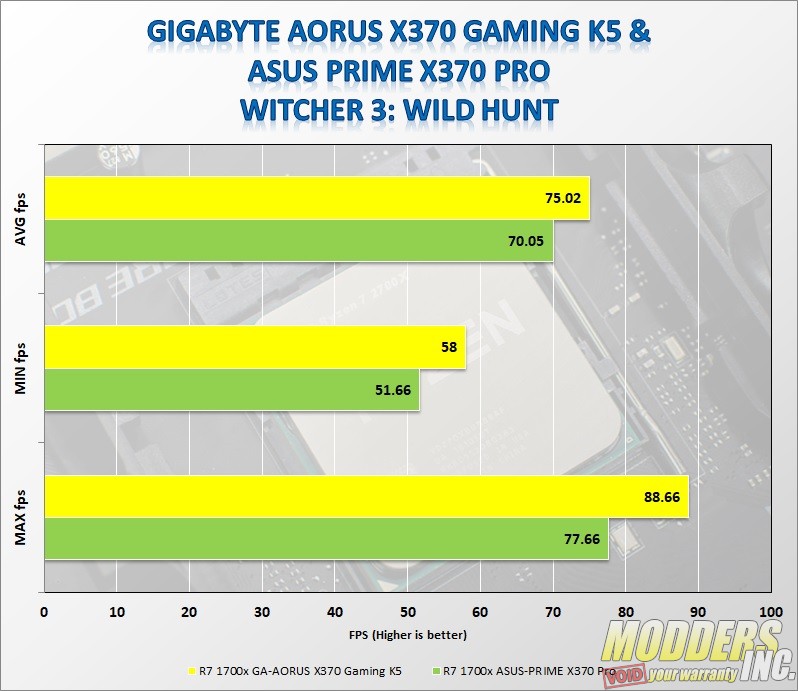 Sniper Elite 4 is a third-person tactical shooter with optional stealth elements. The events of the game take place in 1943, in Italy. It's the only game in our series of DirectX 12 games that can report scores with FRAPS, even though there's no overlay. Here I recorded the average, maximum, and minimum frame rates, as I did with The Witcher 3. And just like that, the memory bandwidth advantage is completely gone in Sniper Elite 4.