« Introduction and Specifications
|
Page 3 »
A Closer Look
The Gigabyte GTX 1650 has a dark theme to it like some of the other video cards in the Gigabyte lineup. The Gigabyte GTX 1650 has the two fan WindForce cooling system. The WindForce cooling system provides up to two times more efficient cooling because both fans spin in the opposite direction and their fan blades are uniquely designed for optimum cooling with as little noise as possible.  Combine that with the two copper heat pipes which cool the GPU by directly the contact. Gigabyte GTX 1650 also supports RGB Fusion 2.0 functions to give the cards a bit of colorful flair.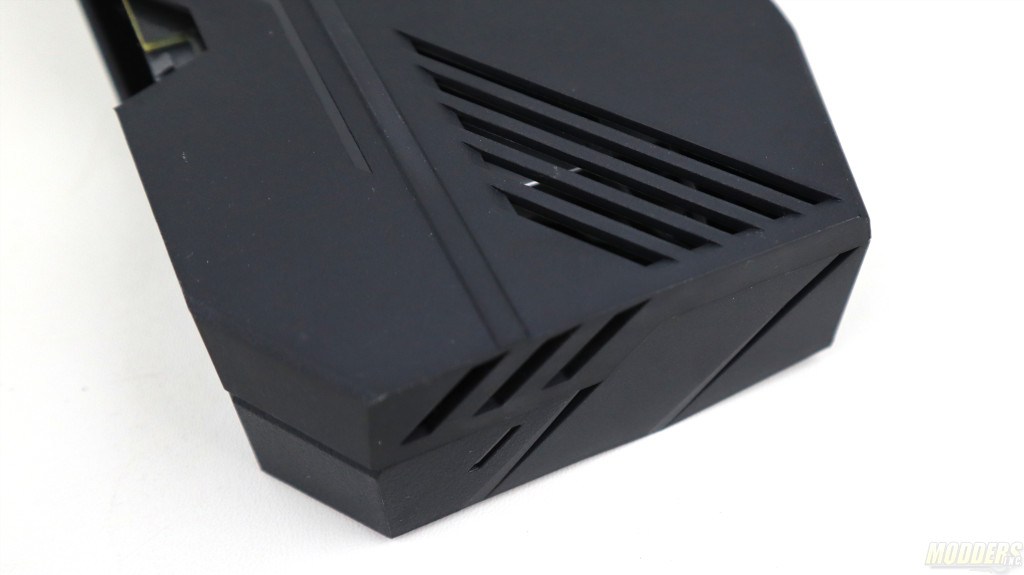 The entire outer shell of Gigabyte GTX 1650 is made from ABS plastic.  There is plenty of ventilation holes on the card itself so cooling shouldn't be an issue.
The RGB Fusion 2.0 capabilities of this card are only addressable for the Gigabyte logo which is on the side of the card. The power requirements of this card are 300 watts. The Gigabyte GTX 1650 only uses one six-pin GPU power connector which will also reduce the clutter of cables.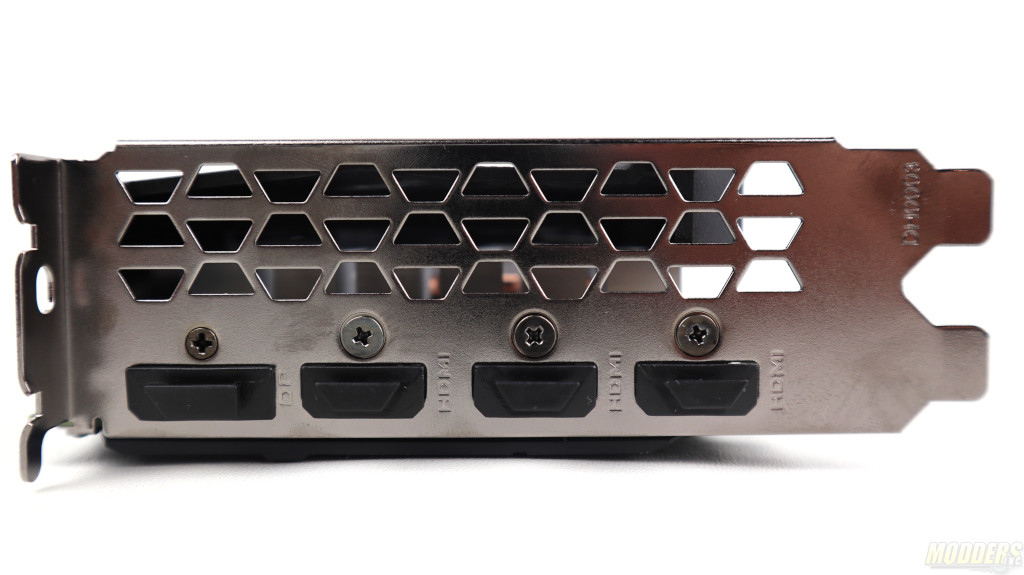 The output of Gigabyte GTX 1650 consists of one Display Port and three HDMI connectors. DisplayPort is version 1.4 and HDMI is version 2.0b.
Taking apart the Gigabyte GTX 1650 is kind of tricky. After removing all of the screws there are plastic pins that hold the outer shell together. The board itself is clean however I did find some over fluxed spots.
As I have mentioned earlier Gigabyte GTX 1650 is being actively cooled via aluminum heat sink/copper pipes and the WindForce fans. The contact between GPU and the heat sink is happening directly on the copper pipes.
Gigabyte GTX 1650 uses Nvidia TU117-300-A1 GPU chip. This is a 12 nm Turing chip that has a base clock speed of 1485 MHz, Boost Clock speed of 1665 MHz. Our version here is factory overclocked to 1815 MHz.
Gigabyte GTX 1650 has 4GB of GDDR5 memory. The memory is by Micron 8NB77 D9VVR. Each chip is 1 GB in size which on the board totals 4GB.
Reference GTX 1650 card has a 2 +1 Power phase design. This card has a 3 + 1 Power Phase design which keeps operational temperatures of MOSFET lower than the reference card.