A Closer Look at the Gigabyte GTX 950 Xtreme Edition Video Card »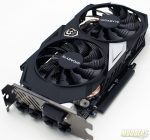 Just a little while ago the world was introduced to the new budget Maxwell GPU from Nvidia. The budget segment is considered by many to be in the range of sub – $200.00 for a GPU. The GTX 950 is aimed at the budget market. Gigabyte recently released the Gigabyte GTX 950 Xtreme edition. The Xtreme edition's chips are binned and come with a healthy overclock from the factory. Essentially the GTX 950 line is a stripped down version of the GTX 960 that features 2 gigabytes of RAM on a 128-bit wide bus.
[sc:sponsor sponsor="Gigabyte" product_link="http://www.gigabyte.com/products/product-page.aspx?pid=5619#kf" product_name="Gigabyte GTX 950 Xtreme" product_price_link="http://www.amazon.com/gp/product/B015QJ31IW/ref=as_li_qf_sp_asin_il_tl?ie=UTF8&camp=1789&creative=9325&creativeASIN=B015QJ31IW&linkCode=as2&tag=moddeinc-20&linkId=E3YDBQZ4RR4C7X57″ product_price="179.99″ ]
Packaging and Accessories
As the name suggests, this card is part of Gigabyte's Xtreme gaming series and the packaging reflects it. The graphics on the front of the box proudly display the Xtreme Gaming logo. The back of the box goes into a bit more detail about the card and lists out the special features of the GTX 950 Xtreme.
The card is double boxed. Inside a thin cardboard shell is a thicker cardboard box. The GTX 950 Xtreme is protected by a form fitting closed cell insert and wrapped in an anti-static bag.
Included are a case badge, a DVI to VGA dongle, and a quick start guide.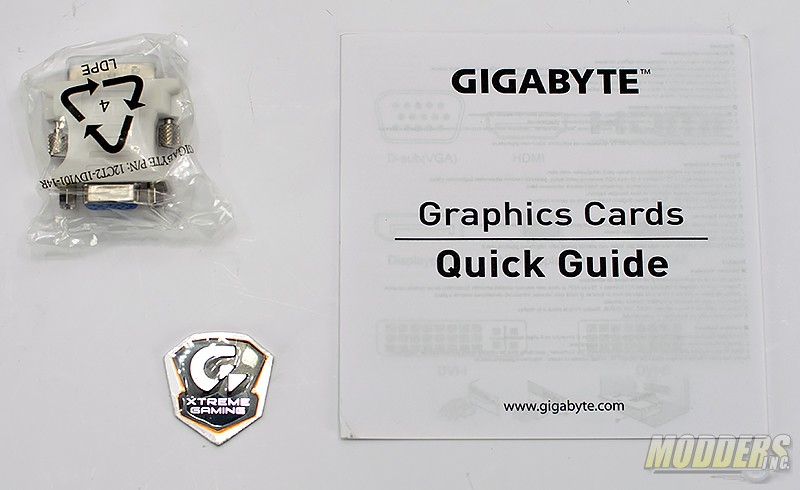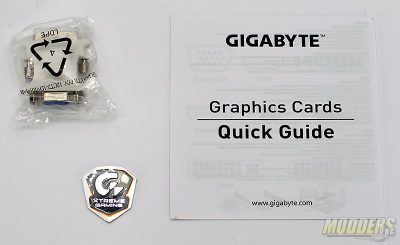 Specifications
| | |
| --- | --- |
| Chipset | GeForce GTX 950 |
| Core Clock | Base/Boost clock: 1203 / 1405 MHz (standard:1026/1190) |
| Memory Clock | 7000 MHz |
| Process Technology | 28 nm |
| Memory Size | 2 GB |
| Memory Bus | 128 bit |
| Card Bus | PCI-E 3.0 |
| Memory Type | GDDR5 |
| DirectX | 12 |
| OpenGL | 4.5 |
| PCB Form | ATX |
| Digital max resolution | 4096 X 2160 |
| Analog max resolution | 2048 x 1536 |
| Multi-view | 4 |
| I/O | Dual-link DVI-I / HDMI / Display Port*3 |
| Card size | H=42 mm, L=240 mm, W=132 mm |
| Power requirement | 350W (with one 8-pin external power connector) |