Page 2 »
Following closely behind the release of the 6800 series of video cards AMD is releasing their next and more powerful set of cards, the 6900's. Using the Cayman GPU we are hoping to a nice increase so lets check it out.

Sponsor: Sapphire
[hr]
First Look and Information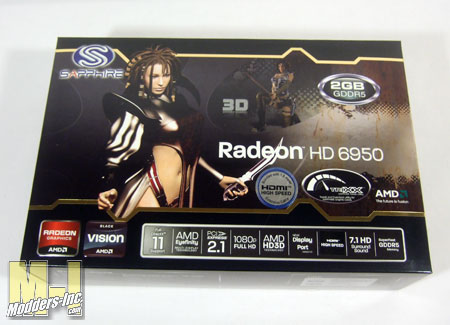 When the Sapphire HD 6950 was delivered I could tell that it was a large size card. The retail box was much bigger than the Sapphire HD 6850 that we just reviewed so this leads me to think that it will more alone the lines of the HD 6870 style of video card. As we can see the front of the box give all sorts of details about the product inside. The first thing that caught my eye was the amount of GDDR5 it touts. First reports said that this card would have 1GB but as we can see from the box it is equipped with 2GB of GDDR5.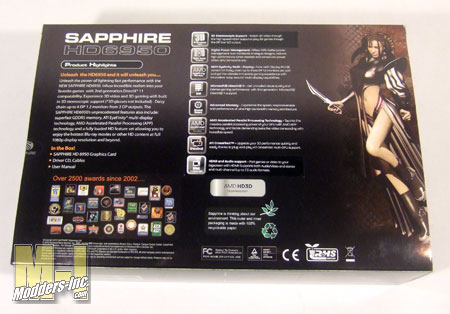 The rear of the box breaks down and tells us more about the card and it's features.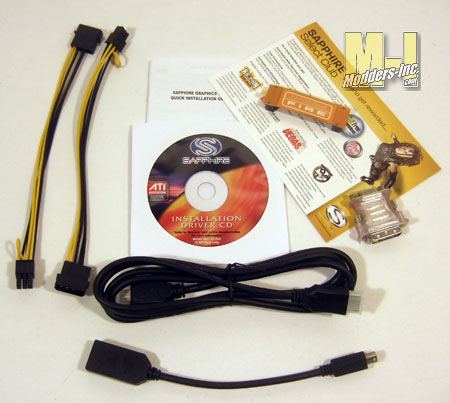 Packed away at the bottom of the retail box is all the extras that you get with the HD 6950. You get all the normal stuff like the driver CD, manual, a Sapphire Select Club card, and a Cross Fire ribbon cable. Extras that you get are two molex to six pin power connectors – in case you do not have enough six pin's available- but the cool parts is that Sapphire gives you many different adapters to connect the HD 6950 is all sort of displays. The adapters include 1- DVI to VGA, 1- HDMI cable, and 1-Mini Display Port to Display Port. 
Specification
Output
1 x Dual-Link DVI
1 x HDMI 1.4a
2 x Mini-DisplayPort
1 x Single-Link DVI-D
GPU
800 MHz Core Clock
40 nm Chip
1440 x Stream Processors
Memory
2048MB Size
256 -bit GDDR5
Software
Driver CD
SAPPHIRE TriXX Utility
Accessory

Crossfire Interconnect Cable x 1
DVI to VGA Adaptor x 1
6 PIN to 4 PIN Power Cable x 2
Mini DP to DP Adapter x 1

HDMI 1.4a 1.8 meter cable x 1