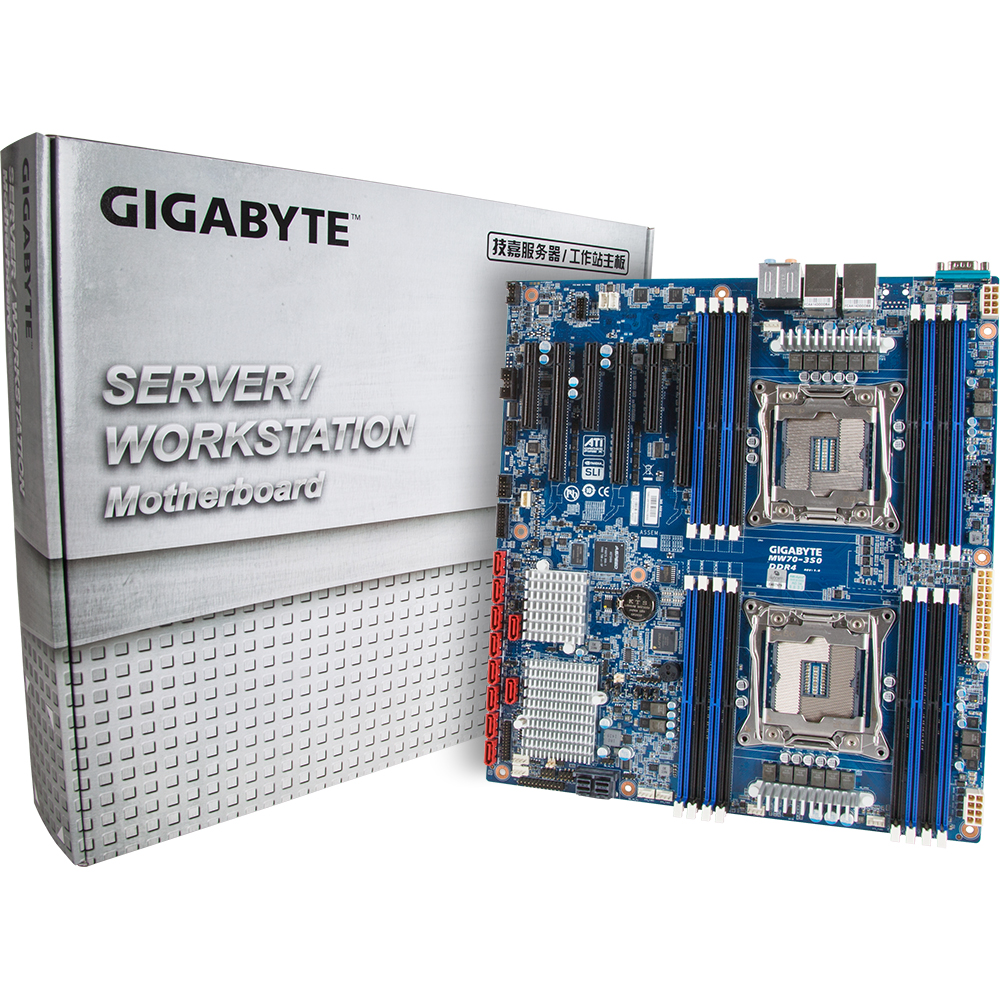 GIGABYTE Technology, a leading creator of high performance server and workstation hardware, is happy to present today the MW70-3S0, its latest dual socket workstation motherboard based on the Intel C612 chipset. It joins the single socket MW50-SV0 to complement GIGABYTE's line of 2011-3 socket based workstation motherboards, and offers workstation builders a high end product featuring the latest technologies and the most reliable components. The MW70-3S0 has been designed with flexibility in mind, through large memory, storage and PCI-Express platforms that will satisfy the most demanding performance requirements of professional workstation users.
3-Way Graphics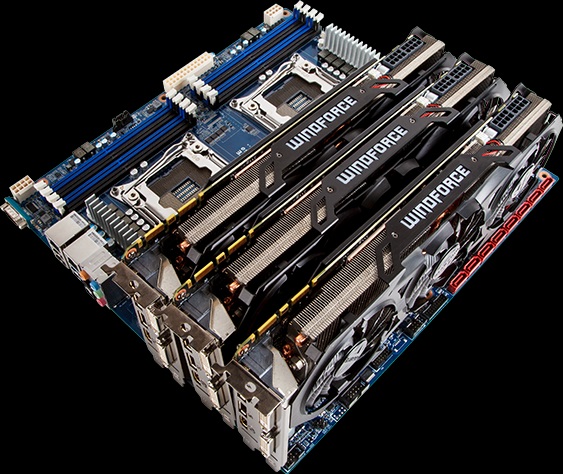 With the support of 3-way NVIDIA SLI & AMD CrossFireX technologies, this board can support up to 3 GPU cards running at full PCI-Express Gen3 x16 bandwidth. It is therefore targeting workstation applications where a 4th GPU card doesn't bring any significant marginal output improvement. This product is an ideal motherboard to build workstations dedicated to computing and graphics intensive applications, such as:
3D modeling, rendering, animation, etc.
Audio & video production
Small scale scientific analysis & simulation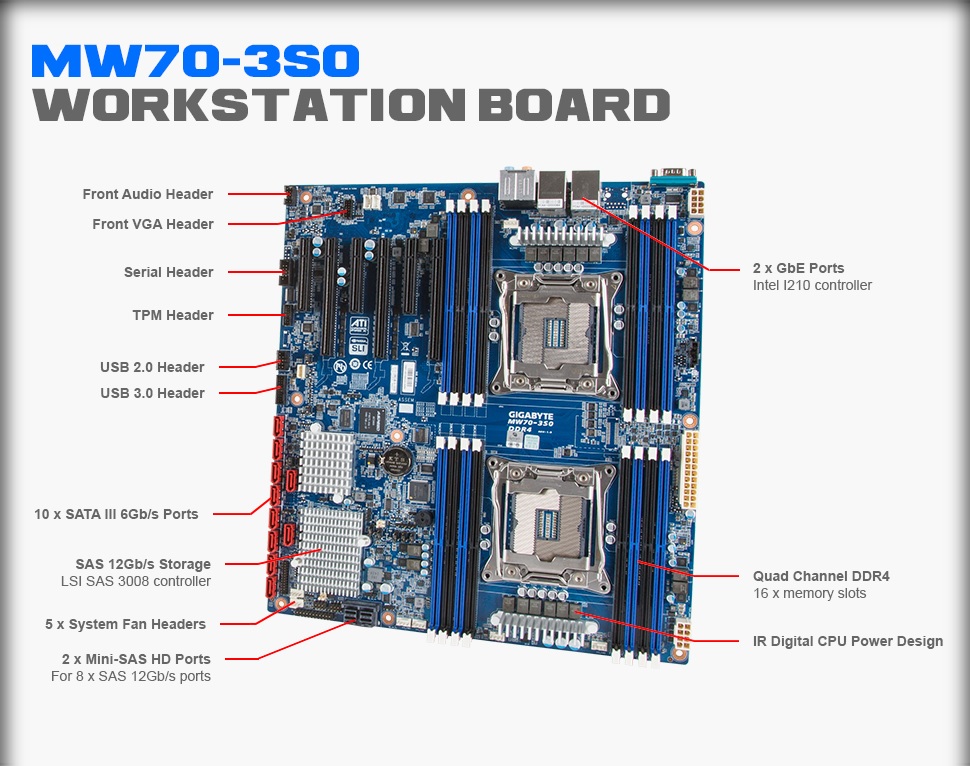 SAS 12Gb/s Storage
With an onboard LSI SAS 3008 controller, the MW70-3S0 supports up to 8 SAS drives running at 12Gb/s via two mini-SAS HD connectors. In addition to its ultra fast transfer rates, this controller is also capable of aggregating any SATA and SAS drives into a single 12Gb/s data stream thanks to the LSI DataBolt technology. Users can therefore enjoy a 12Gb/s speed while using lower grade 3Gb/s or 6Gb/s drives. This can bring a significant upgrade to a system without having to invest in new and expensive 12Gb/s SAS drives.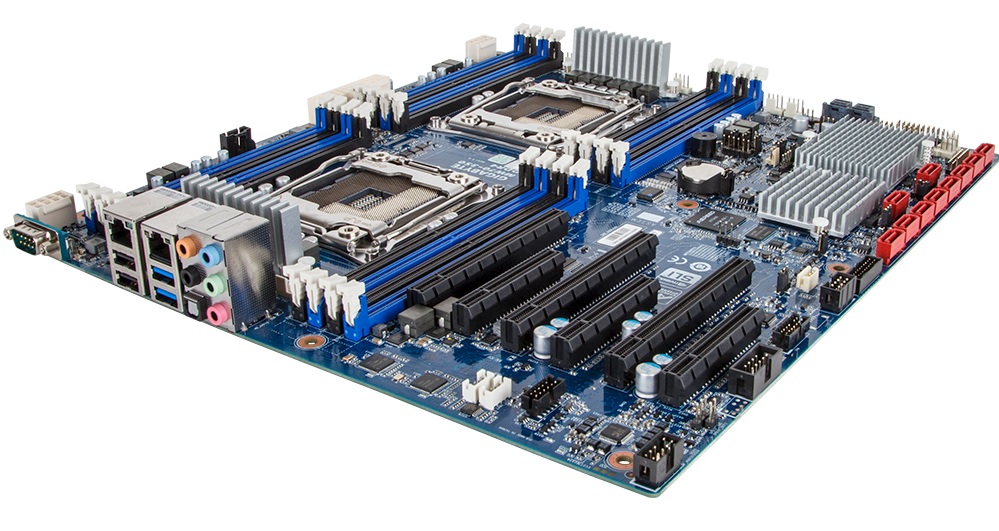 DDR4 Memory Performance Edge
On Intel's previous server platforms, by design the maximum supported memory frequency has always been automatically downgraded the more DIMMs were being added on a server motherboard. As this trade-off between performance and capacity represents a dilemma to many memory-hungry server applications, GIGABYTE offers a unique solution. All the GIGABYTE boards based on the LGA 2011-3 socket support by default a maximum frequency of 2133 MHz in any memory configuration :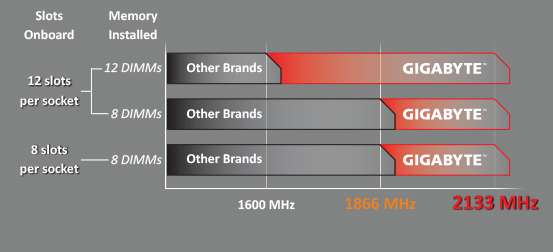 Easy BIOS Update
Because updating the version of a BIOS can be a troublesome experience, GIGABYTE has developed an integrated function (no utility to install) that lets you update the BIOS of your motherboard(s) :
Without having to install CPU(s), memory, drives, operating system, etc.
Without having to power on the system (but a power supply must be connected)
One board at a time via our standard IPMI 2.0 web interface
Multiple boards simultaneously via command line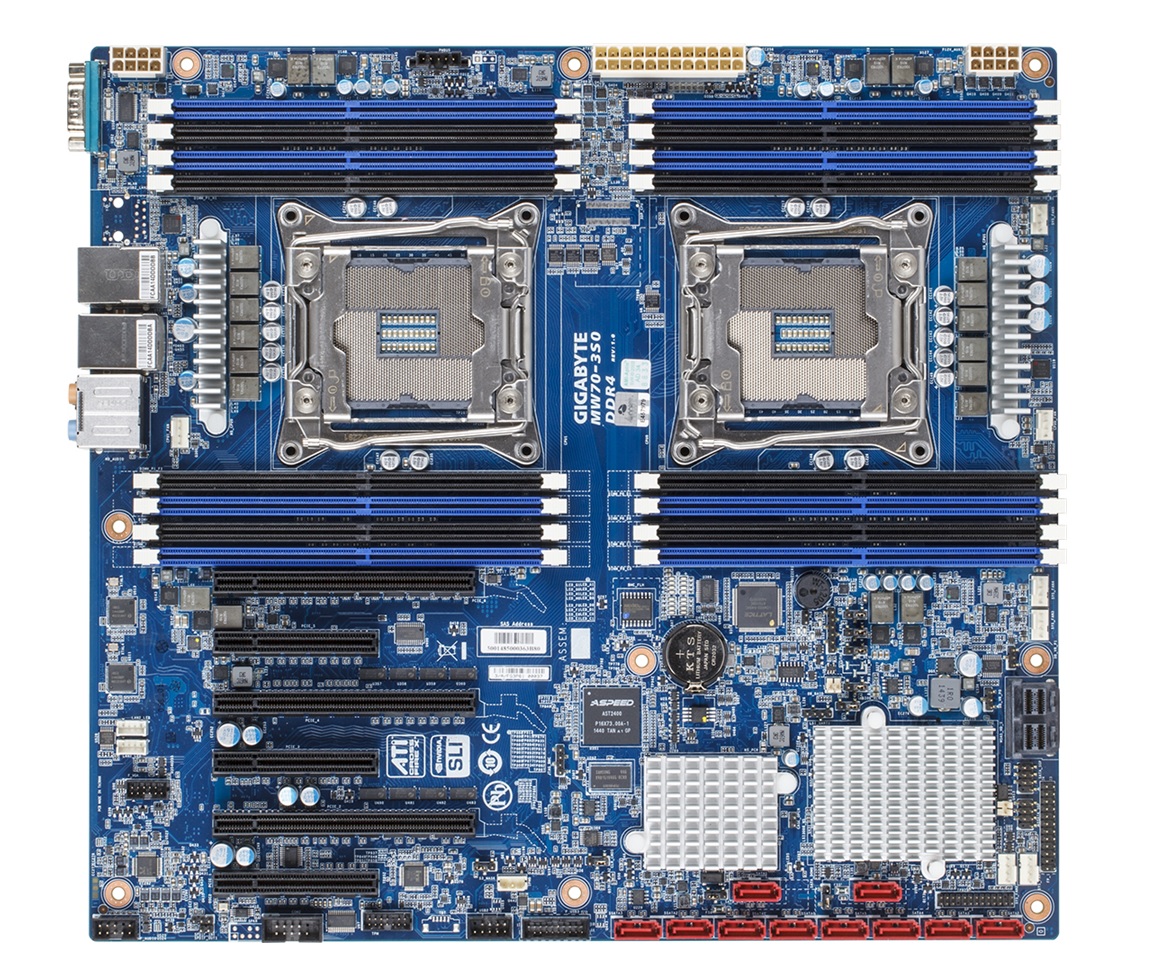 Intel Xeon Processors E5-2600 V3
Based on the Haswell microarchitecture, this Intel processor family features a whole new set of performance enhancing features over the previous generation. In addition to the usual boost in frequencies and core numbers, the Intel Xeon E5-2600 V3 family is the first in the server industry to support the brand new DDR4 memory technology.
Moreover, these processors include encryption performance overhead reduction features, and technologies improving run time and migration VM integrity.
DDR4 Server Memory Support
The Intel Xeon E5-2600 V3 family is the first generation of server processors to support exclusively the new DDR4 technology on the market. Still built on a quad channel architecture, these new memory modules feature a increased stock frequency of up to 2133MHz and a lower voltage of 1.2V per module. Together, these two main improvements can not only deliver a large bandwidth performance boost to memory intensive applications, but also considerable energy savings to large scale server deployments.

Form Factor
E-ATX / SSI EEB
305W x 330D (mm)
CPU
Intel® Xeon® E5-2600 V3 processors


NOTE: If only 1 CPU is installed, some PCIe, memory, network or I/O functions might be unavailable.

Socket
2 x LGA 2011-3
Mounting pitch: square ILM (80x80mm)


Max. length of M4 screw threads: 3.7mm




Screws longer than 3.7mm might damage the motherboard

Chipset
Intel® C612
Memory
16 x DIMM slots


DDR4 memory supported only


Quad channel memory architecture
ECC RDIMM / LRDIMM modules supported
Single and dual rank RDIMM modules up to 32GB supported
Quad rank LRDIMM modules up to 64GB supported
1.2V modules: 1600/1866/2133 MHz
LAN
2 x GbE LAN ports (Intel® I210)
Video
Integrated in Aspeed® AST2400-VB
2D Video Graphic Adapter with PCIe bus interface
1920×1200@60Hz 32bpp
Audio
Realtek® ALC887 controller
Supports 2/4/5.1/7.1 channel configurations
SAS
2 x Mini-SAS (for 8 x SAS 12Gb/s)
LSI SAS 3008 controller
SATA
8 x SATA III 6Gb/s ports
2 x SATA III 6Gb/s port supporting SATA DOM
RAID
Intel® SATA RAID 0/1/10/5
LSI® SAS RAID 0/1/1E/10
Expansion Slots
1 x PCIe x16 (Gen3 x16 bus) slot
2 x PCIe x16 (Gen3 x8 bus) slots
2 x PCIe x8 (Gen3 x8 bus) slots
1 x PCIe x8 (Gen3 x4 bus) slot

or (via PCIe switch):

3 x PCIe x16 (Gen3 x16 bus) slots
1 x PCIe x8 (Gen3 x4 bus) slot
Support NVIDIA® SLI™ & AMD® CrossFireX™ technologies (2-way, 3-way)

Internal I/O
1 x 24-pin ATX main power connector
2 x 8-pin ATX 12V power connectors
2 x Mini-SAS ports
10 x SATA III 6Gb/s ports
2 x CPU fan headers
5 x System fan headers
1 x USB 3.0 header
1 x USB 2.0 header
1 x Front audio header
1 x Serial header
1 x TPM header
1 x Front VGA header
2 x SATA SGPIO headers
1 x Front panel header
1 x HDD back plane board header
1 x JTAG PLD header
1 x LSI UART header
1 x Chassis intrusion header
1 x JTAG BMC header
2 x LAN LED headers
1 x S/PDIF-Out header
1 x S/PDIF-In header
2 x SATA DOM jumpers
1 x BIOS recovery jumper
1 x BIOS password recovery jumper
1 x ME recovery jumper
1 x ME update jumper
1 x Clear CMOS jumper
1 x BMC FRB jumper
1 x S3 mask jumper
1 x PMBus connector
1 x IPMB connector
Rear I/O
2 x USB 3.0
2 x USB 2.0
1 x Serial
2 x RJ45
5 x Audio jacks
1 x Optical S/PDIF-Out
TPM
1 x TPM header
OS Supported
Windows Server 2008 R2 (x64)
Windows Server 2012 (x64)
Windows Server 2012 R2 (x64)
Windows 7 Ultimate SP1 (x86/x64)
Windows 8 Enterprise (x86/x64)
Windows 8.1 Enterprise (x86/x64)

Red Hat Enterprise Linux 6.5 (x64)
Red Hat Enterprise Linux 6.6 (x64)
Red Hat Enterprise Linux 7.0 (x64)

SUSE Linux Enterprise Server 11 SP3 (x64)
SUSE Linux Enterprise Server 12 (x64)

VMware ESXi 5.1 U2
VMware ESXi 5.5 U2

Board Management
–
PSU Connectors
1 x 24-pin ATX main power connector
2 x 8-pin ATX 12V power connectors
Operating Properties
Operating temperature: 10°C to 35°C
Operating humidity: 8-80% (non-condensing)
?Non-operating temperature: -40°C to 60°C
Non-operating humidity: 20%-95% (non-condensing)
Retail Packaging Bundle
1 x User manual
1 x Driver CD
1 x I/O shield
2 x SATA III 6Gb/s cables (500mm)
1 x CrossFire™ bridge
1 x SLI™ bridge
1 x Tri SLI™ bridge
Ordering Information
Retail: 9MW703S0MR-00
Bulk: 9MW703S0NR-00
* The entire materials provided herein are for reference only. GIGABYTE reserves the right to modify or revise the content at anytime without prior notice.
* Advertised performance is based on maximum theoretical interface values from respective Chipset vendors or organization who defined the interface specification. Actual performance may vary by system configuration.
* All trademarks and logos are the properties of their respective holders.
* Due to standard PC architecture, a certain amount of memory is reserved for system usage and therefore the actual memory size is less than the stated amount.