Gigabyte is first to market with the a motherboard carrying Intel's Thunderbold 3 certification. The Z170X-UD5 TH has two USB Type-C connectors with a single-wire bandwidth of 40Gb/s, twice as much as Thunderbolt Gen 2. The Z170X-UD5 TH also supports 5K display support or dual 4K @ 60fps. Aside from the Thunderbolt feature however, Gigabyte also adds Intel GbE LAN, Gigabyte Amp-Up design using Realtek ALC1150 Codec and Nichicon audio capacitors, Ultra x4 m.2 and SATA Express.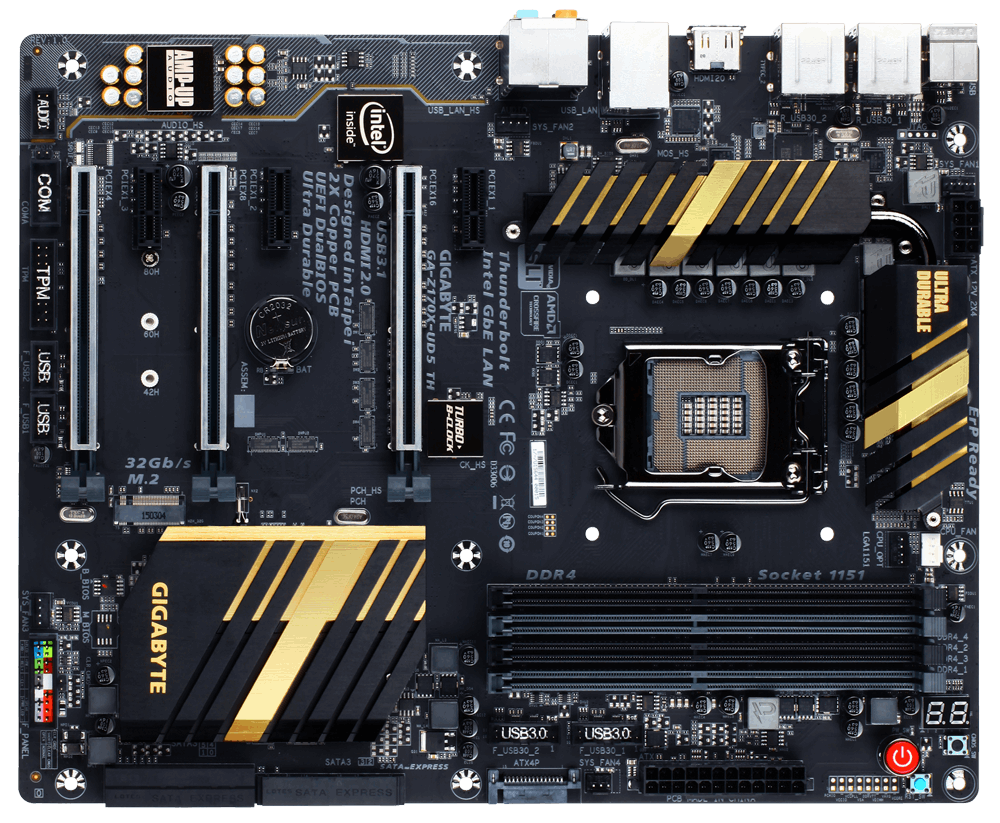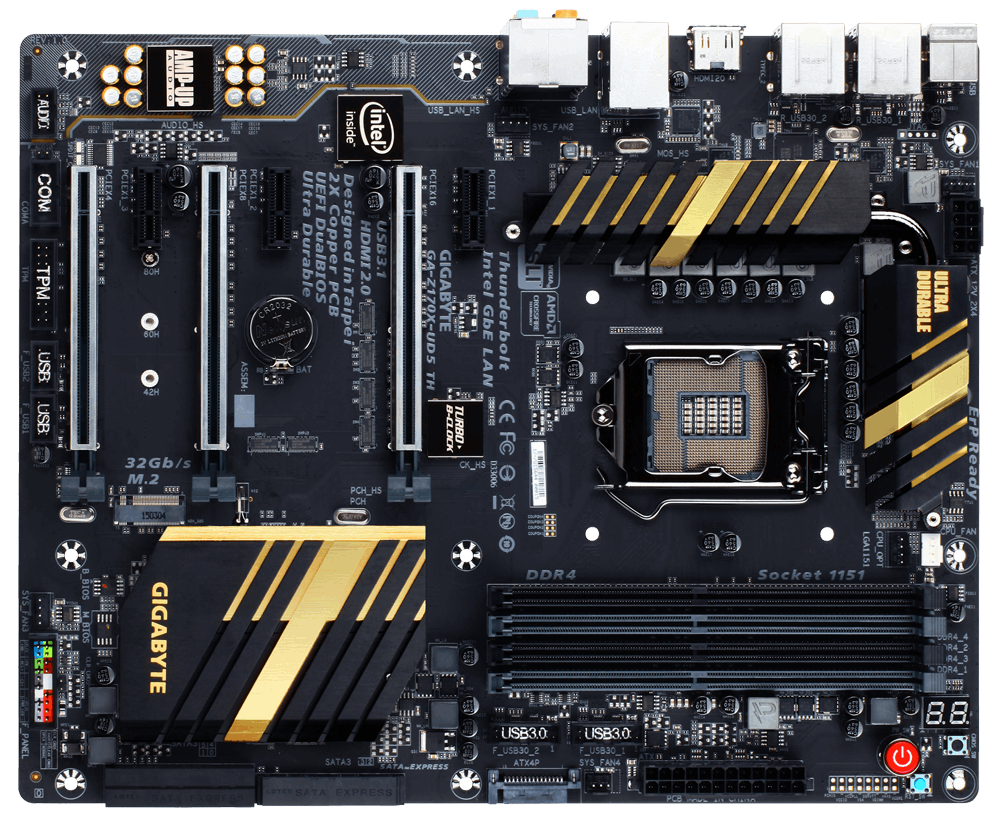 Taipei, Taiwan, September 4th, 2015 – GIGABYTE TECHNOLOGY Co. Ltd., a leading manufacturer of motherboards and graphics cards, is proud to be the first to bring Thunderbolt™ 3 to the desktop PC by launching the GIGABYTE Z170X-UD5 TH motherboard with support for the 6th Generation Intel® Core™ processors. 
Powered by Intel's own Thunderbolt controller the new Thunderbolt™ 3 protocol, which is available over two USB Type-C™ connectors on the back I/O of the GIGABYTE Z170X-UD5 TH, brings an unprecedented single-wire bandwidth of up to 40 Gb/s — twice more than the previous generation of Thunderbolt! This incredible increase in bandwidth is also accompanied with support for different protocols such as DisplayPort 1.2 and USB 3.1, which is backwards compatible with USB 3.0 and USB 2.0, opening up a world of new possibilities. 


Support for DisplayPort 1.2 makes Thunderbolt™ 3 a must have for any enthusiast. The Z170X-UD5 TH is able to support two displays in 4K resolution at 60 FPS or one display in 5K resolution. In addition, Thunderbolt™ 3 over USB Type-C™ has revolutionary industry-first features such as Power Delivery 2.0, and the ability to daisy-chain up to 12 devices thanks to the Z170X-UD5 TH's dual USB Type-C™ ports. 


The GIGABYTE Z170X-UD5 TH packs in many features which will make your next PC the ultimate machine such as the cFosSpeed internet acceleration software over the Intel GbE LAN which will help deliver better network responsiveness and improve network performance. For optimum graphics, the Z170X-UD5 TH features support for multiple graphics cards in SLI™ or Crossfire™ configuration and includes GIGABYTE's industry leading Ultra Durable™ PCIe one piece metal shielding, giving you the peace of mind knowing that your investment is protected. Additionally, GIGABYTE's Z170X-UD5 TH supports the latest NVMe protocol over the M.2 connector which allows high-performance storage devices such as the Intel 750 Series U.2 SSD, with the use of GIGABYTE's M.2 to U.2 adaptor, to perform at their best on your system.
As the undisputed leader of quality and durability, GIGABYTE has set out to show just how tough its motherboards are with the Ultra Durable™ line of motherboards. The GIGABYTE Z170X-UD5 TH features long lifespan Durable Black™ solid capacitors rated for 10K hours and exclusive GIGABYTE DualBIOS™ technology to protect your PC's most crucial component. GIGABYTE Ultra Durable™ motherboards are for systems where failure is simply not an option. 
For more details about Intel® Thunderbolt™ go to: http://www.thunderbolttechnology.net
To learn more about GIGABYTE Z170X-UD5 TH motherboard, please visit: http://www.gigabyte.com/products/product-page.aspx?pid=5479#ov
To learn more about GIGABYTE: http://www.gigabyte.com/