PC Mouse
GIGABYTE XM300 GAMING MOUSE REVIEW: One Size Fits Many
« Overview | Software »
A Closer Look at the Gigabyte XM300
The Gigabyte XM300 has a moderate size and weight at 103 g and 130 mm. The left and right sides of the XM300 are rubber grips with texture. The scroll wheel, located at the center of the Gigabyte XM300, is accompanied by adjustable DPI buttons.
On the left side of the Gigabyte XM300 there are 4 led lights to indicate which DPI setting you are on. To the right of these LED lights is the back and forward browser buttons. These buttons are located conveniently above the rubber grips.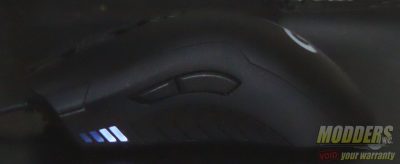 The base of the Gigabyte XM300 is wide enough for larger palms and hold the LED gigabyte emblem.The USB connector of the XM300 is gold plated which is better for connectivity.
The bottoms of the Gigabyte XM300 is equipped with Teflon feet and Gigabyte has been thoughtful enough to provide replacement feet.