PC Mouse
GIGABYTE XM300 GAMING MOUSE REVIEW: One Size Fits Many
« Software
How Did It Perform?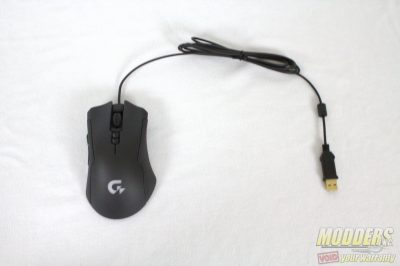 The XM300 feels like a very solid durable mouse made to last. The rubber grip on the left side is a very nice addition but it felt a bit smooth for something that is supposed to be a grip. Perhaps this was intentionally done as it did seem to allow my thumb to move over the forward and back buttons on the Gigabyte XM300 and the right grip did more than enough to hold my hand in place.
The scroll wheel on the Gigabyte XM300 is especially smooth. On other mice, I could almost feel a click on each notch I scroll. In addition the XM300 is both smooth and has just a slight feedback on each notch. This makes my scrolling on webpages feel rather… smooth. I noticed no input lag during clicks and button pressing during games or when web browsing.
The curve in the Gigabyte XM300 for the left and right clicks does seem comfortable with most types of grips. I personally like the claw grip but I did try the palm grip as well. Both of these grips felt natural if you're a right handed user. The Omron switches have a distinct feel on each click. There seems to less resistance on each button press compared to non gaming mouses, but there is still a good amount of feedback.
The DPI switch instantly changes the DPI on the Gigabyte XM300 with LED indicators showing which DPI profile you are on. I don't often change the DPI on the mouse, but it's nice the DPI can be switched so quickly. The DPI indicator adds a great deal of aesthetic value to the Gigabyte XM300. I used the Gigabyte XM300 on an MSI Thunderstorm and a Razer Kabuto and movement feels natural on both a rubber and aluminum surface. The lift off distance is quite low since the sensor stops detecting after the thickness of one DVD disk or about 1.5mm.
Gigabyte set out with a goal to make a budget gaming mouse with a certain set of necessary features. These features include offering a comfortable grip, high dpi, and assignable keys. The Gigabyte XM300 meets all these goals without some bells and whistles like adjustable weights and palm rests. If you are a gamer who wants a solid mouse extra features some other mouses have, then the XM300 is something to consider.