« A Closer Look at the Gigabyte Z170X-Gaming 7 Motherboard
|
UEFI Overview and Overclocking »
Bundled Software
Gigabyte App Center

The App Center is a one-stop launch pad for the Gigabyte bundled software. It sits on the Windows system tray and opens up to a translucent floating window from where users can launch the Gigabyte applications installed. All the applications are Windows 10 compatible and verified in this review. In terms of design, the updated applications also take up a lot less space pixel-wise on the screen compared to the Z97 applications which seemed like they were designed primarily for mobile.
@BIOS
@BIOS is a simple utility that can connect remotely to Gigabyte servers and download the latest BIOS update as well as install it. Users can also choose to update locally from a file or save the current BIOS image to a disk. The BIOS loading screen can also be customized with the user's own graphics with this utility.
3D OSD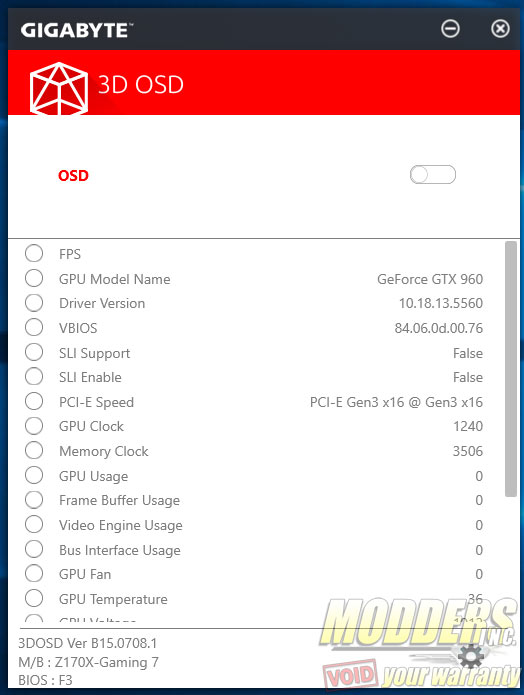 3D OSD adds an embedded display inside games that helps users monitor system frame rate and GPU behaviour as well as more advanced features for troubleshooting such as frame buffer usage, bus interface usage and video engine usage.
Ambient LED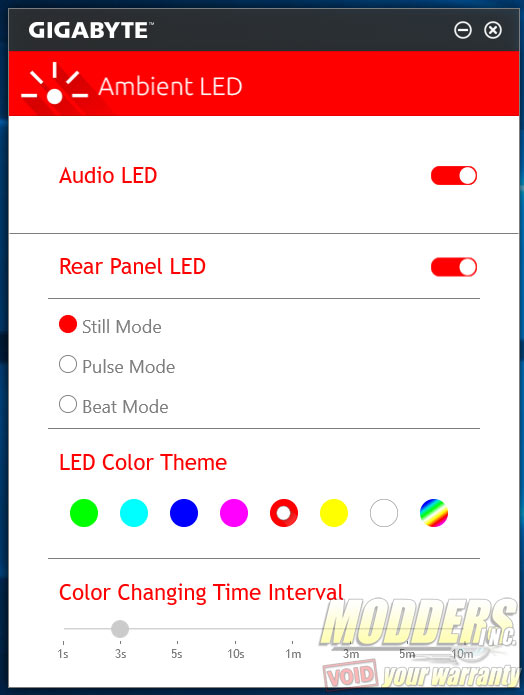 Ambient LED is a desktop control app for the on-board LED effects. Users can choose between color presets, change the lighting mode and adjust the time change interval. This controls both the audio LED trace path and the rear IO panel LED (if plugged in).
AppCenter Update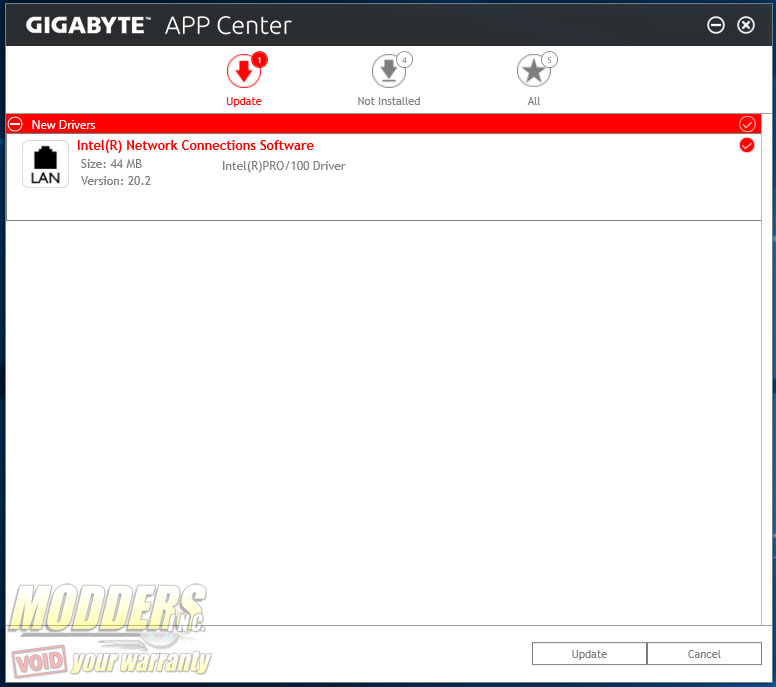 This replaces the older Live Update function and simply put, keeps your drivers and software up to date and can automatically install them when prompted.
CloudStation
The Gigabyte Cloud Station server is a powerful software that turns your Gigabyte motherboard into a personal cloud center, even if there is no built-in WiFi or Bluetooth.Users can access, share and control the system remotely with an iOS or Android based device if it is connected to the same Wireless network. Users on another PC can access the CloudStation by installing the client as well. Within this app, users have the ability to remote control and even OC the motherboard, as well as turn available wireless connection into a hotspot.
EasyTune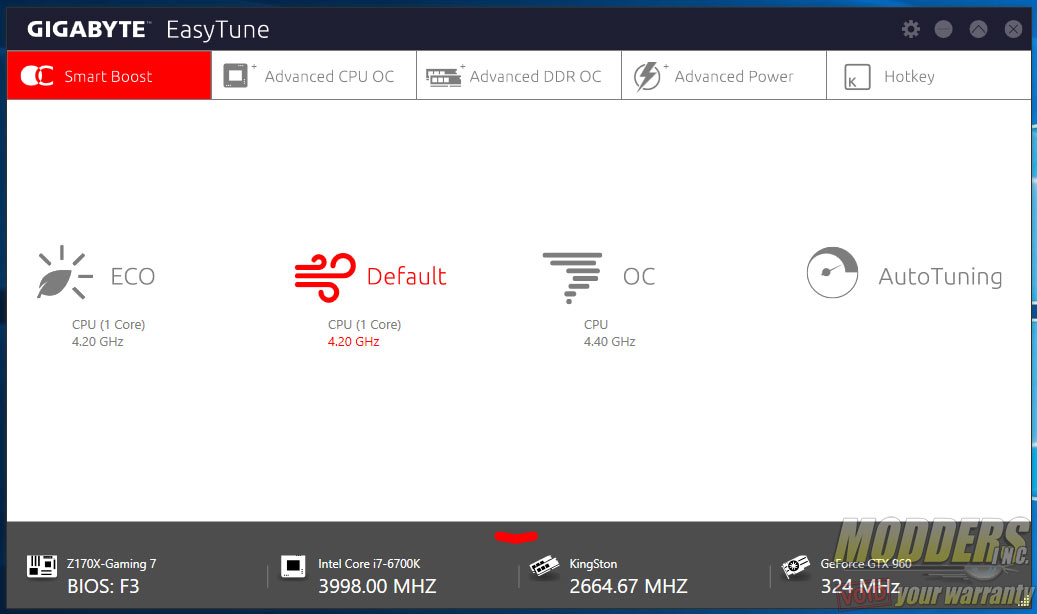 Easy Tune is Gigabyte's simple desktop overclocking utility that can do it automatically (via presets and auto-tuning algorithm) or manually. This preset is on the first tab but for more advanced options relating to CPU, the second tab provides the options found in the UEFI as well with the third tab dealing with the RAM equivalent. The fourth tab is the Load Line calibration control and the last tab allows users to bind overclocking presets into hotkeys for swifter loading. Additional display pops at the bottom which displays system info.
EZ Setup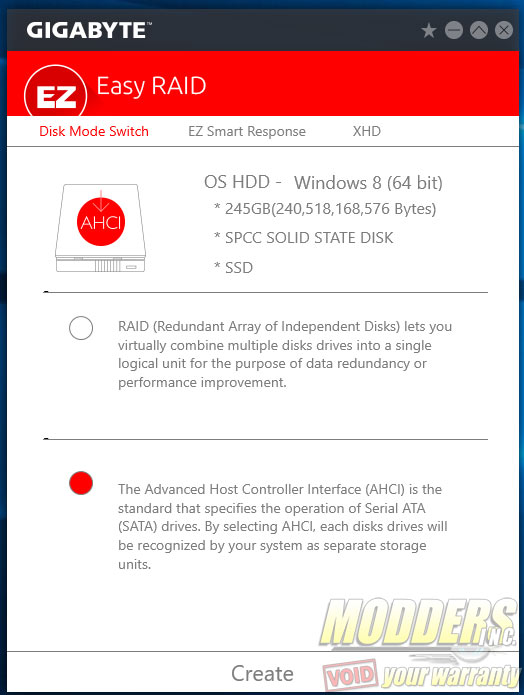 Formerly called EZ Setup, EZ RAID allows for advanced storage control on the desktop and gives users the option to adjust disk modes (between RAID and AHCI), provide access to Intel Smart Response options Gigabyte's XHD feature which allows users to add additional disks to an existing RAID array.
FastBoot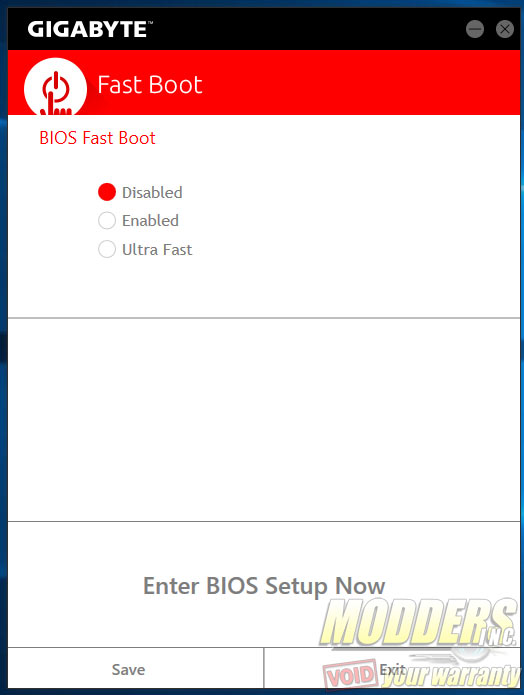 Gigabyte's Fast Boot utility allows users to change the boot speed settings directly from the desktop and also access the UEFI with a single button click. The program is oddly large even though it only does a simple, albeit useful function. One thing Gigabyte improved which is much appreciated over the Z97 Fast Boot software is the enlarged "Enter BIOS Setup Now" button which used to be a smaller button on the lower left corner and now takes up the entire width of the bottom area of the software.
System Information Viewer (SIV)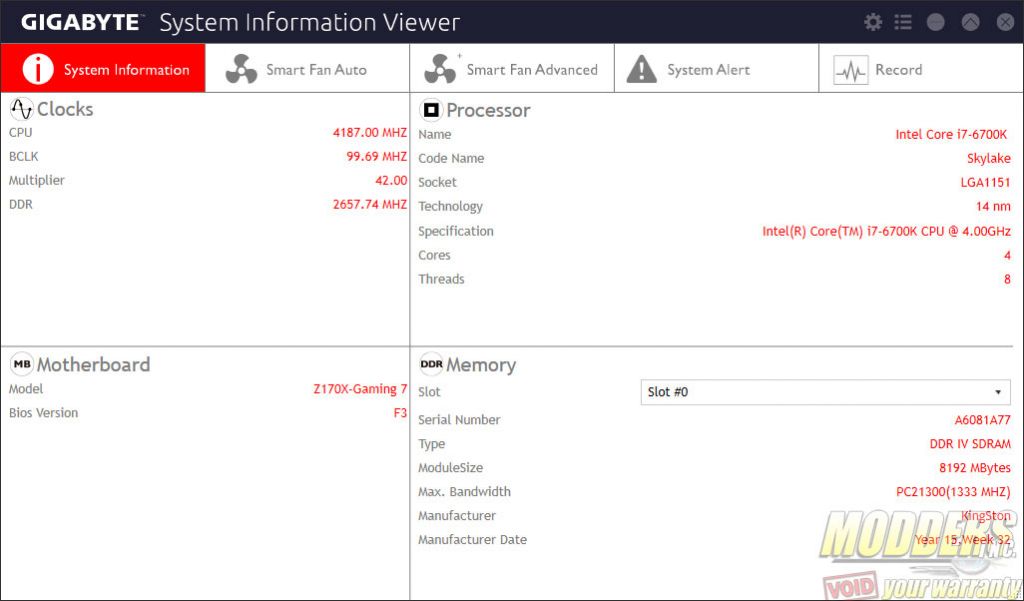 The system information viewer not only displays information about the current motherboard but users can also monitor and control the on-board fan headers with calibration option and presets. After calibration, System Information Viewer displays the available RPM range detected of the fan installed and graphs a recommended workload vs. temperature slope. There is also a system alerts page that allows users to set thresholds for certain values and to be alerted when those are crossed.
Smart Lock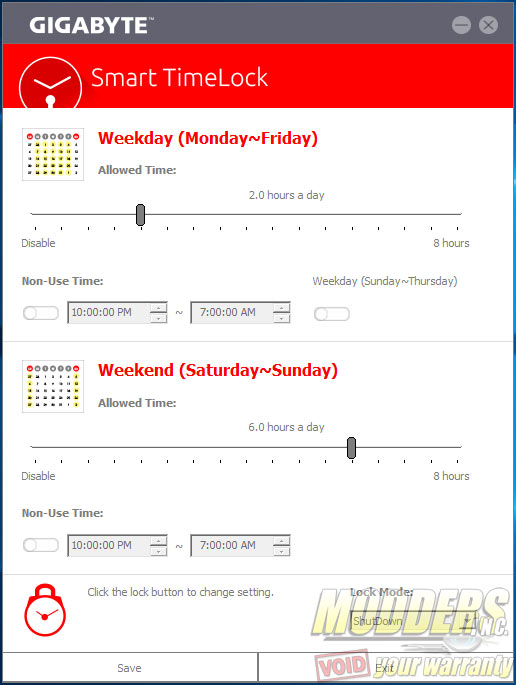 Smart Time Lock is essentially a time management software for controlling PC usage and can serve as a parental control system for locking out the PC during certain time of day for children or for employers who want to limit access to a workstation only during specific periods to maximize productivity. The program remains relatively unchanged since it was introduced with the Intel 5-series motherboards but now users can choose different lock modes including full system shutdown.
Smart Keyboard

Sure macro is misspelled in both manual and software, that does not mean that the Smart Keyboard does not live up to its name. In fact this nifty little app is very handy and is a great companion for the Z97X-Gaming 7. Aside from providing the ability to assign macros, the Smart Keyboard app also allow users to enable a sniper toggle to the mouse, adjusting the speed temporarily. Slowing down the speed will enable more time to line up the shot for example while speeding up the mouse will enable users to do quick turn arounds, etc. There are also some preset shortcuts useful when overclocking such as loading the overclock for a quick validation or loading the default clocks for stability.
USB Blocker
Gigabyte's USB blocker is a simple utility initially introduced with the 7-series Intel motherboards. The app allows users to block specific USB device types directly from the desktop and secure the status with a custom password. This is ideal if the motherboard will be used in public shared spaces such as offices, libraries, schools, etc where data theft or malware is a concern.
Platform Power Management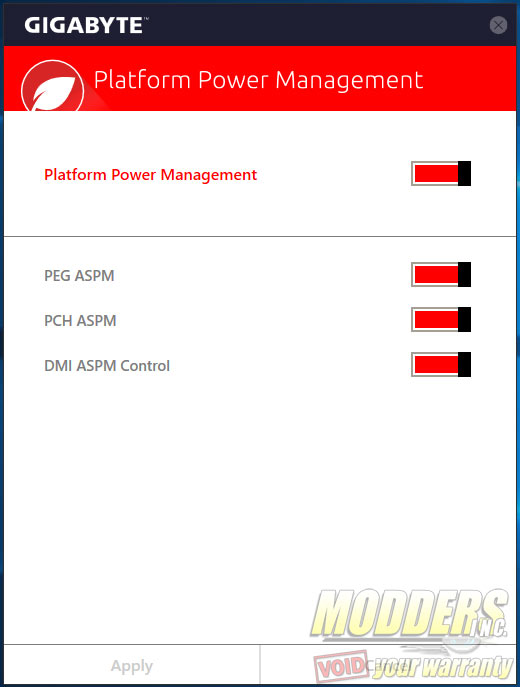 As the name states, this software allows the user to toggle the active-state power management features for the PCI-E, PCH and DMI individually or altogether.
Soundblaster Pro Studio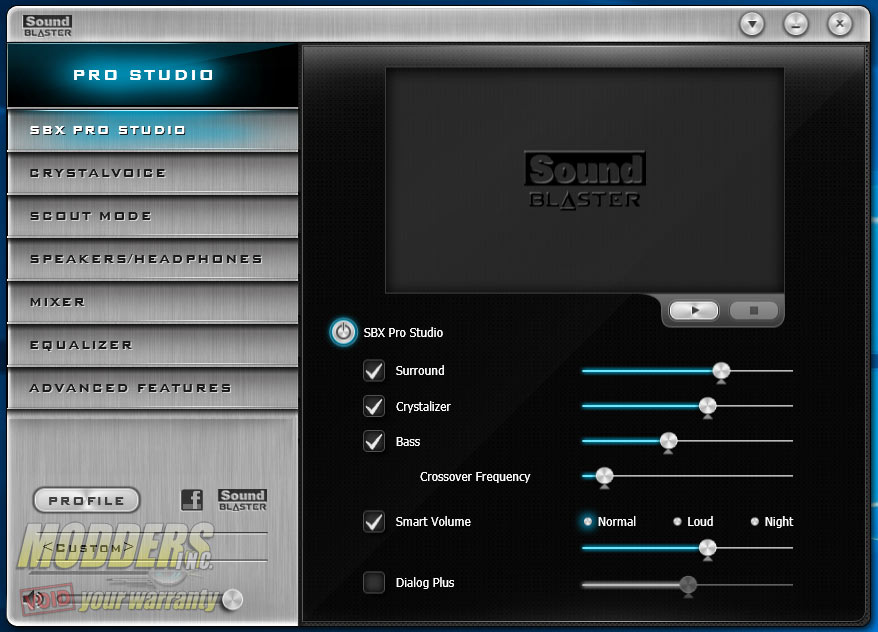 Soundblaster Pro Studio is a software manager for controlling the Creative Soundcore 3D audio. It features several DSP overlay effects that effectively expand the functionality of the on-board audio to better compliment the user, depending on their need. Users can tweak their audio settings via EQ or by adjusting the SBX Pro studio enhancements to fit their stereo, 5.1 audio or headphone audio output.
There are also other feature such as Scout Mode for positional gaming, especially useful for shooters and it can also be easily toggled on or off via bound hotkey. Users can also manage different configuration and save custom profiles into the local system so that different presets for applications can be made.