CPU Reviews
Intel Core I9 9900k Processor Review
The best gaming CPU in the world, or is it?
« Introduction
|
A Closer Look at the I9 9900k »
Packaging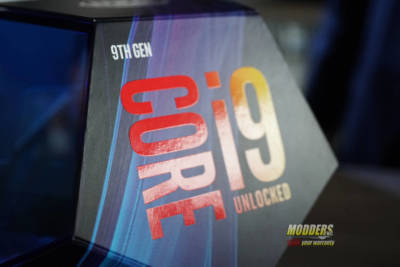 For the retail packaging, Intel switched it up from their tradition box like previous generations. Instead, they went with a dodecahedron shaped box, much like the dice used in Dungeons and Dragons. Unfortunately, as ours was an engineering sample, not retail, we received a different box. Although not as unique as the dodecahedron retail box, it's still unique, especially for retail samples. In the past, engineering samples arrived in a small, unmarked black box, just large enough to fit the processor. However, with the 9900k, Intel got fancy.
Our engineering sample came is a very attractive black box with a soft touch feel to it. The 9th Gen and Core i9 Unlocked branding cover the majority of the front of the box along with the Intel logo on the top right. Aside from that, there are no other markings on the outside of the box. Once the box was open, there is a pentagon shape with the Core i9 unlocked and the 9th Gen branding, as well as the Intel logo. It has the same color scheme as the retail packaging. Lifting up the cardboard pentagram revealed the i9 9900k in all its glory.Being an engineering sample, the IHS doesn't have the model number of the chip printed on it. Instead, it has Intel Confidential across the top with NA printed below. The processor does have the base frequency, in this case, 3.60 GHz, as well as the batch number of the processor. As cool as the engineering sample packaging was, its nothing compared to whats in the box.