« Intro
|
Page 3 »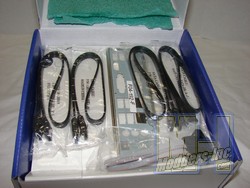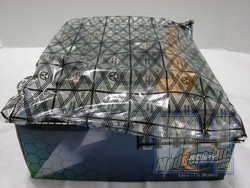 Once inside the box we can view the necessary hardware to install and use the motherboard. When we open the second flap of the box we find the motherboard wrapped nicely in a static free bag.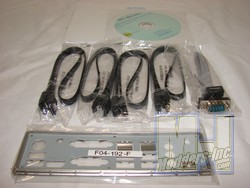 Under the motherboard is the installation disc and manual. The components that come with the board are as follows: 1-I/O shield plate, 1-com/serial cable, 4-SATA cables, 1-installation disc and 1-manual.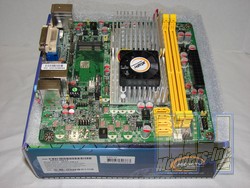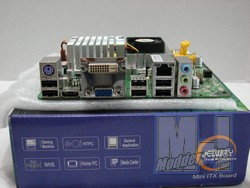 Here we have our first close look at the NC63-330-LF. Again the compact size of the board amazes me, however, even with it's compact size the board seems to be laid out very well to utilize all connectors, pin-outs and jumpers. Unlike the NC96FL I reviewed last, this board has a small fan on the heatsink, mounted above the ION chipset. Also unlike the NC96FL, there is not only a DVI connetor but an HDMI connector as well on the I/O panel. I must say, this board is looking very promising so far.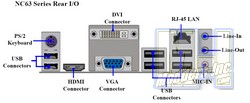 While we are on the subject of the I/O panel, we have the following connectors; (from left to right) a PS/2 keyboard connector with two USB connectors beside it for other input devices like a mouse etc, next at the video connections we have a HDMI connector, a DVI connector and a VGAconnector. Then we follow up with 4 more USB connectors (making 6 total), a RJ-45 lan connector and last but not least the audio input/outputs (line-in / mic / line-out). The addition of the HDMI andDVI connectors make this board very appealing to the home theater PC enthusiast.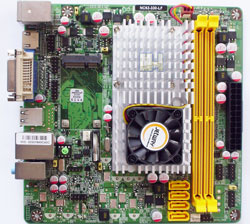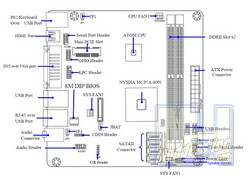 The layout of the seems to have plenty of connectors, pin-outs and jumpers to facilitate the setup of the board how one would desire. For more info on jumper locations and setups, consult the owners manual. The picture on the right gives you a good idea of what connectors are available and where they are located. A very handy thing to have, and it along with other info can be downloaded in PDF form at the Jetway website. 
NC63-330-LF manual 
.