Page 2 »
When it comes time to make a optical drive purchase, most of us tend to make our choices based on pricing. Although optical drives have not changed to much over the last few years, users should still take a look at the quality of the drive and the features that it has to offer. Today we are going to be taking a look at the ASUS DVD-RW 24B1ST optical drive. From a glance it looks just like any other drive on the market, however it does offer a few nice features that the others do not.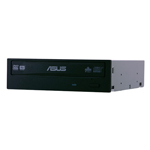 Sponsor: ASUS
[hr]
Packaging & Specifications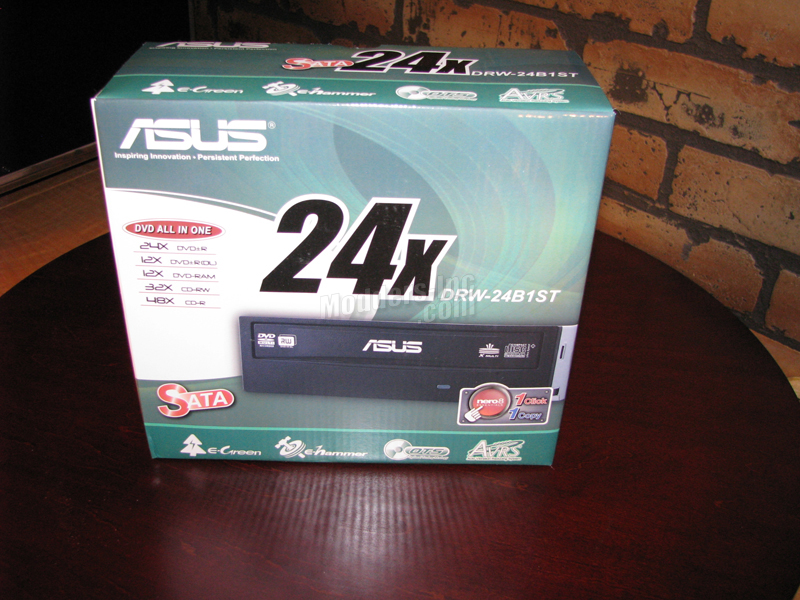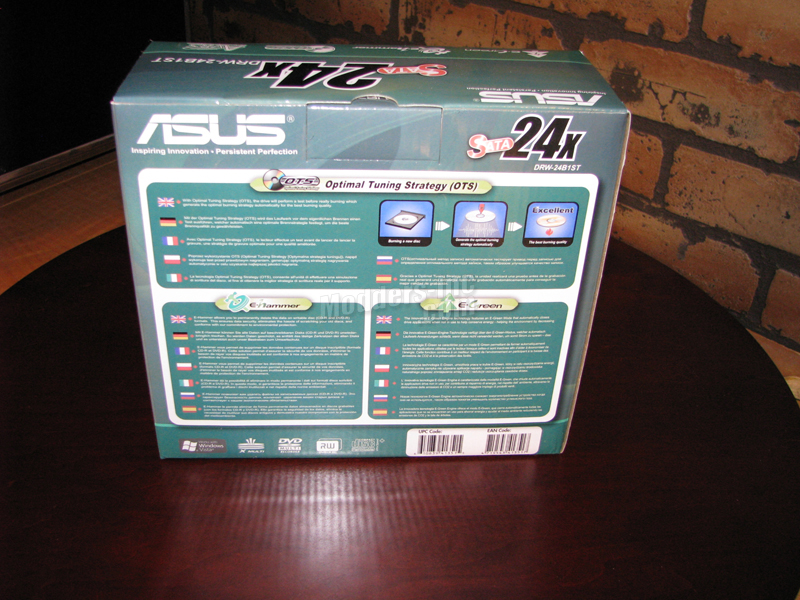 The Asus DRW-24B1ST comes in a standard retail box. Looking at the front of the box, we see that Asus has provided us with a full list of supported media and their maximum burn speeds. Across the lower section we see an icon indicating that this drive utilizes a SATA interface. It also shows us a Nero8 Essentials 1 Click 1 Copy icon followed up with the E-Green, E-Hammer, OTS, and AVRS icons along the very bottom. 
On the rear of the package we see a more in depth description of the OTS (Optimal Tuning Strategy), E-Hammer, and E-Green features in multiple languages.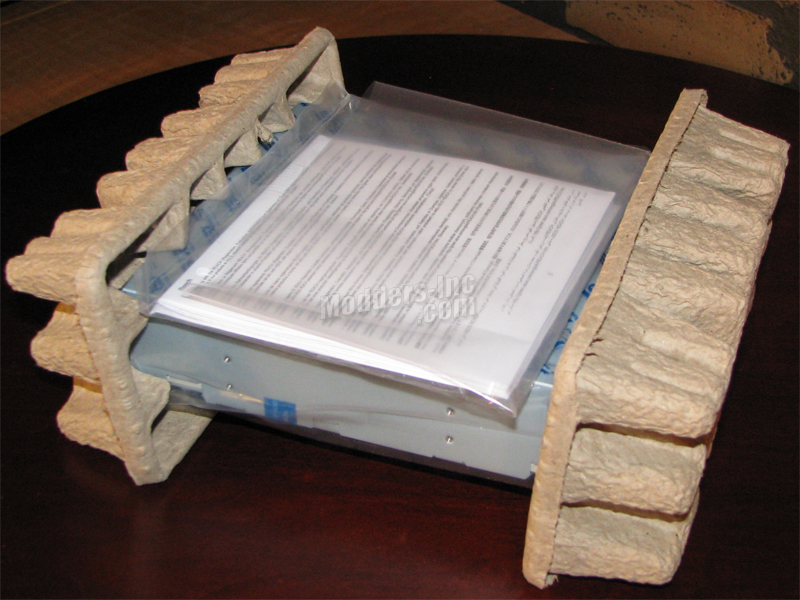 Sliding the contents out of the box we see that the actual drive itself is suspended in the box with two formed cardboard end caps to ensure that the drive receive no damage during shipment. Laying on top of the drive we have a small bag that contains the Nero8 Essentials disc, and Quick Install Guide, and a smaller bag of 4 screws. 
Features:
E-Green (Energy Green Engine) – The innovative drive E-Green Engine technology features an E-Green Mode that automatically closes drive applications when no in use to help conserve energy – helping the environment by decreasing CO2 emissions and reducing the depletion of trees. 
OTS (Optimal Tuning Strategy) – With OTS, the drive will perform a test before really burning which generate the optimal burning strategy automatically for the best burning quality.
E-Hammer – E-Hammer allows you to permanently delete the data on writable disc (CD-R and DVD-R) formats. Once the data is deleted, it cannot be recovered or restored, and the optical drive will not be able to read the disc. This ensures data security, eliminates the hassle of scratching your old discs, and conforms with our commitment to environmental protection.
AVRS (Auto Vibration Reducing System) – The AVRS technology is designed to minimize the vibration caused by the spindle motor and resonance between the components as well as the drive and PC cases. AVRS is designed to redo vibration and noise induced by unbalanced mass of rotating machinery. With AVRS, Asus DRW-24B1 provides high readability and playability.
Specifications:
Color
Black
White
Read Speed
DVD+R: 16 X 
DVD-R: 16 X 
DVD+RW: 12 X
DVD-RW: 12 X 
DVD-ROM: 16 X 
DVD+R(DL): 12 X 
DVD-R(DL): 12 X 
DVD-ROM(DL): 16 X 
CD-R: 40 X 
CD-RW: 40 X 
CD-ROM: 48 X 
DVD video playback: 6 X
VCD playback: 16 X
Audio CD Playback: 16 X
Write Speed
DVD+R: 24X,22X,16X,12X,10X,8X,4X
DVD-R: 24X,22X,16X,12X,10X,8X,4X
DVD+RW: 8X,6X,4X,2.4X
DVD-RW: 6X,4X,2X
DVD+R(DL): 12X,8X,6X,4X
DVD-R (DL): 12X,8X,6X,4X
DVD-RAM: 12X,8x,6x,5X,3X,2X
CD-R: 48X,40X,32X,16X
CD-RW: 32X,24X,16X,10X,4X
Writing Mode
DVD+R & DVD+R (DL): Sequential Write
DVD-R & DVD-R(DL): DAO/Incremental Recording
DVD+RW: Random Write
DVD-RW: DAO/Restricted Overwrite/Incremental Recording
CD-R/RW: DAO/TAO/SAO/Packet Write

Access time

DVD: 140 ms 
CD: 150 ms 
Interface
SATA
Data Buffer
2 MB
O/S Compatibility
Windows® Vista
Windows® XP
Windows 2000
System Requirement
Processor: Pentium 300 MHz or higher
Memory: 128 MB or more is recommended 
HDD: 10 GB or more
Bundle 

Software

Neor Essentials
E-Green
E-Hammer
Disc Formats
Audio CD,Video CD,CD-I,CD-Extra,Photo CD,CD-Text,CD-ROM/XA,Multi-session CD,DVD Video
Disc Diameters
12cm/8cm
Mounting Orientation
Vertical and Horizontal (+5° ~ -5°)
Dimension
146x170x41 mm (W x D x H)
Weight
650 g
Power Requirements
DC+5V ±5%,DC+12V ±10 %
Temperature
Operating: 5℃ to 50℃ 
Storage: -40℃ to 65℃
Humidity
Operating: 15% ~ 80% (Non-condensing) 


Storage

: 15% ~ 95% (Non-condensing)