« Page 4
Conclusion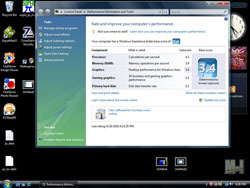 Finally we have the Windows Experience Index score. The NC63-330-LF scored a 3.4 Index score, which is almost 10% higher than the NC96FL's score of 3.1. All in all I would have to say the NC63-330-FL scored extremely well in all of the benchmarks I ran. 
  I did not have any issues at all with this board. The boards layout was great, the proper video connection choices were there and I liked the fact that Jetway added a fan to the heatsink over the powerful Nvidia ION chipset. This board, like the most mini ITX boards is definitely geared for HTPC setups, and should prove to be an outstanding HTPC board. However, I definitely feel that the NC63-330-LF will also make an outstanding small home computer setup as well and perhaps light gaming. While watching YouTube videos I had absolutely no issues, as they streamed well, and DVD playback was excellent.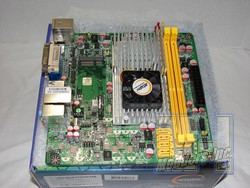 I must say, as much as I liked the NC96FL, I simply loved the NC63-330-LF. I see a very nice HTPC setup coming to my little shack in the near future . The Jetway NC63-330-LF mini ITX motherboard is definitely my choice for a killer HTPC. 
Pros

---

Cons

---

Integrated NVIDIA ION Graphics
DX10 support 
DVI and HDMI connections
full HD 1080p  
Blu-Ray and HD-DVD playback 
Small size
Dual Core Atom Processor
Plenty of storage connections
Several fan connections
Hi Def Audio
Up to 8GB of DDR2 800 memory
Runs Vista Ultimate 64-bit fine
none