Page 2 »
The NotePal A1 is a notebook cooler from the world leading expert on cooling stuff… Cooler Master! A dual fan setup that is designed to efficiently and quietly assist in cooling the notebook. How effective is a secondary cooling device for a notebook? Read on and find out!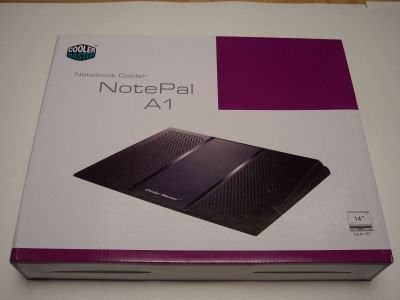 The NotePal A1 is a simple concept that is not in need of extremely cluttered packing box. The front bears this out. A nice picture of what is in the box, and a simple graphic in the lower right letting the buyer know that this cooling pad will work with laptops up to 15″ screen designation.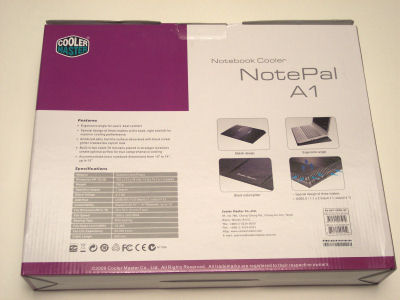 The back of the box is where the meat of the info on this product is at. Along with some clear pictures showing how the product works, there are a couple of bullet points they would like you to know: 
Ergonomic angle for users best comfort
Special design of 3 intakes at the back, right and left for superior cooling performance. 
Anodized alloy hairline surface decorated with black nickle glitter creates the stylish look.
Built in, two silent 70 mm fans placed in strategic locations create optimal airflow for true comprehensive cooling.
Accommodates most notebook dimensions from 10″ to 14″, up to 15″. 
Some of the technical specifications pulled from their website:
Model
R9-NBC-ADDK-GP
 
Dimension
350 x 272 x 34mm; 13.8 x 10.7 x 1.3 inches
 
Fan Dimension
Dual 70 x 70 x 15mm
 
Fan Noise Level (dB-A)
19 dBA
 
Fan Life Expectancy
40,000 hours
 
Fan Speed
1500 + / – 10″ – 14″ Notebook, up to 15″
 
Material
Aluminum and Plastic
 
Weight
700g ; 1.54lbs
 
Rated Voltage
5V DC
 
USB Port
USB 2.0/ 1.1 x2 (input x1 ; output x1)
 
Bearing Type
Rifle bearing
 
Cable Length
600mm, 11.8 inches
 
Operation degree
7 Degree
My first impression of the unit is it is a good looking unit that is geared toward a more conservative user that does not want all of the bling of some other offerings.