Lian Li has expanded their desk line to include a new standing desk option: The DK-04. Many offices have been adopting a standing option for computer usage, which some have argued is ultimately healthier for the posture than sitting down for hours at a time. The DK-04 is height adjustable with four settings from 67.5cm to 116cm so users of varying heights can be accommodated. As expected of Lian Li products, the DK-04's structure is made of aluminum and has plenty of room for two 120mmx240mm radiators and one 120mmx480mm radiator inside. The DK-04 comes in at a hefty $1,499 price tag but it does look elegant with its tempered glass top and all-aluminum body.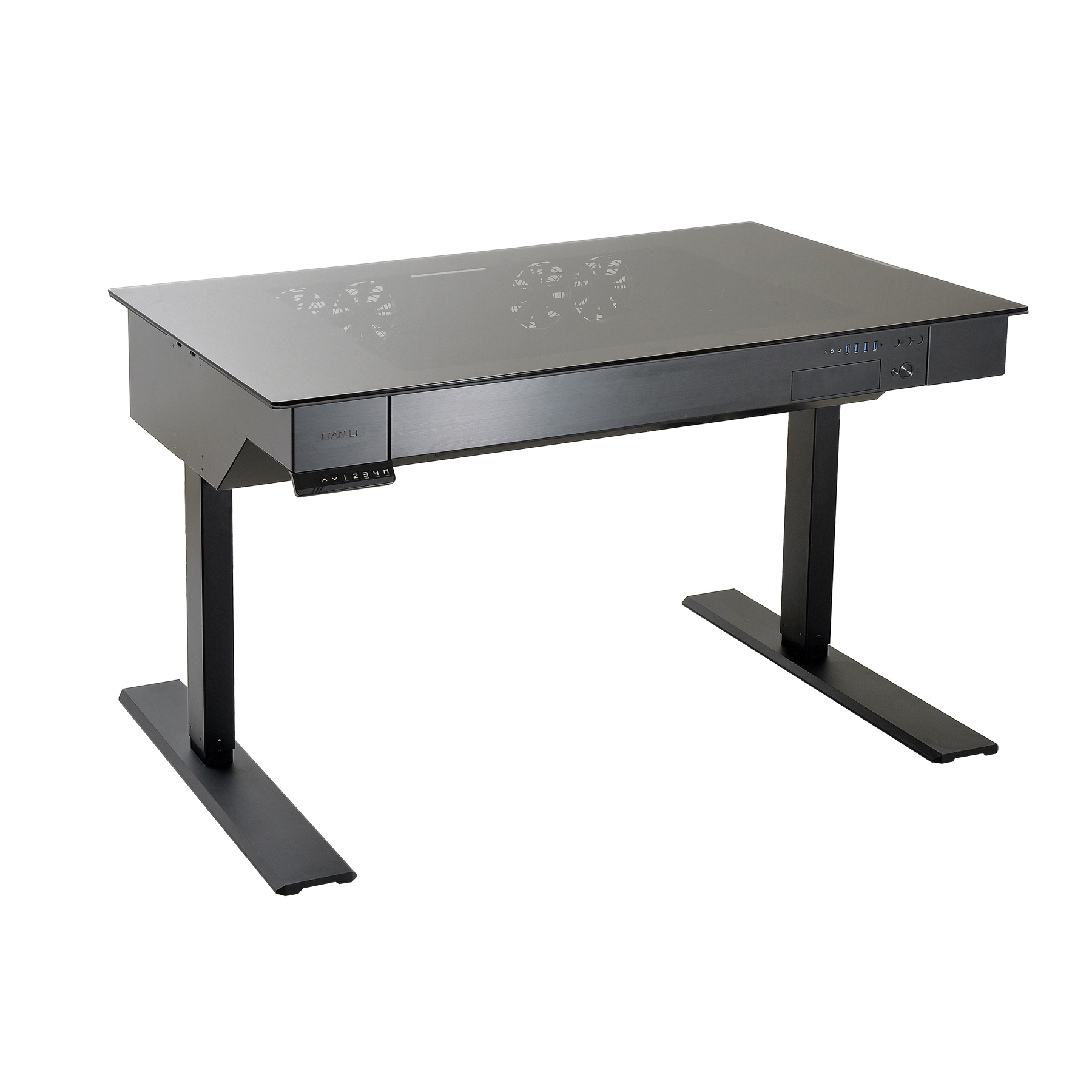 April 2016, Keelung, Taiwan – Lian-Li Industrial Co. Ltd, today announces the DK-04 computer desk chassis: the first-ever standing computer desk. This chassis offers hardcore enthusiasts design improvements, better drive mounting, extensive water cooling support, and, most importantly: it stands!
The World's First Standing Computer Desk Chassis
Standing desks aren't just fashionable, they're proven to be beneficial and healthy in multiple ways. Lian Li sought to design a new computer desk chassis in this spirit. Users can configure up to four different height settings, from 67.5cm to 116cm, for the desk to automatically adjust to at the press of a button. The DK-04 can serve as a standing desk for work and switch to a sit-down gaming desk in an instant!
Latest Vibration-Dampened Drive Storage and Inputs
With four stacking rubber-isolated drive racks, the DK-04 can mount a total of eight 2.5" or 3.5" drives with vibration dampeners. These racks are easy to install and remove via thumbscrews, and keep drives running quietly and reliably. This desk also includes a 5.25" bay on the front panel for an ODD, fan controllers, or other extras. The front panel also includes four USB 3.0 ports, HD audio inputs, and slots for the RGB controller for the optional lighting kit.
Redesigned Ergonomics, Better Legroom
The DK-04 features a new design, sporting a slimmer frame that tapers towards the user for better leg room. As it's a standing desk, the height can be fine-tuned to match each person; its legs are made from steel for structural strength – it can support loads up to 100kg.
Improved Water Cooling Support
Four 120mm fans intake cool air from the front of the chassis and vent through four additional exhaust fans mounted on the back panel. The DK-04 can also house very elaborate water cooling setups. The front intake fans can be swapped for a large 120mmx480mm radiator; the rear fans can be replaced by two 120mmx240mm radiators.
Updated Case Building Features
Along with Lian Li's previous desks, the DK-04 uses a removable motherboard tray for easy, unhindered building. Inside the chassis, there are wide margins with anchored cable clips to simplify cable routing and organization. The internal compartment is spacious, bright, and visible. The DK-04 supports eight expansion slots and VGA cards up to 320mm in length. It supports full ATX and mATX motherboards and mounts CPU coolers up to 140mm in height and ATX PSUs up to 210mm long.
Price and Availability
The DK-04 will be available on May 10th for $1499.
Video Overview of the DK-04:
Find out more here:
http://www.lian-li.com/en/dt_portfolio/dk-04/
https://fb.com/LianLiHQ
https://www.instagram.com/lianlihq/
About Lian Li
Lian Li Industrial Co. Ltd is an Aluminum Chassis and Chassis peripheral manufacturer and provider of industrial wholesale as well as OEM & ODM services for the PC industry as required. With over 20 years of service excellence, ISO 9001 certification and a team of professional staff willing to do the utmost to deliver durable, superior quality products, all backed by a 2 year guarantee*; your satisfaction is guaranteed (*conditions apply). To learn more about Lian Li, please visit their websites at www.Lian-Li.com.