QuakeCon
Modders-Inc / Thermaltake QuakeCon BYOC Seat Giveaway
We have 3 winners for a seat at the Modders-Inc/Thermaltake BYOC Seat Giveaway. Congratulations Michael Long, Chris Hutt, angela barbosa dos santos – Emails are on there way to you.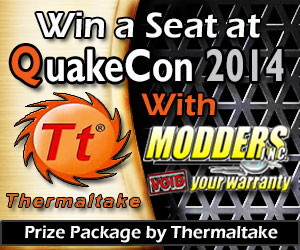 What!
You missed out on getting your seat to QuakeCon the largest LAN in the United States? Thanks to Thermaltake and Modders-Inc we are helping you make it into the BYOC. Not only will you get a free seat in the BYOC you will get a special prize package from the awesome people at Thermaltake and eSPORTS!
The prizes package will include a Mouse, Mouse Pad, Keyboard, and even a headset!
We (Thermaltake and Modders-Inc) reserve the right to change any of the items in the prize package… who know you may even get more stuff!

We make things easy around here for contest so all you have to do is follow these rules and you can when a seat at the BYOC.
Like Thermaltake and Modders-Inc on Facebook. Fill out the form below and that is it!

  Modders-Inc on Facebook
[contact-form-7 id="16623″ title="Thermaltake and Modders-Inc BYOC Seat Giveaway"]
To claim you seat and prizes you MUST present be at QuakeCon.
Any or all prizes along with the BYOC seat will be forfeited if you do not show up at the event to claim your seat.
All winners are responsible for their own shipping and travel of the prizes won.