News and Articles
MSI Offers Up Four RX 480 Gaming Series Models with Twin Frozr VI Cooler
AMD's Radeon RX 480 custom cards have finally been announced and MSI offers up four different versions sporting their latest Twin Frozr VI cooler under their GAMING banner. Each MSI RX 480 GAMING video card will be available in two different 8GB and 4GB models with slightly varied features from each other aside from the clock speeds. The entry level MSI RX 480 Gaming 4G and MSI RX 480 Gaming 8G will both come with 1292 MHz core clock under OC mode while the higher clocked GAMING X variants with 8GB and 4GB GDDR5 memory will have a 1316MHz core clock under OC mode and will feature a pre-installed backplate.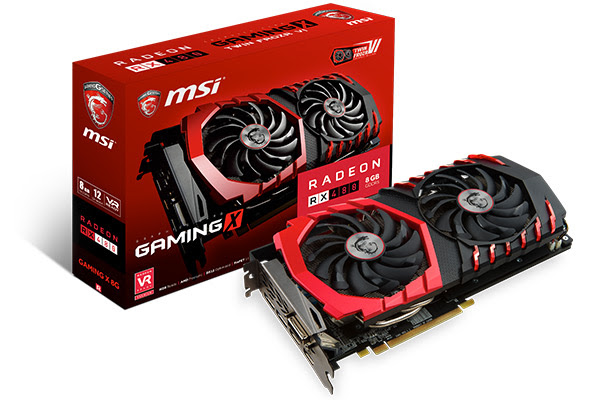 All of the MSI Radeon RX 480 Gaming and Gaming X video cards otherwise share similar dimensions at 276 x 140 x 42mm and will have a pair of DisplayPorts, a pair of HDMI ports and a dual-link DVI-D port for display. All four will also have RGB LED features and the afformentioned Twin Frozr VI cooler.
MSI's Twin Frozr VI cooler use large 8mm nickel plated copper heatpipes and the latest Torx 2.0 fan design for quieter performance, claiming 22% increase in air pressure compared to the previous generation's design. This is a handy feature considering the custom RX 480 Gaming and RX 480 Gaming X models are overclocked.
As with previous MSI Gaming video cards, all RX 480 gaming models will come bundled with MSI's Gaming App for convenient single-click preset overclocks, downlocks and other enhancements. For those who want these cards unfortunately would have to wait a few more weeks however as they won't hit store shelves until the middle of August 2016.
For more details, check out http://us.msi.com
| | MSI Radeon™ RX 480 GAMING X 8G | MSI Radeon™ RX 480 GAMING 8G | MSI Radeon™ RX 480 GAMING X 4G | MSI Radeon™ RX 480 GAMING 4G |
| --- | --- | --- | --- | --- |
| GPU | Radeon™ RX 480 | Radeon™ RX 480 | Radeon™ RX 480 | Radeon™ RX 480 |
| Core Clock speeds (OC mode) | 1316 MHz | 1292 MHz | 1316 MHz | 1292 MHz |
| Memory size / Type | 8GB GDDR5 | 8GB GDDR5 | 4GB GDDR5 | 4GB GDDR5 |
| Thermal design | TWIN FROZR VI | TWIN FROZR VI | TWIN FROZR VI | TWIN FROZR VI |
| Backplate | Yes | Optional | Yes | Optional |
| LED | Yes (RGB) | Yes (RGB) | Yes (RGB) | Yes (RGB) |
| Connectivity | DisplayPort x 2 / HDMI x 2 / DL-DVI-D | DisplayPort x 2 / HDMI x 2 / DL-DVI-D | DisplayPort x 2 / HDMI x 2 / DL-DVI-D | DisplayPort x 2 / HDMI x 2 / DL-DVI-D |
| Dimensions | 276 x 140 x 42 mm | 276 x 140 x 42 mm | 276 x 140 x 42 mm | 276 x 140 x 42 mm |