MSI Computer Corp received the distinction of International CES Innovations 2015 Design and Engineering Awards Honoree for its ultra-powerful GT72 Dominator Pro; its svelte GS30 Shadow; the world's first 4K GAMING All-in-One PC, AG240; and the X99 Gaming 9 ACK motherboard featuring Killer DoubleShot Pro technology, Killer LAN and Killer Wi-Fi AC.
"The GT72 Dominator Pro, GS30 Shadow, AG240 4K and X99 GAMING 9 ACK are the future of gaming, whether you are a road warrior craving raw power, a nimble gaming ninja on-the-go, or a champion at home with an eye on design and style" says Andy Tung, President of MSI Pan America.  "These coveted awards recognize our commitment to deliver impressive gaming solutions, and we are humbled to receive this acknowledgement."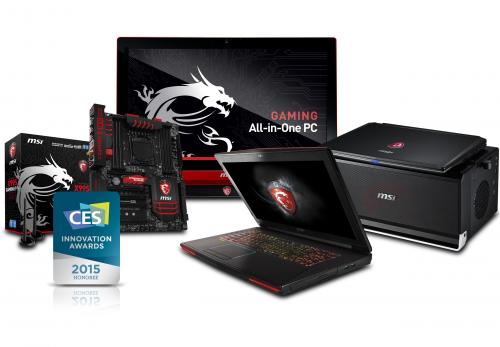 GT72 Dominator Pro – MSI's flagship gaming notebook, the GT72 Dominator Pro, is armed with the latest and most powerful NVIDIA 980M graphics card; MSI's new SHIFT power usage technology; Dragon Gaming Center; SteelSeries Engine customization software; and other cutting-edge components to satisfy the hardcore gamer.
GS30 Shadow – The world's thinnest and lightest 13.3″ gaming notebook, the GS30 Shadow measures only 0.78 inches thick and weighs less than 2.65 pounds. With MSI's proprietary Gaming Dock Station, the GS30 is the world's 1st eGPU solution that supports desktop graphics taking full advantage of its performance with PCIe x16 3.0, 5W speakers and a multitude of ports. The GS30 Shadow is the perfect combination of portability and power.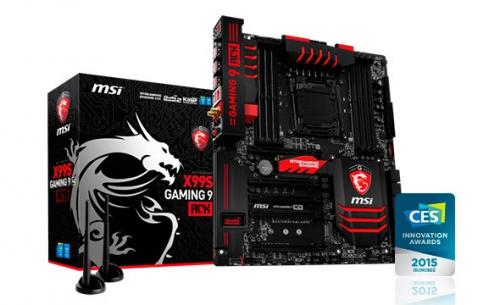 AG240 4K Edition – The world's first All-in-One gaming PC with an Ultra HD 4K display, the AG240 4K Edition features a variety of cutting-edge gaming components including 3 mSATA SSDs at RAID 0, Intel's latest processor, NVIDIA GeForce 900M series graphics, and MSI's Anti-Flicker and Less Blue Light technology.
X99 GAMING 9 ACK – World's first motherboard featuring Killer DoubleShot Pro technology, a combination of Killer LAN and Killer Wi-Fi AC that delivers lower latency and faster data throughput. X99 Gaming 9 ACK has the ability to process gaming network activity over LAN and other applications over Wi-Fi, and is packed with an arsenal of features including Turbo M.2, Audio Boost 2, and 4-way SLI support. X99 GAMING 9 ACK also features Streaming Engine, a dedicated onboard hardware streaming solution for streaming live gaming activity at 1080p/60Mbps without impacting FPS.
Recognized under the Gaming Hardware & Accessories category, the honorees were evaluated by a panel of independent industrial designers, engineers and members of the trade media to honor outstanding design and engineering in cutting edge consumer electronics.
To schedule a meeting with MSI representatives during CES 2015, please contact PR representative Pedro Chen at pedrochen@maxborgesagency.com. For more information about the GT72 Dominator Pro, X99 GAMING 9 ACK or MSI's complete line of award winning products, visit us.msi.com.