The Intel keynote speech at Computex 2017 signaled the official launch of the new X299 high-end desktop (HEDT) platform. As one of the biggest names in the motherboard manufacturing business, MSI naturally has their new motherboards on public view at the Nangang Exhibition Hall. The initial MSI X299 launch includes five new motherboards, but MSI also announced the new mainstream flagship Z270 GODLIKE and new AM4 Ryzen X370 Gaming M7. The embargo for the details on Intel's X299 CPUs will lift on June 19th.
MSI X299 Gaming M7 ACK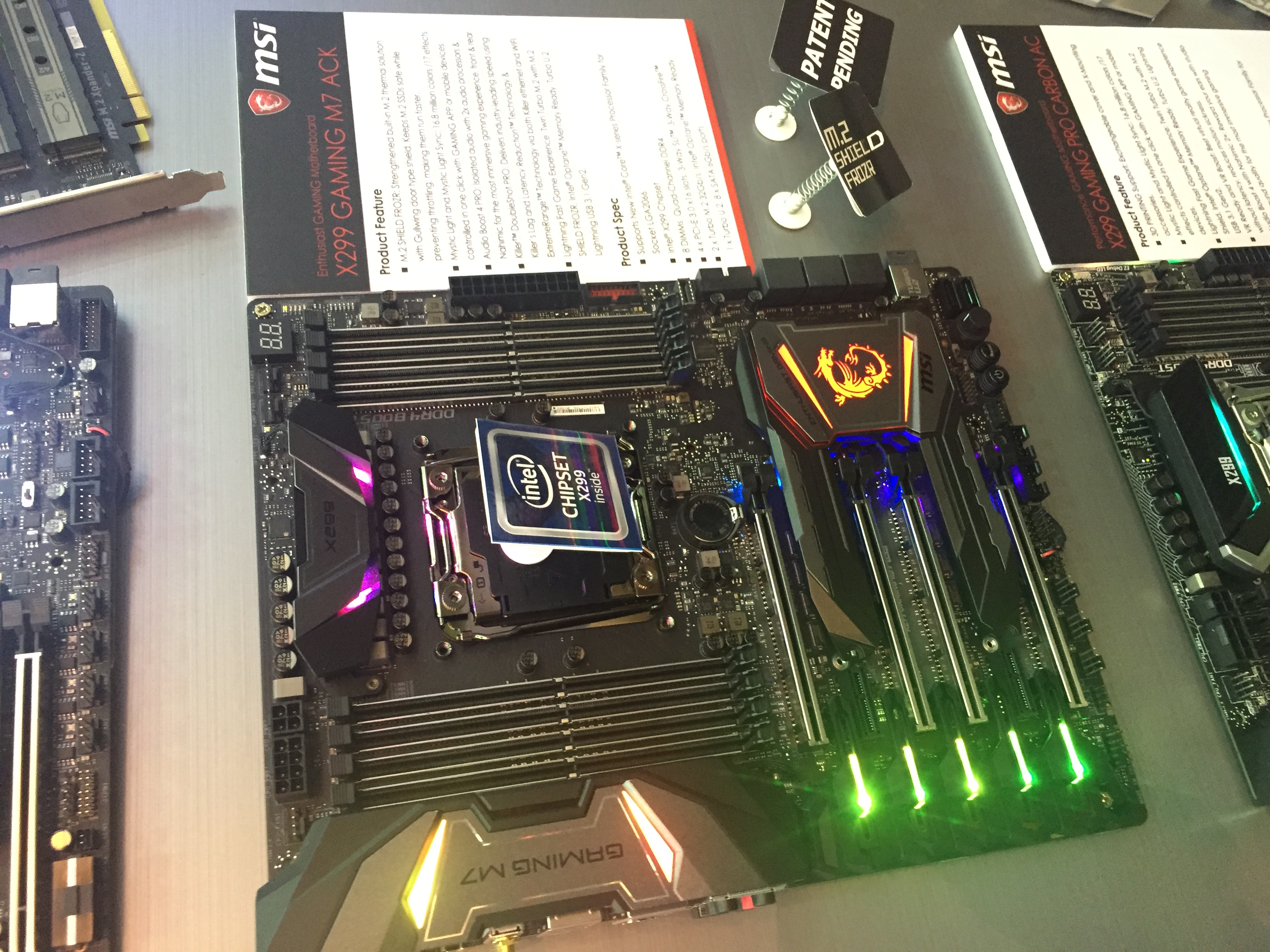 The MSI X299 Gaming M7 ACK is equipped prominently with two of the latest Killer NIC Gigabit Ethernet with a Killer E1535 802.11AC Wi-Fi adapter built-in. It has eight DIMM slots and four PCIe x16 slots.
This is MSI's flagship motherboard for gaming and features two stealthed M.2 SSD slots. The stealth cover is actually integrated into the X299 chipset heatsink and shares the thermal load as well. This makes it much more effective than the usual M.2 heat shield strip. Installation is also much easier since it has a hinge that opens up.
Naturally, it also has RGB LEDs integrated on the chipset and VRM heatsinks. The audio subsection has a cover and also lights up along the back edge of the PCIe expansion slots.
MSI X299 Gaming Pro Carbon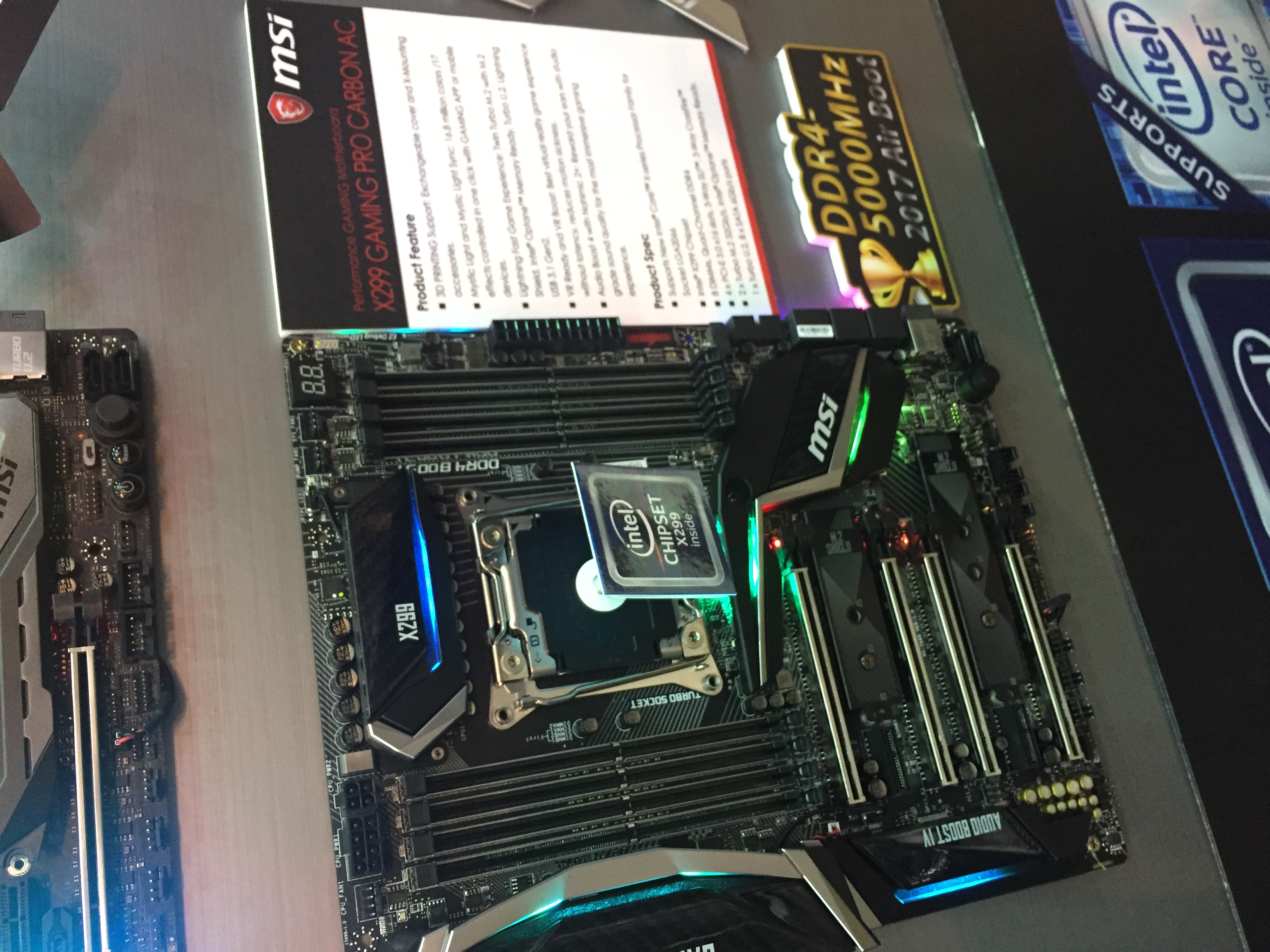 "Modders will love the X299 Gaming Pro Carbon", enthused Olivia, the MSI rep showing us around the booth. With customizable heatsink covers, she is definitely correct. The X299 Gaming Pro Carbon uses a Carbon Fibre pattern and has a race car theme by default, but this can be changed to the user's preference. MSI also has their 3D X-mounting support which offers downloadable plans and files that modders can use to customize parts for their MSI motherboard.
Aside from the customizability aspect, the X299 Gaming Pro Carbon will be available in a regular version and one with an 802.11AC WiFi built-in. It has two M.2 slots that have a heatshield, although decoupled from the chipset heatsink.
It also has eight DIMM slots and can boot up to 5000MHz via XMP on air. This is without any extra UEFI fidgeting from the user. So even if the board owner is not tech-savvy, she or he can get the fastest DDR4 performance around.
MSI X299 SLI Plus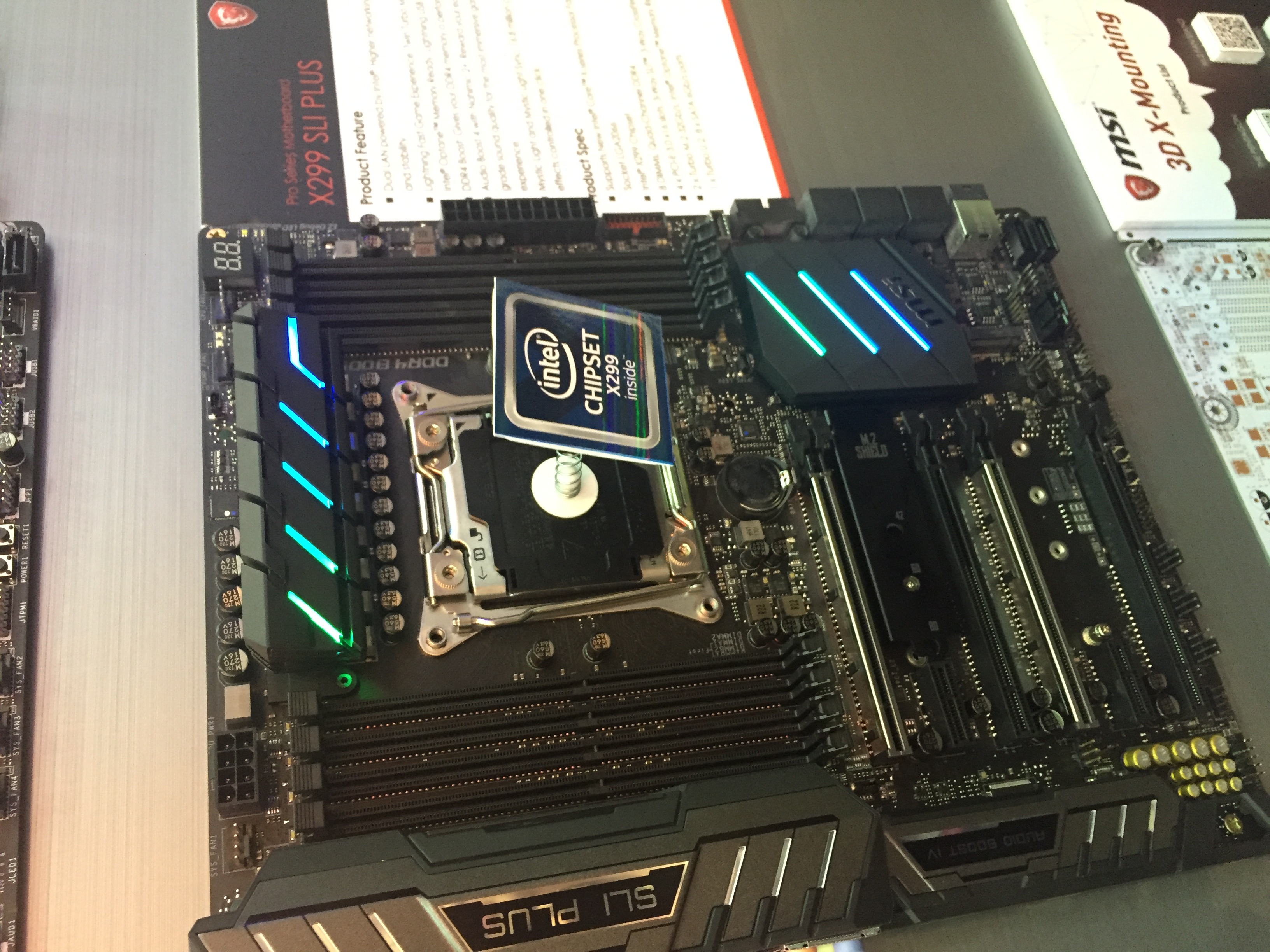 The SLI Plus represents one of the most value-oriented boards from MSI. The X299 SLI Plus is not lacking in the essentials however with RGB LEDs, dual M.2 and on-board U.2. The IO cover actually reminds me of Corsair's Vengeance RAM modules in terms of style. It is two-tone gray with black, remaining color neutral allowing for the RGB LED VRM and chipset heatsink to stand-out.
There is one M.2 with a heatshield and two PCIe 16 slots reinforced with metal armor. It lacks the on-board buttons of the X299 Gaming Pro Carbon and Gaming M7 but it retains the Port-80 Debug LED.
MSI X299 Tomahawk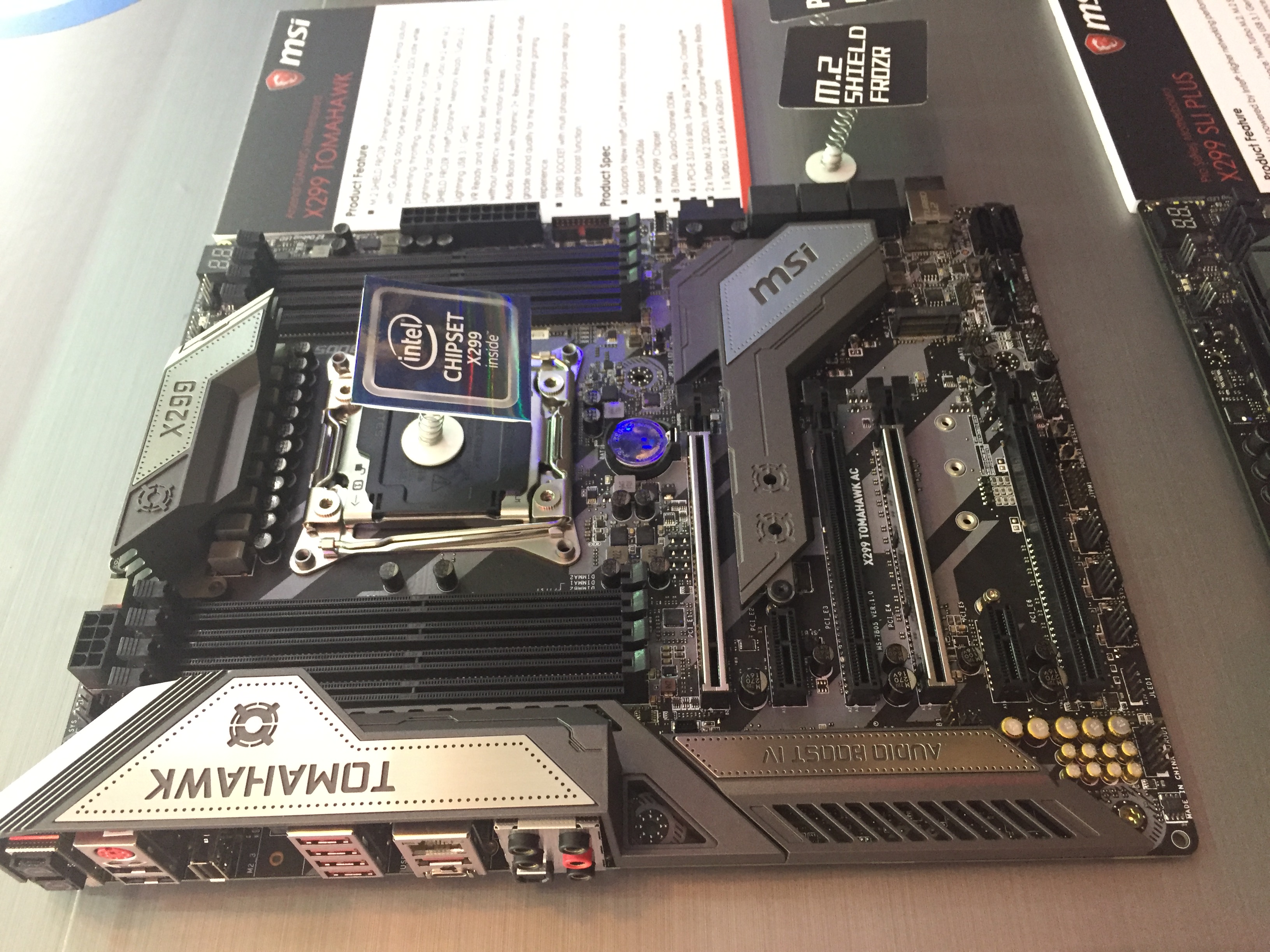 Like the SLI Plus line, the Tomahawk naming is usually seen on MSI's value Intel B150/B250 series chipsets. It has a distinct military styling, sporting a gunmetal gray, silver and black look. It also has two M.2 slots with only one with a heatsink. Although, unlike the X299 SLI Plus, the heatsink on the M.2 is integrated on the chipset.
The MSI X299 Tomahawk is also equipped with an on-board U.2 as well as eight SATA ports. It has a USB 3.1 Gen2 front panel header and two USB 3.0 Gen1 headers. Like the X299 SLI Plus, it also has a Port 80 debug LED without the on-board buttons.
MSI X299 XPower Titanium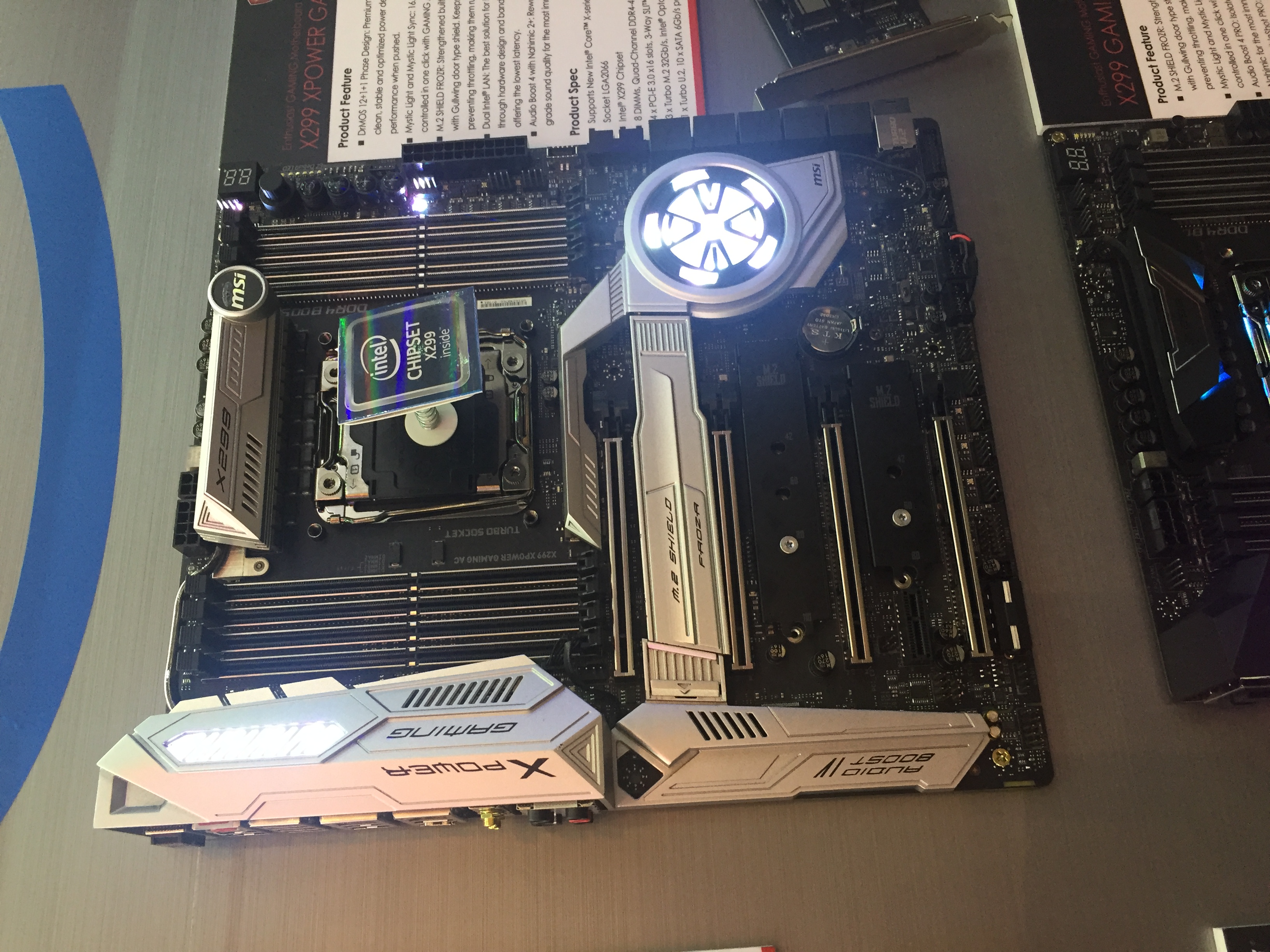 MSI's Xpower Titanium is aimed towards overclockers and has a distinct silver color. Hopefully the actual motherboard MSI had on display is a prototype though, because to be honest it looked awful compared to the rest of what they showed. It has a very plastic looking design and its "reactor" inspired chipset LED looked like something from a toy you can buy in any Taipei night market. The extremely italicized font also looks quite awful and unreadable.
Other than the looks, it sports three M.2 slots. One of which has a chipset integrated heatsink, and two have independent heat-spreaders. All PCIe x16 and DIMM slots are reinforced with a metal armor. It sports a 12-phase DrMOS VRM and its heatsink is heatpiped. For other storage options, there are ten SATA ports with an onboard U.2. There is also a USB 3.1 Gen2 and a USB 3.1 Gen1 front panel header.
Aside from the awful apperance, which is a far cry from the Z170/Z270/X370 Titanium, it is obviously a very capable motherboard.