« Introduction
|
A Closer Look At The MSI Z170A Gaming Pro Carbon Continued »
A Closer Look At The MSI Z170A Gaming Pro Carbon Motherboard
The MSI Z170A Gaming Pro Carbon is a standard ATX form factor mainboard and measures in at 12 in x 9.6 in.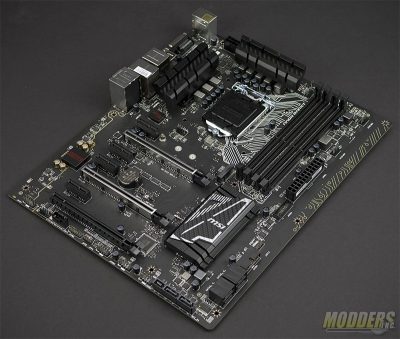 he area round the CPU socket is clutter free and doesn't violate Intel's no-fly zone. The heatsinks on the motherboard have been updated with a carbon fiber (esk) inlay and are independent of one another. There is no heatpipe connecting the two sets of VRMs.
MSI's Steel Armor surrounds the top most PCIe slots. This is done to prevent and eliminate damage to the PCIe slots on the motherboard.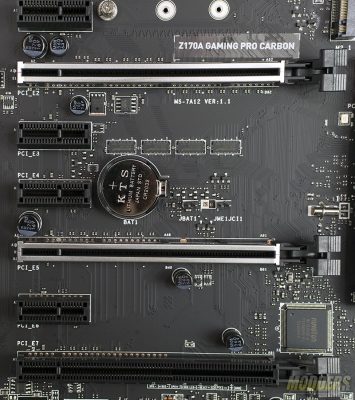 Between the CPU and the PCIe slots there is a single x4 M.2 slot.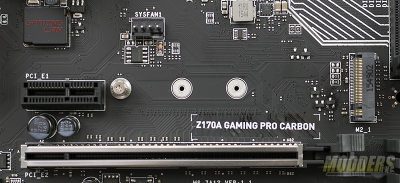 At the lower edge of the MSI Z170A Gaming Pro Carbon are the front panel connectors. There are two SATA ports here as well as a SATA express port. For front I/O connectivity, a front panel audio (either AC'97 or HD audio can be used), two USB 2.0 ports, front power, reset, power LED, and HDD LED are provided.

Along the right edge of the board, there are the RGB LEDs as well as the 24-pin power connector and one of the USB 3.0 front panel headers.

A total of six SATA ports are provided. However, two will be consumed when using SATA express. Next to the four 90° SATA ports is the second USB 3.0 front panel header.
The rear I/O features a PS/2 gaming port, 4 USB 2.0, DVI and HDMI ports. 2 USB 3.0 (or USB 3.2 Gen 1)ports are provided under the RJ45 LAN port. A single USB type A and type C connector are provided for USB 3.1 Gen 2 connectivity.  7.1 Audio is provided on the back panel as well as support for S/PDIF.