« Sub-System Benchmarks (Storage, Audio, Network, & Gaming)
Final Thoughts about the MSI Z170A Gaming Pro Carbon
Performance wise, the MSI Z170A Gaming Pro Carbon lands right were we would expect it. Over the last few years MSI has really stepped up on the performance aspect and typically what we see when the motherboards are tested is a slight increase in performance as compared to others.
For the most part, MSI has taken the success with the B150 Gaming Pro and updated it to Z170, which for the most part enables overclocking. With this board, I was still able to achieve 4.5 GHz at 1.44 with rock steady stability.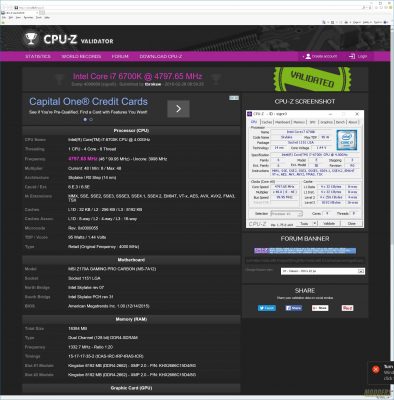 Along with the update to the Z170 chipset, the MSI Z170A Gaming Pro Carbon maintains the RGB LED on the board's right edge and is controlled through the MSI Gaming App. While in the video I show, the LEDs created a hard edged reflection but, in a normal case, the motherboard tends to emit a gentle glow from underneath. This is a fantastic way to tie the lighting in to a MOD. The only issue that I would have is there's not an easy way to get the lights on the motherboard and the case to sync up. Not that it couldn't be done, it is just not easy.
Overall, I really like the MSI Z170A Gaming Pro Carbon and it is going to find its new home on my test bench. Performance and asethetics have been updated. I like the fact that for this board, the color scheme is pretty much black on black with a few accents. Red on black is nice, but it is nice to have a change once in a while. Priced at $170 USD places the MSI Z170A Gaming Pro Carbon right in line with similarly configured motherboards but adds LEDs. While it's not a performance benefit, it sure does add a nice touch to the motherboard and who doesn't want to show off their gear.