« Introduction
|
Audio Subsystem Overview »
A Closer Look at the MSI Z97 Gaming 9 AC Motherboard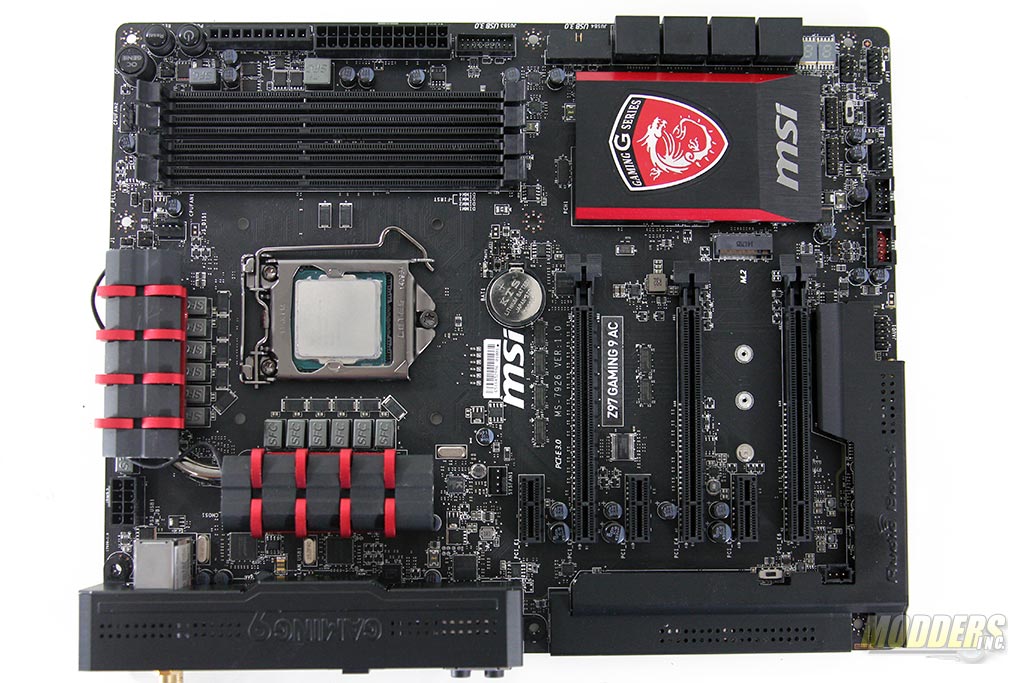 The Z97 Gaming 7 is a standard ATX form factor motherboard measuring 305 x 244 mm on a 6-layer black coated PCB. The voltage regular heatsink is a two-piece red "dragon claw" accent design joined by a heatpipe with dragon emblems on each end. Unique to the Gaming 9 AC version is an IO shield top "Dragon Armor" cover bracket and a removable shield for the audio subsection. The Gaming 9 AC offers plenty of modding and customizing opportunities for users as these items can easily be remove, repainted and reinstalled.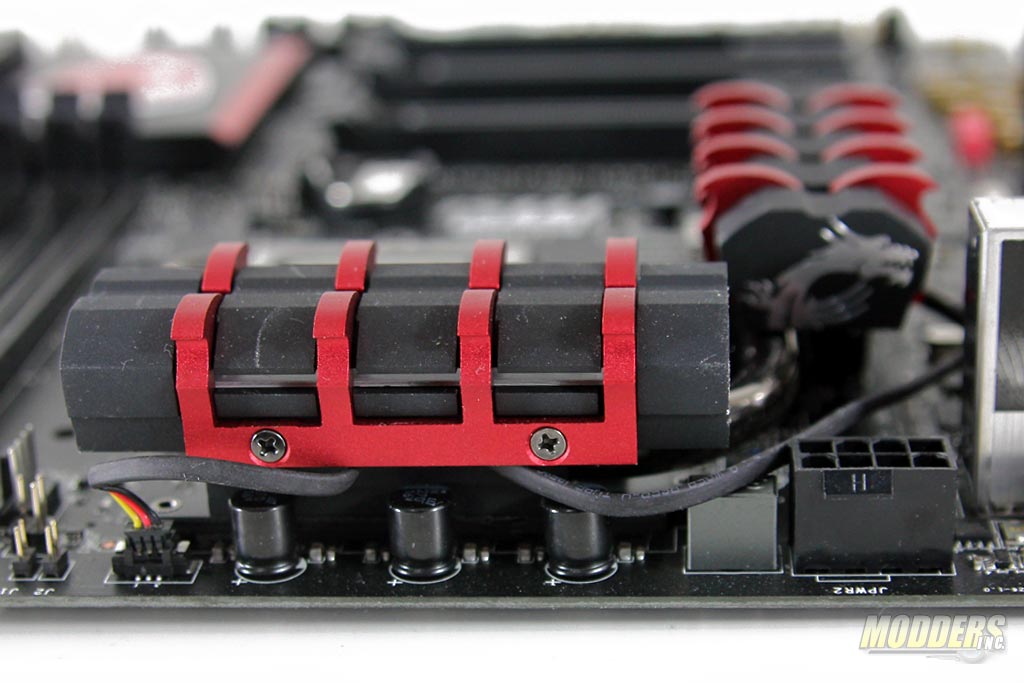 This VR heatsink assembly is secured to the board with four spring loaded screws and underneath, a black thermal strip makes contact between the MOSFETs and the heatsink surface.The Intel chipset heatsink is also secured with four spring-loaded screws and has a thin thermal tape applied on it.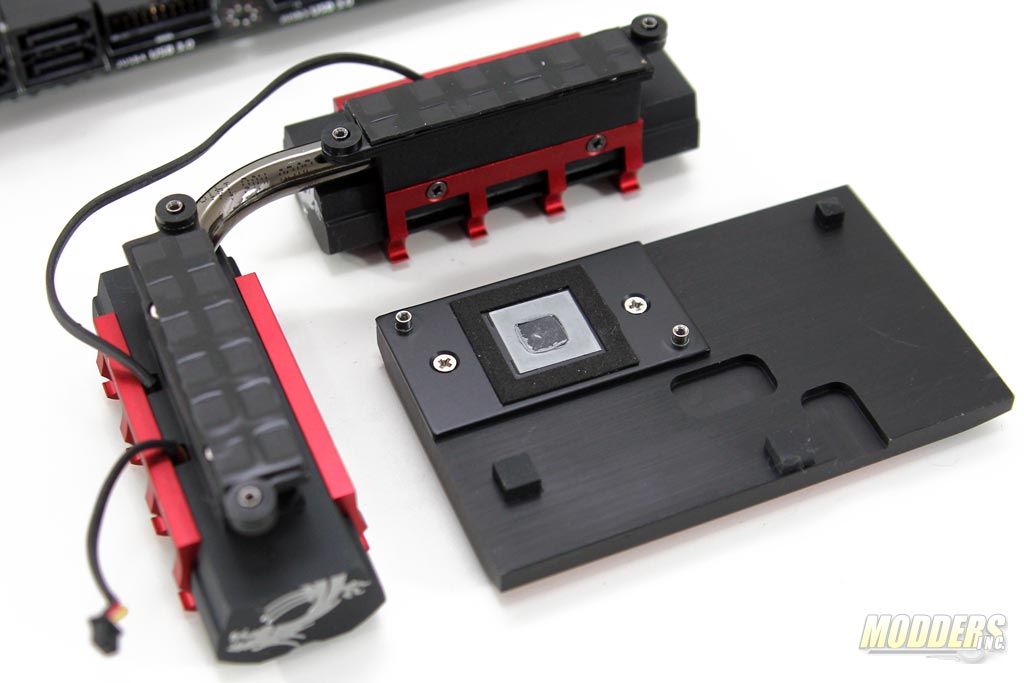 The Z97 chipset does not have an LED light like the Z97 Gaming 7 version but the MOSFET heatsinks have red LED strips connected via a 3-pin power header.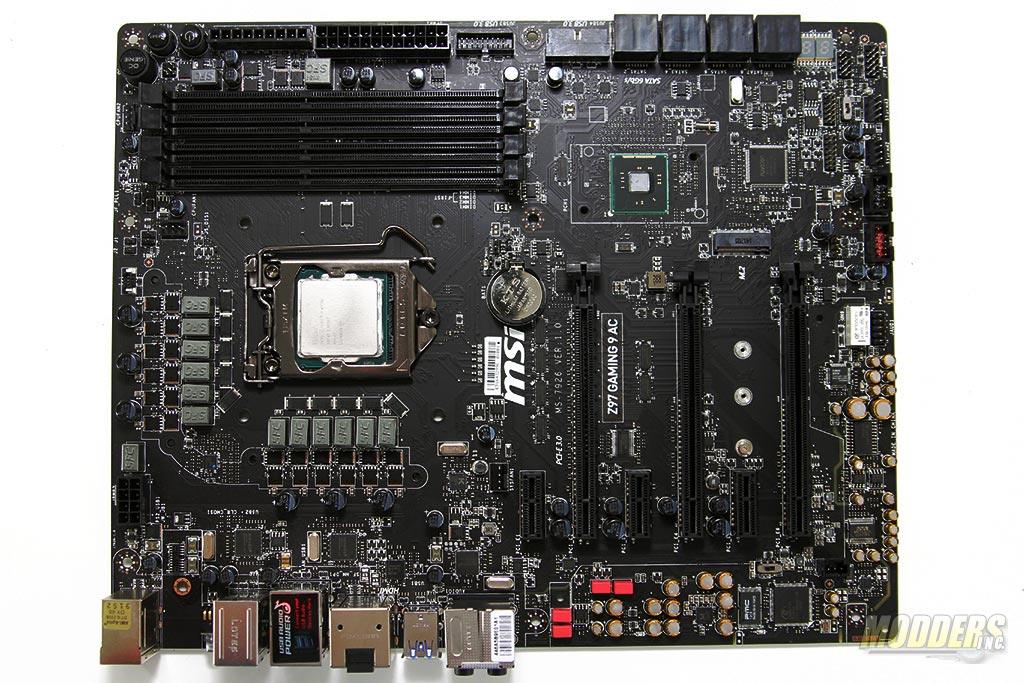 CPU power delivery is similar to the Z97 Gaming 7 which comprises of an Intersil ISL6388 6-phase VRD 12.5 PWM controller with 12 x NIKO Semiconductor PK632BA (low-side) and 12 x PK616BA (high-side) LowRDS(on) PDFN Power-SO8 package MOSFETs driven by six Intersil ISL6611A doublers. Output filtering consists of 12 x 0.47uH Super Ferrite chokes and 10 x 330uF Tantalum capacitors.
Four DIMM slots are available supporting up to 3300MHz (setting available in UEFI) and power delivery is handled by a single-phase UPI Semiconductor uP1504 controller with a pair of NIKO Semi PK616BA and a pair of NIKO Semi PK632BA with a 0.68uH Ferrite inductor.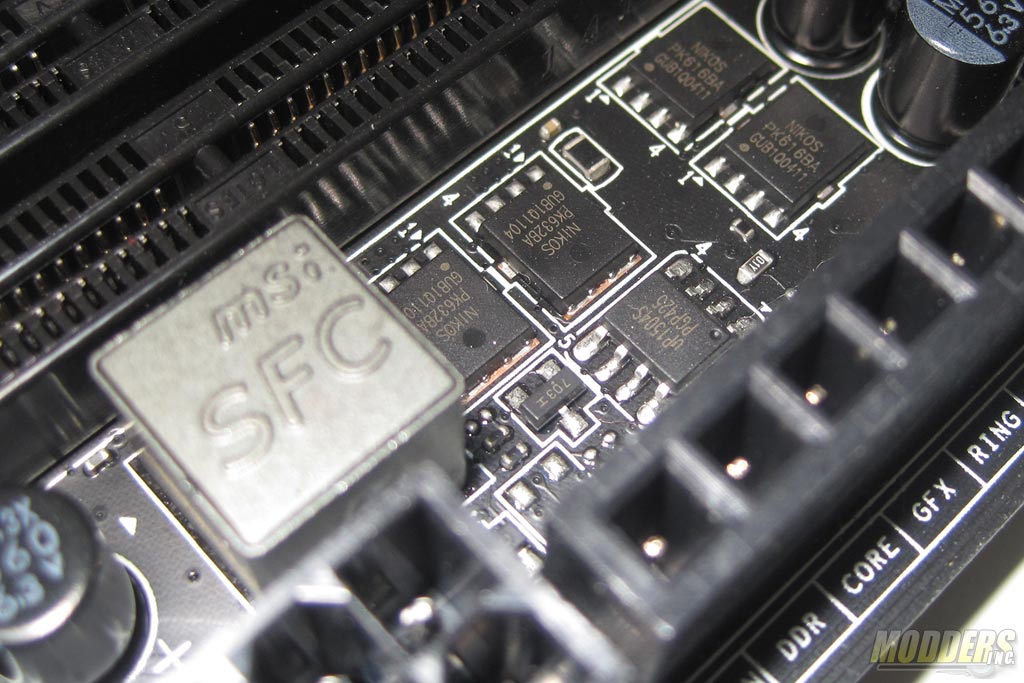 On the top right edge are some onboard OC tools including the OC Genie, Power and Reset buttons as well as voltage check points. The OC Genie auto-overclock button automatically overclocked the i7-4770K CPU installed to 4.0GHz and unlike the yellow OC-series mainboards from MSI, there is only one gear setting. The voltage check points provided include one for CPU, System Agent, CPU Ring, Integrated Graphics, CPU Core 0 Voltage, Memory Voltage, VCCIN, and three ground points for up to three multi-meters at the same time.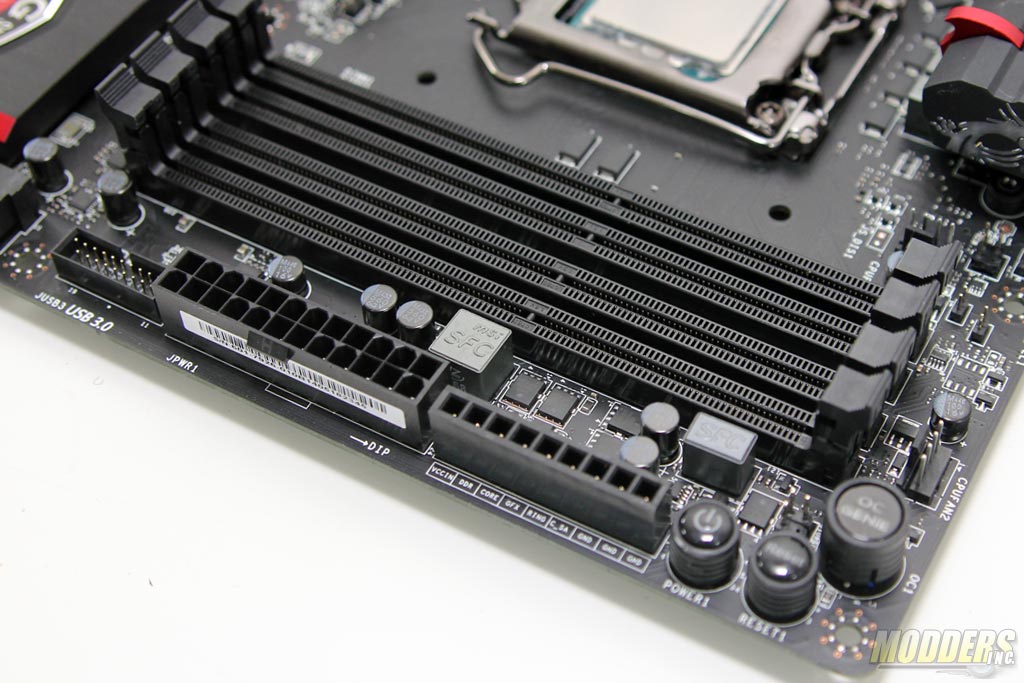 For external storage, two 19-pin USB 3.0 headers (one of which is angled 90 degrees) are provided natively for case front panel or expansion bracket output by the Intel Z97 chipset. Similar to the implementation we saw with the MSI Z97 MPOWER MAX AC previously reviewed, there are four ASMedia 1464 signal repeater switches to maintain signal integrity and prevent degradation even with longer cables.
In the rear IO, eight USB 3.0 ports are provided through two ways. First, the two USB 3.0 ports directly beside the audio jacks are from an ASMedia ASM1042A host controller. The ASM1042A takes one available PCI-E x1 lane from the Z97 chipset and converts it into two USB 3.0 downstream ports. The second set of rear IO USB 3.0 ports are provided by ASMedia ASM1074 device controllers which takes the remaining two available USB 3.0 ports natively provided by the Intel Z97 chipset and can output up to four downstream ports per chip. MSI includes two ASMedia ASM1074 which outputs into six USB 3.0 ports.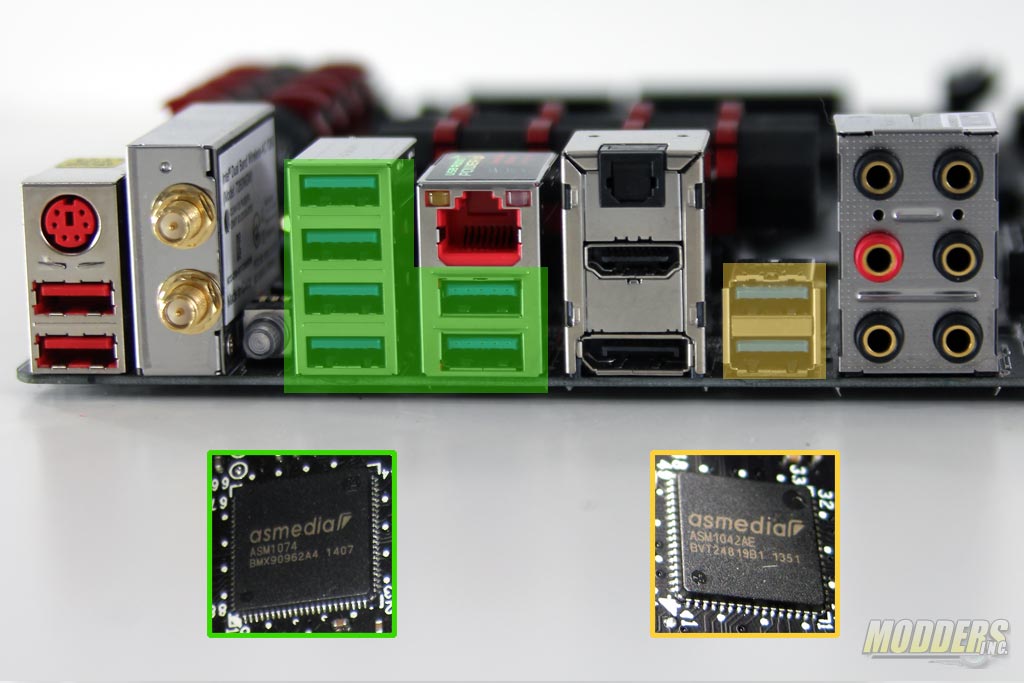 For internal storage, the SATA ports are similarly angled parallel to the mainboard surface like one of the USB 3.0 headers. This was done to provide SATA installation support even when video cards are installed. The top six SATA3 ports are provided natively by the Intel Z97 chipset (SATA port1 to 6) while the bottom two ports (ports 7 and 8) are from an ASMedia 1061 PCI-E bridge controller, which takes one of the available PCI-E x1 lanes from the Z97 chipset and provides two SATA3 ports.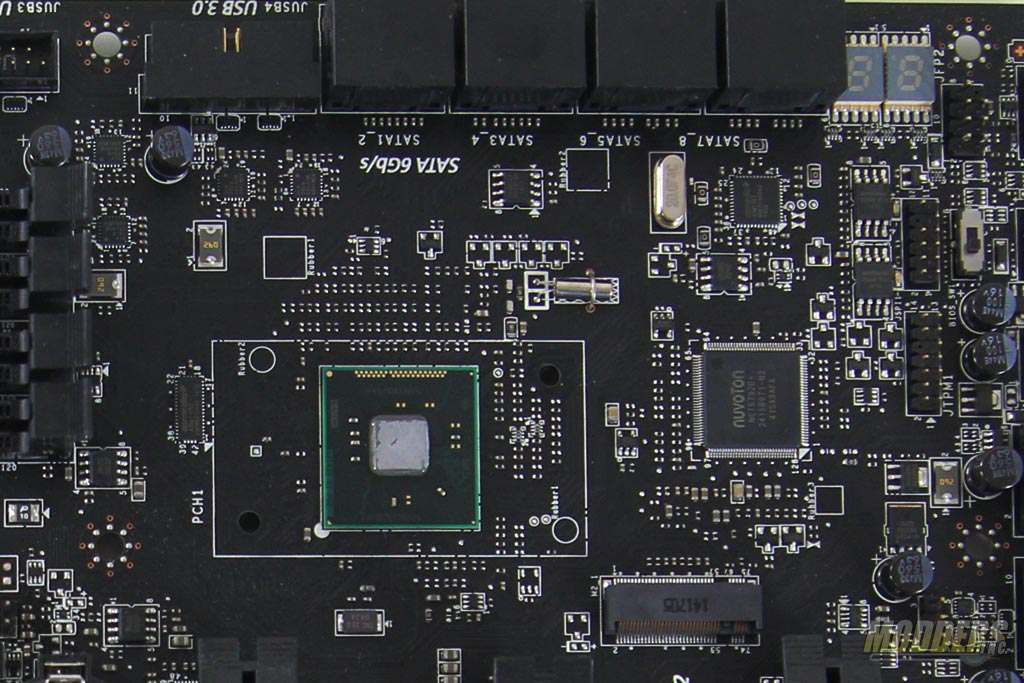 As is the new standard in the Z97 mainboards, there is an M.2 SSD support located between the second and third PCI-E x16 slots supporting 42mm, 60mm and 82mm long M.2 modules. SATA5 and SATA6 ports will be unavailable when the M.2 port is populated. There is no built-in SATA Express ports but MSI promises availability of an adapter soon.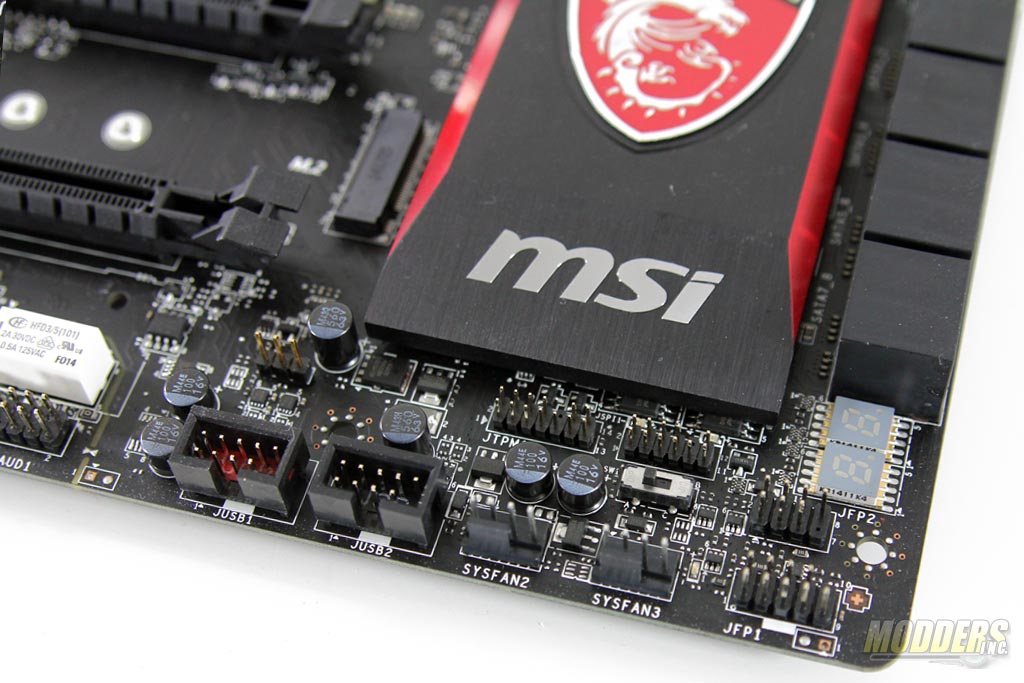 Directly below the SATA ports is a two-digit readout LED on the lower right hand corner that produces troubleshooting codes when necessary. When the system has completely booted, the CPU temperature is displayed instead. As is customary with MSI mainboards, two sets of front panel headers are available and are used with the bundled M-connectors for convenient installation. These are labeled adapters for your chassis' front panel cables so it is easier to plug in. Two USB 2.0 ports are provided in the rear while two headers (for a total of four additional ports) are located on the lower right hand corner. The red colored header supports MSI's Super Charger feature and it can continuously power or charge a USB device even when the system is shut down and running in standby mode.
Directly below the Z97 chipset heatsink is a trusted platform module (TPM) header and the header beside it is for MSI internal use only for SPI flashing of the BIOS. The toggle switch below these headers is the BIOS toggle switch that selects which one of the two Winbond 25Q64FV 64Mbit serial flash memory. Also hidden underneath the chipset heatsink is a Nuvoton NCT6792D Super IO responsible for hardware monitoring functions, fan speed control and legacy PS/2 port in the rear for mouse as well as keyboard.
There are five 4-pin PWM fan headers available. Two are available on top for the CPU, one is available directly above the topmost PCI-E x1 expansion slot and two are positioned in the front corner beside the USB headers. There is no DC fan control for 3-pin fans however as I have tried it with the Phanteks 140mm fans on my heatsink.
Expansion slot distribution is as follows from top to bottom:
PCI-E 2.0 x1 (via Z97 Chipset)
PCI-E 3.0 x16 (via Intel CPU running at x16 mode or x8 mode when second and/or third PCI-E x16 slot is populated)
PCI-E 2.0 x1 (via Z97 Chipset)
PCI-E 3.0 x16 (via Intel CPU running at x8 mode or x4 mode when third PCI-E x16 slot is populated)
PCI-E 2.0 x1 (via Z97 Chipset)
PCI-E 3.0 x16 (via Intel CPU running at x4 mode when second PCI-E x16 slot is populated)
MSI makes use of ASMedia ASM1480 switches to shift PCI-E expansion slot distribution into various configurations with the top running at full x16 when it is the only slot populated but running at x8/x8 when the top two slots are used at the same time while also being able to run at x8/x4/x4 when three cards populate the board. An ASMedia ASM1184e PCI- switch is also used to configure the PCI-E 2.0 distribution with three slots provided onboard and the WiFi module using up one lane.
This WiFi module houses an M.2 2230 version of an Intel Wireless-AC 7260 adapter, supporting dual-band 2×2 802.11ac, dual mode Bluetooth 4.0 and Intel Wireless Display functionality. SMA connectors are available for attaching the magnetic antenna which also can be angularly adjusted. This 19-pin wireless module can be very difficult to install if the user is impatient and the easiest would be to install it first before installing any heatsink or video card.
As with all other motherboards in the MSI Z97 Gaming line, a Killer E2205 controller provides Gigabit Ethernet connectivity. At the rear IO, HDMI and DisplayPort outputs are available for the integrated Intel graphics display supporting up to 4096×2304@24Hz. An optical SPDIF output port is also located above these.