Nevada-based Highly Reliable Systems Inc is announcing a new 2-bay NetSwap Mini+E backup NAS server appliance equipped with a 3.4GHz Intel Core i3-4130 processor. The Mini+E backup NAS series devices are capable of block-level AES-256 data encryption and supports CIFS network shares, NFS Linux/Unix/Vmware shares, or iSCSI block level drive access. For more information, check out the official press release below or visit http://www.high-rely.com/
High-Rely NetSwap Mini+E Backup NAS Debuts
New High-Rely NetSwap Mini+E Backup NAS Offers Versatile Replication Options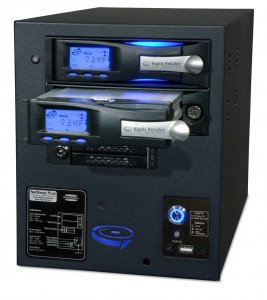 RENO, NV – 23 JAN 2015 – Highly Reliable Systems, Inc., the innovative American-made backup and disaster recovery hardware experts, today announced immediate availability for their state-of-the-art 2-bay NetSwap Mini+E backup NAS server appliance, which includes versatile replication, two highly-removable drive trays, and hardware-based encryption.
 
The High-Rely NetSwap Mini+E backup NAS series comes equipped with a powerful 3.4 GHz Intel Core i3-4130 processor, capable of block-level AES-256 data encryption. All NetSwap Mini backup NAS appliances offer Gigabit Ethernet network attachment, which supports CIFS network shares, NFS Linux/Unix/Vmware shares, or iSCSI block level drive access that allows backup speeds of 300 Gigabytes/Hr. This enables NetSwap Mini to transfer at 75% the speed of a locally attached SATA drive, thus minimizing downtime and restoring productivity.
 
NetSwap Mini backup appliances are superior to consumer NAS products, especially when SATA hard disk drives will be repeatedly removed and replaced into the system. Two durable drive bays deliver daily hot-swap capability for rotating 3.5″ High-Rely Classic or 2.5″ MPac media, which are rated for thousands of removal cycles and can be configured as a mirrored RAID-1 array or combined JBOD set with up to 12TB of storage capacity. All models feature an ultra-fast internal SSD, which boots the Linux O/S on NetSwap Mini and enables instant-on functionality.
 
Integrated Watchdog circuitry monitors each Backup NAS for even higher reliability, notifying administrators when a alert occurs. High-Rely's knowledgeable U.S.-based support team is available for help requests, and a large collection of technical guides are published for self-service tasks. Each NetSwap backup NAS may be paired with an optional dynamic support contract for up to 3 years, adding advance replacement service on hardware components and covering shipping costs to and from the High-Rely service center.
 
High-Rely NetSwap Mini backup NAS appliances are immediately available through partner resellers, starting at only $999. Please visit http://www.high-rely.com/hr_66/reseller-information/ to become a reseller.
 
In addition to the NetSwap appliance family, Highly Reliable Systems also offers a wide range of network-attached and direct-attached replicating storage solutions. Please visit http://high-rely.com for detailed information on our full NAS/DAS product line.
 
About Highly Reliable Systems, Inc.
 
Highly Reliable Systems, Inc. is a talented group of engineers, technicians, and backup experts based in Reno, Nevada, USA, providing solutions since 2003. High-Rely™ manufactures American-made backup and disaster recovery solutions utilizing removable disks and RAID enclosures. Design your own backup and disaster recovery policy using our hardware paired with any backup and virtualization software you choose.
 
Available through a large reseller network, RAIDFrame™ and NetSwap BDR solutions are cost effective, reliable, and perfect in most any environment – especially where Cloud backup is not practical. High-Rely backup solutions deliver unmatched storage capacity featuring Speed Seed technology, replication, and data encryption.