Closer Look at Terra Master F2-210 »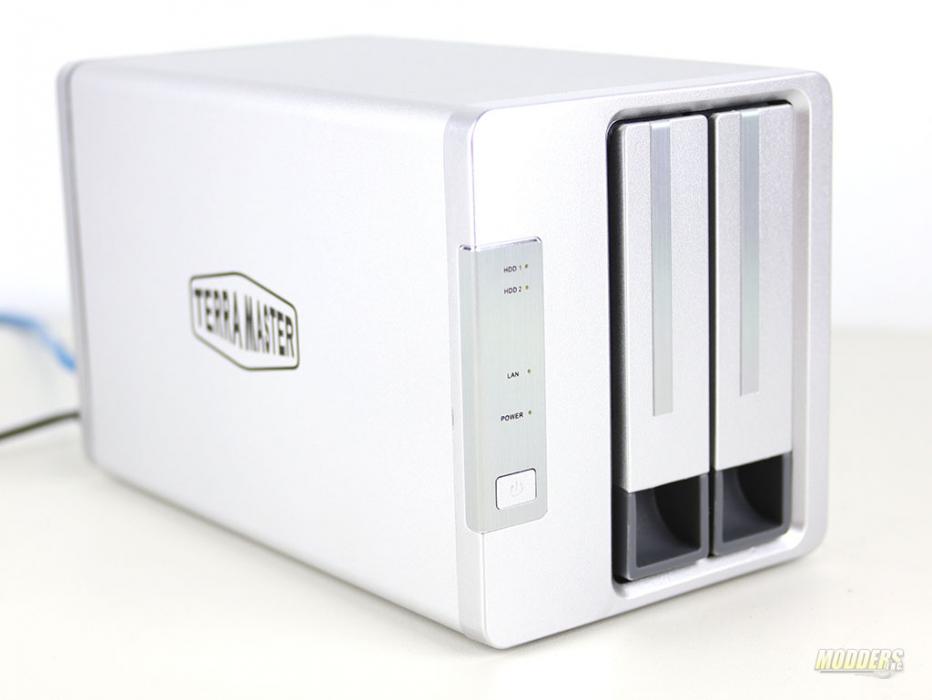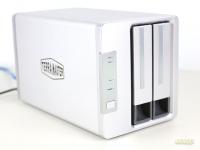 When you search Google for affordable NAS first few results point you in a completely wrong direction. Solutions by Dell and Think Make is not affordable to the average home consumer. These multi-bay Network Attached Storage devices offer the best reliability and performance but for the Enterprise business environment. Home users sure can take advantage of these products but at an astronomical price. However, not all is lost. The average home consumer can still turn to manufacturers that specialize in producing Affordable NAS devices for home use. TerraMaster is one of the most diverse manufactures of SOHO storage devices which range from entry-level all the way to the Enterprise-class. Their latest solution for SOHO users is TerraMaster F2-210. The F2-210 is a highly affordable diskless 2 bay NAS enclosure that has a Quad-Core processor and offers Ethernet connectivity so you can build your own small cloud storage/streaming device.
Review Sample Provided by Terra Master
Product Name: Terra Master F2-210
Price at time of review: $ 149.99 USD MSRP
The product was given in exchange for work done to produce this review.
Packaging
The F2-210 packaging comes in a similar box as the other two and four-bay devices by Terra Master.  There are no markings on the packaging that would show specifics of the device inside.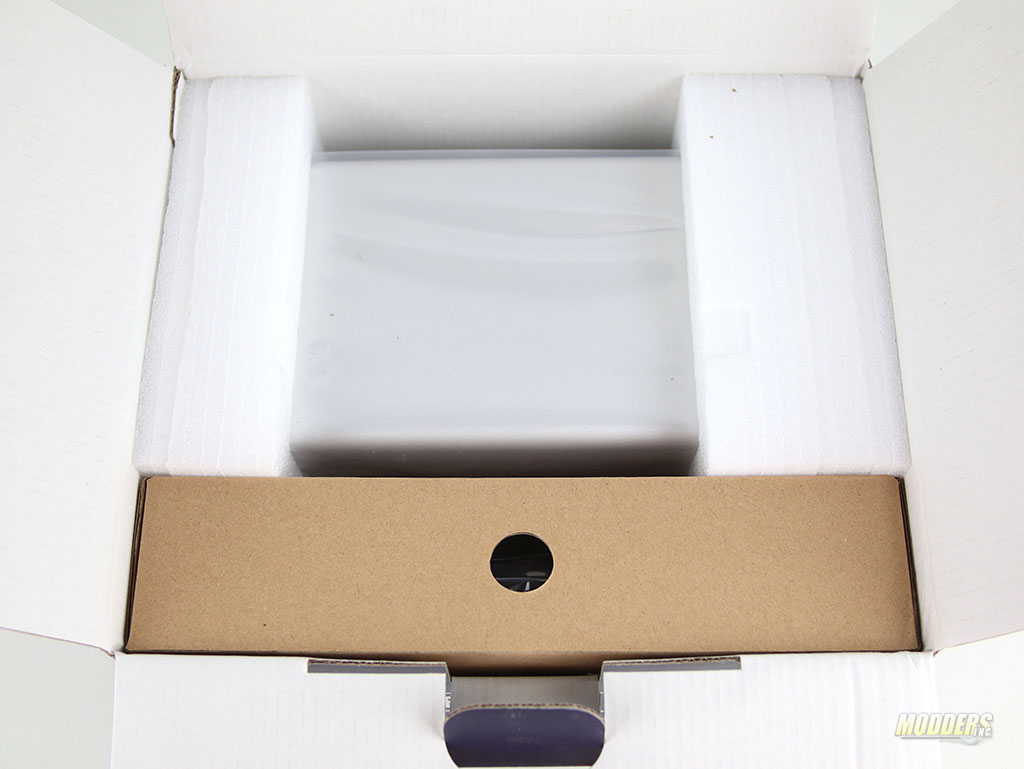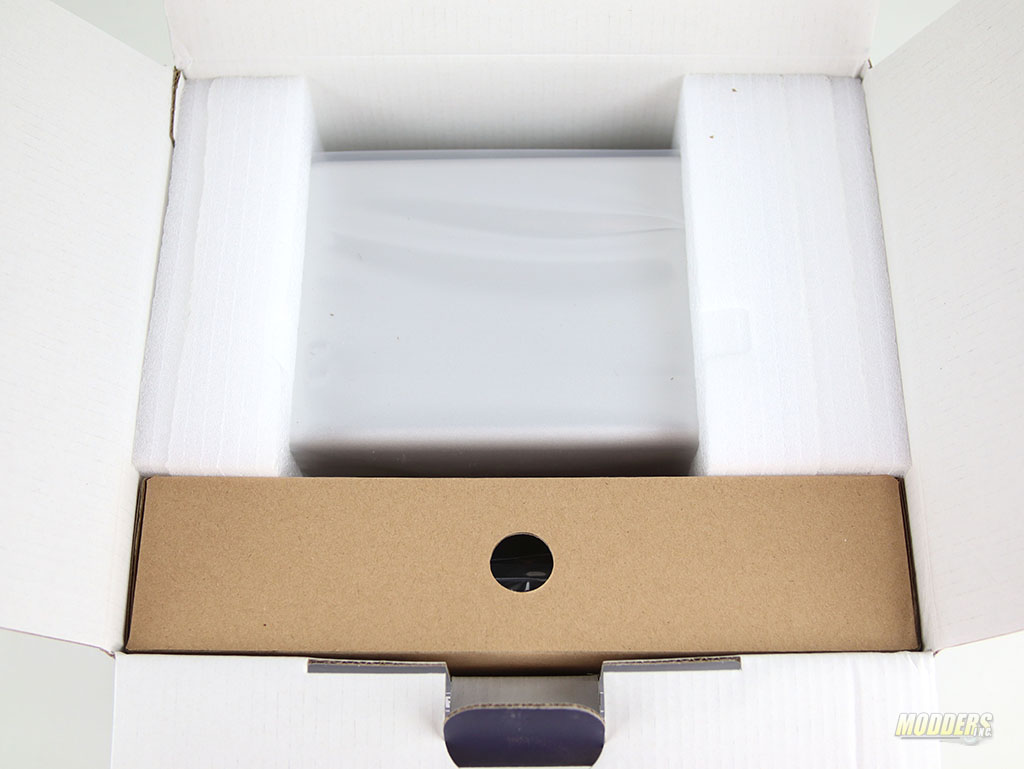 The internal packaging of F2-210 has similar as well.  The NAS is rightly trapped with a protective bag and secured in place with two foam cutouts.  The accessory box is included with this package and it keeps everything nice and tight while in transport.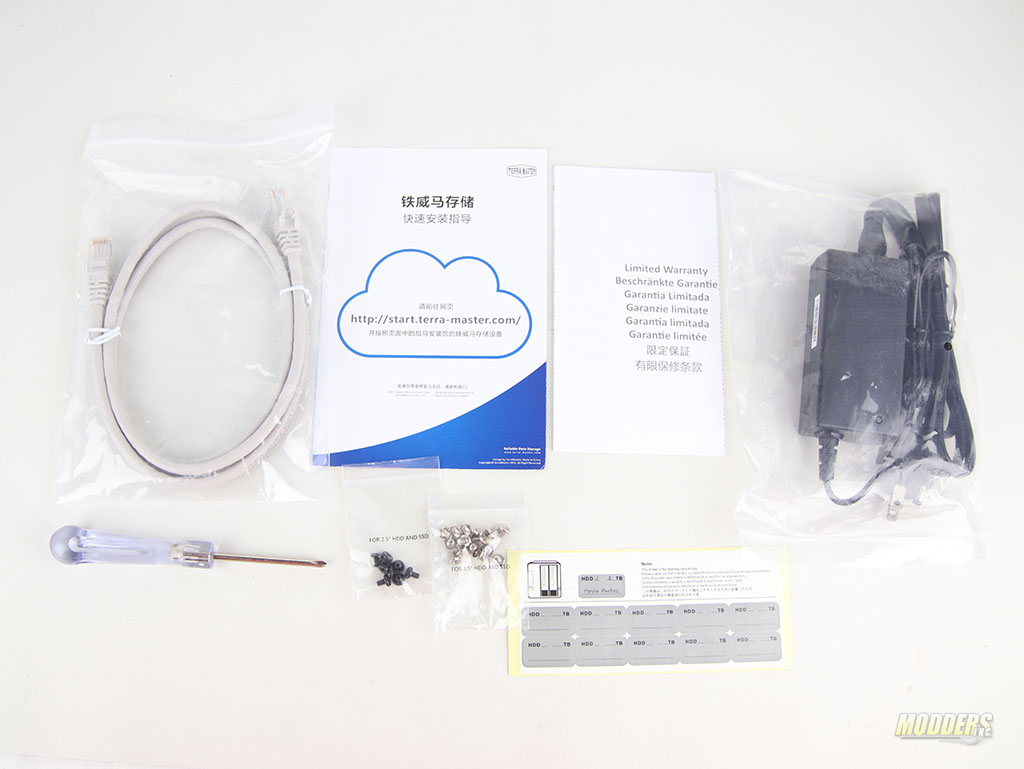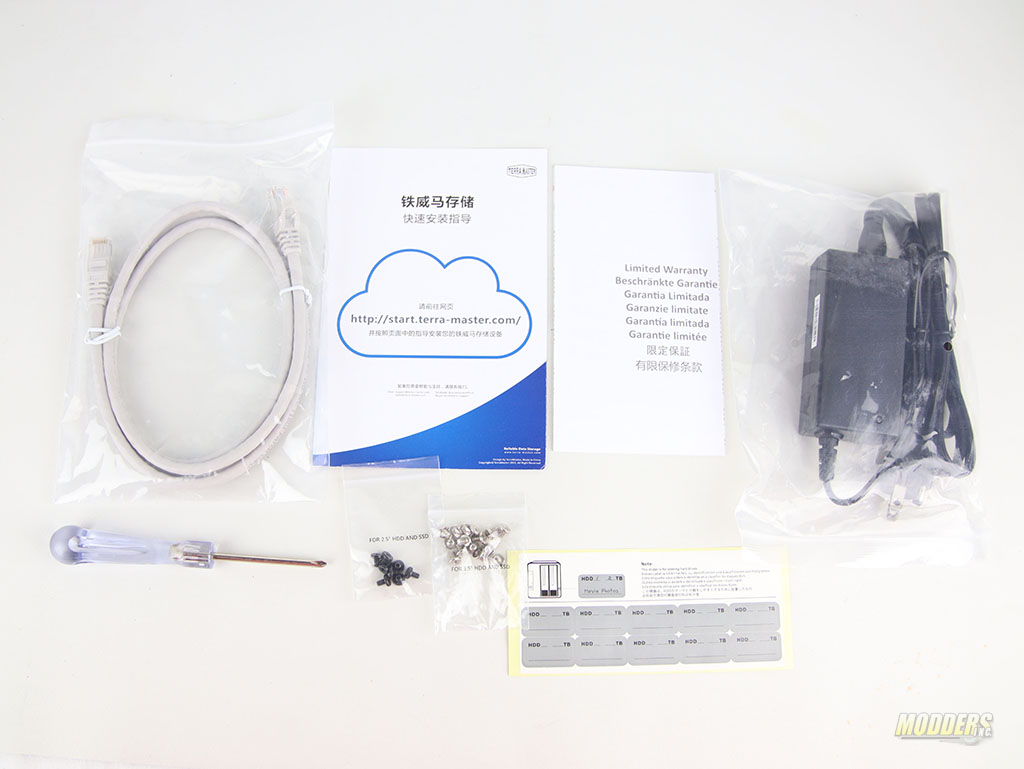 The accessory box contains a power supply, Cat 5 Ethernet cable, Philips screwdriver, two bags of miscellaneous screws, a sheet of labeled stickers and a set of instructions to get you started.
Hardware Specifications
Processor Model
Realtek RTD1296
Processor Architecture
ARM V8 64-bit
Processor Frequency
Quad Core 1.4GHz
Hardware Encryption Engine
YES
Hardware Transcoding Engine
10-bit H.265 (HEVC), MPEG-4 Part 2, MPEG-2, VC-1; maximum resolution: 4K (4096 x 2160); maximum frame rate per second (FPS): 30
Memory
System Memory
1GB
Pre-installed Memory module
/
Total Memory Slot Number
/
Maximum Supported Memory
1GB
Note
TerraMaster reserves the right to replace memory modules with the same or higher frequency based on supplier's product life cycle status. Rest assured that the compatibility and stability have been strictly verified with the same benchmark to ensure identical performance.
Storage
Disk Slot Number
2
Compatible Drive types
3.5″ SATA HDD
2.5″ SATA HDD
2.5″ SATA SSD
Maximum Internal Raw Storage Capacity
28TB (14TB x 2) (Capacity may vary by RAID types)
Max Single Volume
108TB
Drive Hot Swap
YES
Note
. Hard drive vendors will release their latest models of hard drives, and Maximum internal raw storage capacity may be adjusted accordingly.
. The maximum single volume size is not directly related to the maximum raw capacity.
File System
Internal Drive
EXT4,BTRFS
External Drive
EXT3, EXT4, NTFS, FAT32, HFS+
External Ports
RJ-45 1GbE Network Jack
1
USB 3.0 Port
2
USB 2.0 Port
/
COM
/
HDMI
/
VGA
/
LSI 9207-8i HBA Card
/
PCIe Slots
/
Appearance
Size (H*W*D)
227 x 119 x 133 mm
Packaging Size (H*W*D)
258 x 220 x 170 mm
Weight
Net Weight: 1.35Kg  Gross Weight: 2.2Kg
Others
System Fan
80 mm x 80 mm x25mm  1 pcs
Fan Mode
Smart, High speed, Middle speed, Low speed
Noise Level
18.6dB(A)
Power Supply
40W
AC Input Voltage
100V – 240V AC
Current Frequency
50/60 Hz, single frequency
Power Consumption
25.6W
2.0W  (hard drive dormancy)
Limited warranty
2 years
Certificate
FCC, CE, CCC, KC
Environment
RoHS, WEEE
Temperature
Working Temperature
5°C  ~ 40°C (40°F ~ 104°F)
Storage Temperature
-20°C ~ 60°C (-5°F ~ 140°F)
Relative Humidity
5% ~ 95% RH
Package Contents
Host unit (x1)
Power cord (x1)
RJ-45 network cable (x1)
Quick Installation Guide (x1)
Limited Warranty Note(x1)
Screws(a few)
Power adapter (x1)
TOS Features
OS Supported
Supported Client OS
Windows OS, Mac OS, Linux OS
Supported Web Browsers
Google Chrome 48, Microsoft Internet Explorer 9, Mozilla Firefox 30, Apple Safari 4.5 or later version; Microsoft Edge is not recommended.
Supported mobile OS
Ios 8.2, Android 5.0 or later version
Storage Management
Supported RAID Types
Single, JBOD, RAID 0, RAID 1
Maximum Internal Volume Number
16
Maximum iSCSI Target
10
Maximum iSCSI LUN
10
Volume Expansion with Larger HDDs
RAID 1
Volume Expansion by Adding a HDD
NOT AVAILABLE
RAID Migration
YES
SSD Cache
YES
Hot Spare
YES
SSD TRIM
NOT AVAILABLE
Hard Drive S.M.A.R.T.
YES
Seagate IHM
YES
NVRAM write cache(BBU-protected)
NOT AVAILABLE
WORM(Write Once Read Many)
NOT AVAILABLE
Shared Folder Snapshot
YES
LUN Snapshot
NOT AVAILABLE
Storage QoS For Shared Folder
NOT AVAILABLE
File Services
File Protocol
SAMBA/AFP/NFS/FTP/WebDAV
Maximum Concurrent SAMBA/AFP/FTP Connections
100
Windows Access Control List (ACL) Integration
YES
NFS Kerberos Authentication
YES
Account & Shared Folder
Maximum local user's account number
128
Maximum local group number
128
Maximum shared folders number
128
Maximum shared folders syncing tasks
2
Backup
Rsync Server
YES
Rsync Backup
YES
Schedule Backup
YES
USB Device Backup
YES
Cloud Sync
YES
Time Machine Server
YES
File System Gluster
NOT AVAILABLE
Networking
TCP/IP
IPv4
Protocols
CIFS/SAMBA, NFS, FTP, TFTP, HTTPS, SSH, iSCSI, SNMP, SMTP
Link Aggregation
NOT AVAILABLE
DLNA Compliance
YES
VPN Client
YES
VPN Server
YES
Proxy lient
YES
Proxy Server
NOT AVAILABLE
UPnP/Bonjour Discovery
YES
TNAS.online Remote Access
YES
DDNS
YES
Access Right Management
Batch users creation
NOT AVAILABLE
Import/Export users
NOT AVAILABLE
User Quota Managerment
YES
Local user access control for CIFS/SAMBA and FTP
YES
Domain Authentication
Microsoft Active Directory
YES
LDAP Client
YES
LDAP Server
YES
SSO
NOT AVAILABLE
Security
Firewall Protection
YES
Account Auto-block Protection
YES
AES Volume and Shared Folder Encryption
YES
Importable SSL certificate
YES
Instant Alert via email, SMS, Beep
YES
Power Managerment
Automatic Power On After Power Recovery
YES
Scheduled Power On/Off
YES
Wakeup On LAN
NOT AVAILABLE
UPS Supported
YES
Administration
Multi-window, Multi-task System Management
YES
Custom Desktop
YES
Control Panel
YES
Resource Monitor
YES
Syslog
YES
OS UI Language
English, German, French, Spanish, Italian, Magyar, Chineses, Japanese, Korean
Applications
Application Center
YES
Mail Server
YES
Web Server
YES
Clam Antivirus
YES
Download
YES
Multi-Media Server
YES
Docker
YES
Plex Media Server
YES
Snapshot
YES