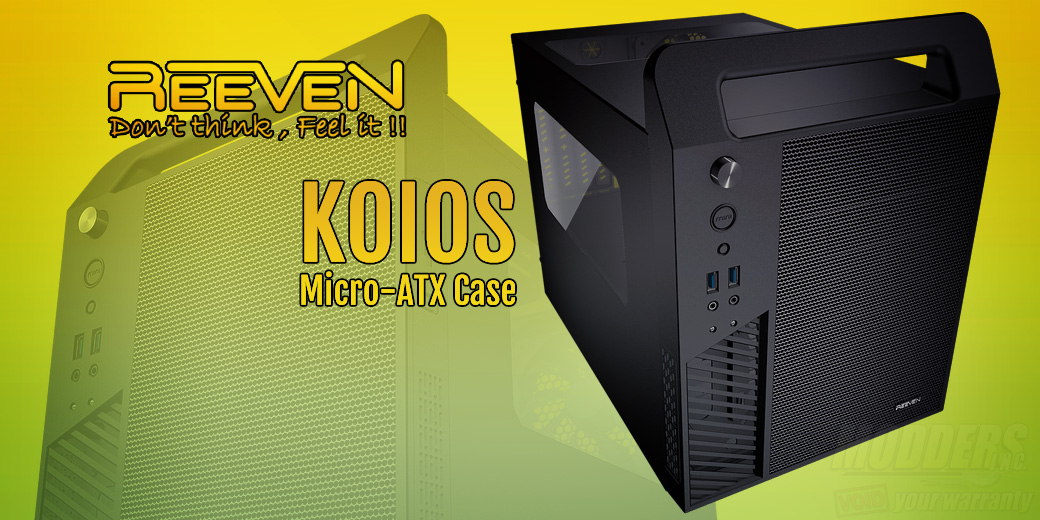 Reeven whose current product line mostly consist of CPU coolers have begun branching out with case offerings, showcasing their Rheia silent mid-tower at Computex but have now added an interesting compact solution in the form of the Reeven Koios micro-ATX case. This  might be the perfect case to build a LAN party system with considering its compact size and convenient front handle. Installation and maintenance is also sure to be swift with its flip open design that allows the builder unhindered access to the internals during installation. This is especially useful for compact systems since routing cables and installing components tend to get difficult the more compact the case goes. This reminds me of Apevia's Q-Pack case series which also flipped open and had a similar layout, the external design is different however so it might be the same OEM.
Aside from micro-ATX motherboard support, the Reeven Koios also supports mini-ITX on its horizontal mount motherboard tray. Four PCI expansion slots are available and the power supply mounts at the bottom compartment (the motherboard tray acts as a partition for the main chamber and the lower chamber). The total dimension measures 265 x 320 x 380mm (W x H x D), but maximum CPU cooler support goes all the way to 180mm and maximum video card length support is 340mm.
As for storage, one external 5.25″ is available listed but the front panel has no knockout area so components such as as Reeven's own new Polariz fan controller that I recently reviewed here, cannot be installed. An external 3.5″ is also available but has no external bay cover as well. These will just serve as extra mounting locations internally or users would have to mod the front cover. A 3.5″ HDD cage is also available on the lower compartment with another drive cage but this time for 2.5″ devices. An extra 2.5″ device can also be installed right below the "external" 3.5″ drive bay area. There is a viewing window at the sides and top as well so users can show off their internal components.
There is no word on pricing yet, but it should show up on Newegg.com soon. There are a lot of competitive compact cases under $75 so if Reeven prices the Koios accordingly, it should be fairly popular among those who like their system small and portable. For more information, visit the product page at: http://www.reeven.com/koios