Page 2 »
Marketed as a gaming mid-tower case the M59 offers up features like clearance for 10.5 inch graphics cards, support for water cooling, and a well ventilated design.  We will see how well the case handles a budget system.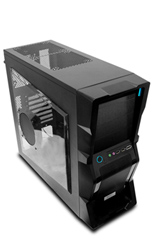 Sponsor: NZXT
[hr]
First Impression
The NZXT M59 comes in a now standard cardboard box (I remember when most  came in plain brown), printed in full color.  NZXT did a great job with the box design here.  The front is super simplistic, a picture of the front bezel, and a few buzzwords to grab attention.  There appears to be minimal damage to the box, but a loose rattling sound came whenever I moved the box.  At this point I was a bit scared of what I might find inside.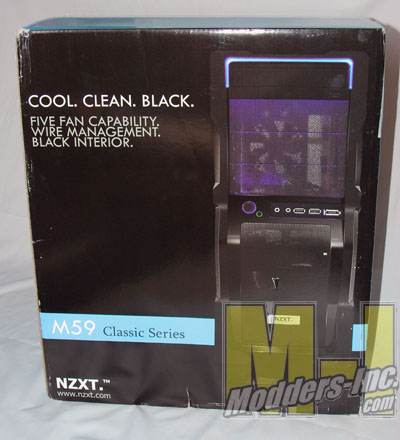 (you can click on almost every image in this review for a bigger version)
The box lists the standard features twice, on both ends of the box, a great decision as one of the English sections was completely covered over by the shipping label and packing slip.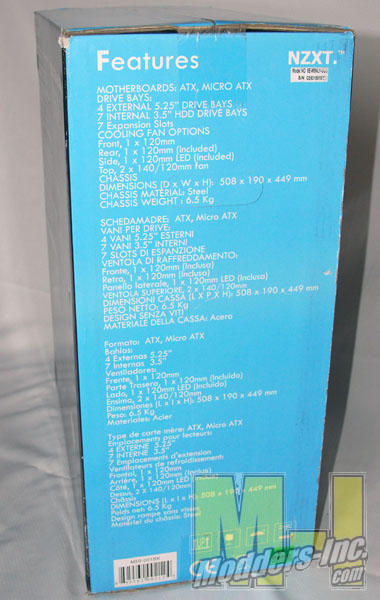 Packing was a standard affair, pressed Styrofoam end caps and a plastic bag around the case.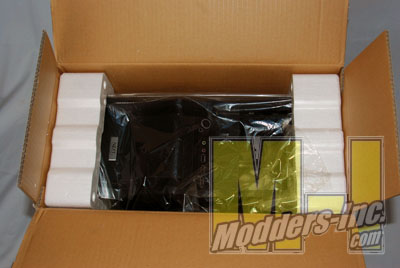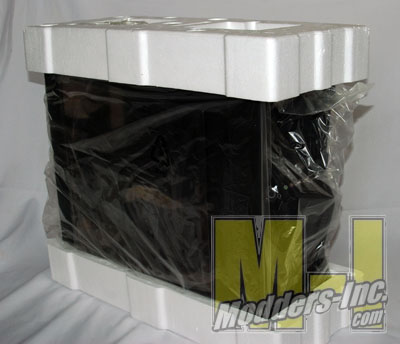 The back offers up a list of features (reproduced from website):
Immense Performance: 5 fan capability (side 120mm LED and rear 120mm exhaust included) Included 9-fin rifle bearing NZXT fans rated at 42CFM and 23db
Night light: A ambient light sits over the 5.25″ drives to give visibility in dark rooms or at LAN parties
Black on Black: Smoked clear window and a black interior gives the best combination of black on black
Meshed front panel allows for more airflow
5.25″ stealth bay to keep a clean look
NZXT solid state bracket allows for two SSD drives to be installed
Wire routing: motherboard punched holes allows for quick CPU bracket removable and optimal wire routing, turned HDD also helps with managing cables
Pre-drilled water cooling holes on the back plate
Front mounted USB, audio, and ESATA ports
Support for external dual radiator at the top of the chassis
High end graphics card support, the M59 features space that is especially designed to fit longer 10.5″ cards
The two ends of the box offer up some detailed specs:
Motherboards: ATX, Micro ATX
Drive Bays:
4 External 5.25″ Drive Bays
7 Internal 3.5″ HDD Drive Bays

7 Expansion Slots
Cooling FanOptions:

Front, 1x120mm
Rear, 1x120mm (included)
Side, 1x120mm LED (included)
Top, 2x140mm/120mm fan

Chassis Dimensions:(DxWxH) 508x190x449 mm
Chassis Material: Steel
Chassis Weight: 6.5 kg