A Closer Look at the be quiet! Pure Base 600 WINDOW »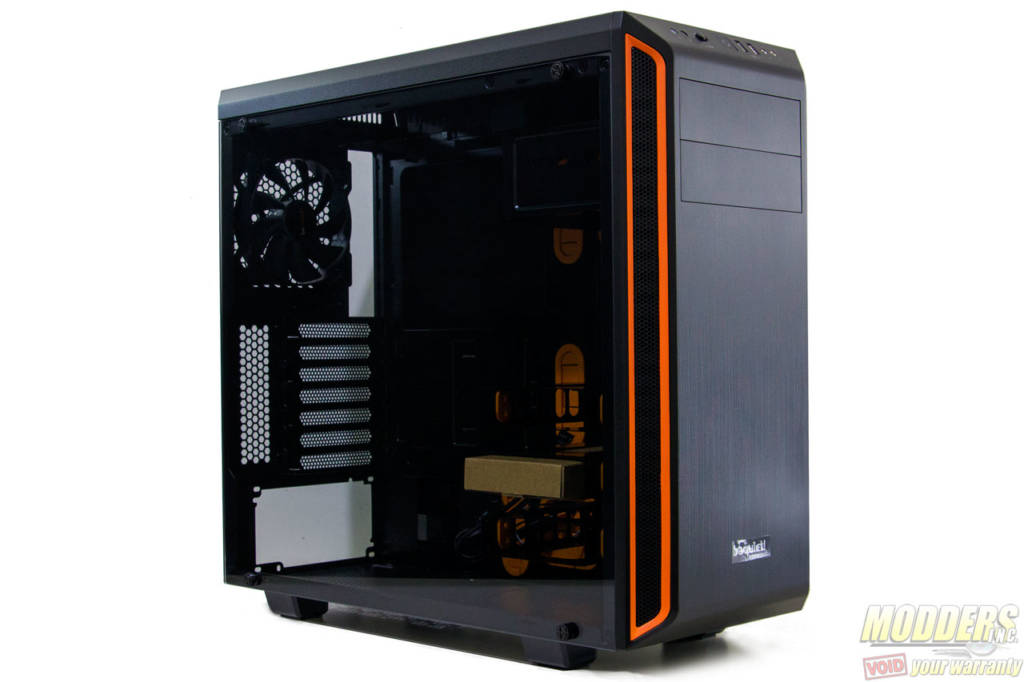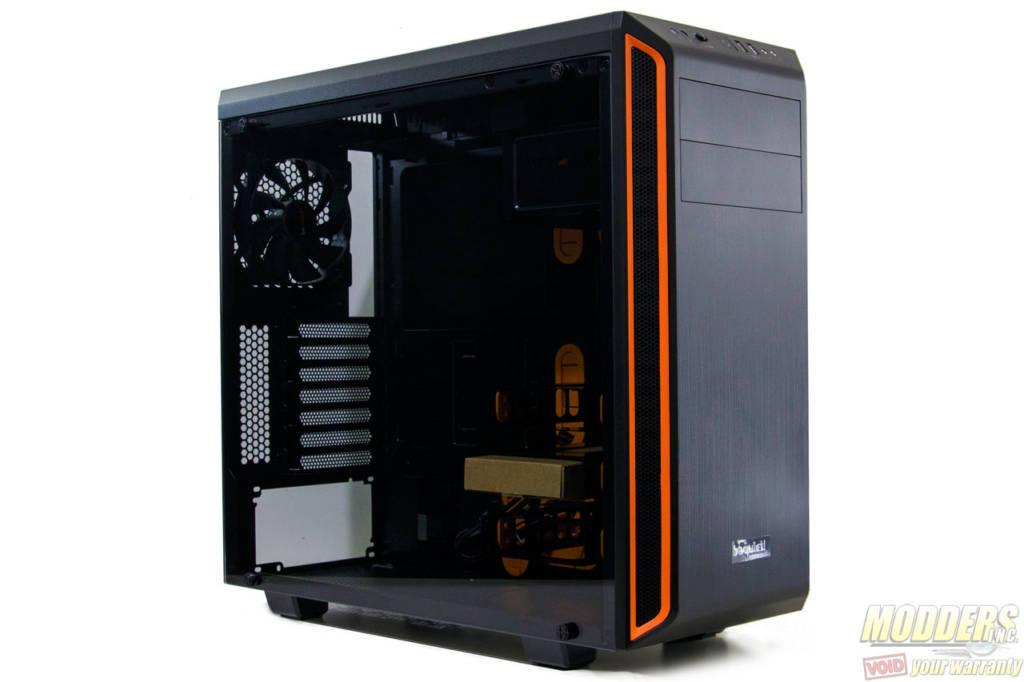 Be quiet! is aiming for the budget and mainstream builders with their Pure Base 600 case. It is their first sub $100 chassis offering following the Dark Base and the Silent Base series. This part of the market is a lot more crowded than those that usually come at a premium price. It is highly competitive, resulting in tempered glass being a common sight now for sub $100 cases. While be quiet! is here to compete, they are also here to deliver silent products above all else. So the Pure Base 600 retains much of the practical low-noise necessities of its Dark Base and Silent Base siblings. Its panels are lined with noise dampening material, and it comes with two be quiet! Pure Wings fans with a built-in fan controller.
The Pure Base 600 actually comes in two flavors. A standard solid SECC steel panel version for $89 and a left side tempered glass Pure Base 600 Window version for $99. Users can also choose between an orange, silver or black trim version.
Packaging
The Pure Base 600 is a mainstream, rather than a high-end or premium case like the Dark Base and Silent Base series. Which is why the packaging is quite a bit more traditional looking. It is brown like everyone else's and it has a simple black text print which is more utilitarian than eye-catching. A table of specifications on the side gives an overview of what features are available, while the remaining text at the backside describes the Pure Base 600 in several languages.
The packaging inside is standard as well, with Styrofoam spacers on both sides flanking the case covered in plastic to prevent scratches. This is the 'window' side-panel version, which uses tempered-glass on the left side, while the right side is SECC steel with noise dampening material lining.
Accessories
The accessories include several Velcro strips for cable management. Four different sets of screws are pre-sorted and organized in a small zip-lock bag as well which is highly convenient. The stand-offs are already pre-installed on the case so these screws are simply for mounting components. It includes motherboard screws, thumb screws, and drive mounting screws.
Specifications
| | |
| --- | --- |
| PSU form factor | ATX PS/2 |
| Motherboard compatibility | ATX, M-ATX, Mini-ITX |
| Case size excl. stands (L x W x H), (mm) | 492 x 220 x 445 |
| Installation of motherboards with backplate | ✓ |
| Case size incl. stands (L x W x H), (mm) | 492 x 220 x 470 |
| Dimensions side panel window (L x W), (mm) | – |
| Color option | Orange |
| Weight (kg) | 8.45 |
| USB 2.0 | – |
| USB 3.0 | 2 |
| USB 3.1 Gen 2 Type C | – |
| HD Audio I/O | 1 |
| Expansion slots | 7 |
| Fan mounting locations | 7 |
| Qi charger | – |