Article Pages:
Overclocking World Records Broken at GIGABYTE CES 2014 Extreme OC Event
GIGABYTE and Co-Sponsors Intel®, G.SKILL and Enermax Bring LN2 to the Las Vegas Desert: Produce Three World Records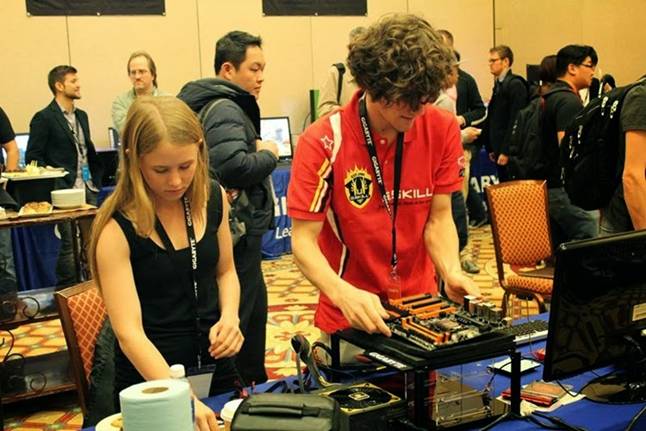 City of Industry, California, January 16th, 2014 – GIGABYTE TECHNOLOGY Co. Ltd., a leading manufacturer of motherboards and graphics cards today announces three World Record Overclocking submissions during its CES 2014 Extreme OC Event at Caesar's Palace, Las Vegas. Congrats to Vivi and STEPONZ, along with Dinos22 and HiCookie, who broke world records on 3DMark06, Unigine Heaven Extreme and Cinebench benchmarks.
Held during CES 2104 at the Caesar's Palace Conference Center, Las Vegas, GIGABYTE invited world class Overclocking talent from around the globe to demonstrate all the skills and experience needed to break world records. GIGABYTE Z87X-OC and GIGABYTE Z87X-OC Force motherboards were used at the event alongside processors, memory, SSDs and power supplies provided by event co-sponsors Intel®, G.SKILL and Enermax.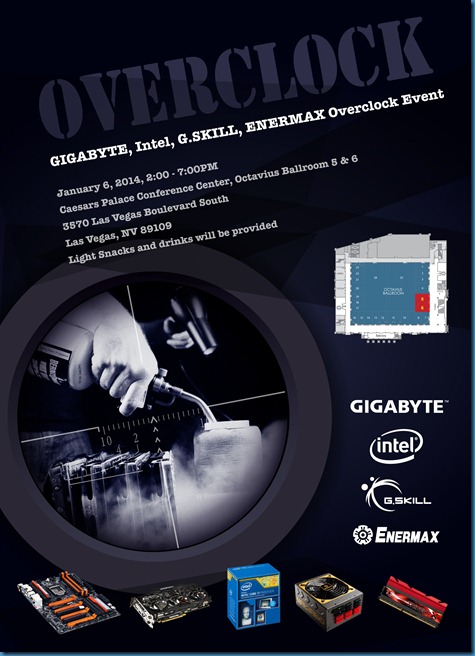 "The CES 2014 Extreme OC Event was a fantastic showcase event for Overclocking, underlining GIGABYTE's commitment to the extreme PC segment," commented HiCookie, Chief Overclocking Evangelist, GIGABYTE Motherboard Business Unit. "These new world records prove there is always headroom for improved performance if you have a motherboard designed from the ground up to break records, combined with exceptional gear from Intel, G.SKILL and Enermax."
"We are excited to have such an excellent turnout at this year's CES 2014 Extreme OC Event. We're also very proud of this year's world record achievements, made possible by using top notch hardware from G.SKILL, GIGABYTE, Intel, and Enermax," commented Frank Hung, Product Marketing Manager at G.SKILL. "Breaking world records is never easy, so it's a real thrill to watch so many overclocking experts participating in the event!"
"Enermax is honored to participate in the CES 2014 Extreme OC event. We are absolutely ecstatic about the record breaking results by using the premium components from Enermax, GIGABYTE, Intel and G.SKILL," commented Richard Hwang, Vice President of Enermax N.A. "Thanks to all the overclockers who participated for making this a successful event, and we look forward to being involved in more events like this."
World Record Submissions
Cinebench 11.5 – CPU 4x World Record – Vivi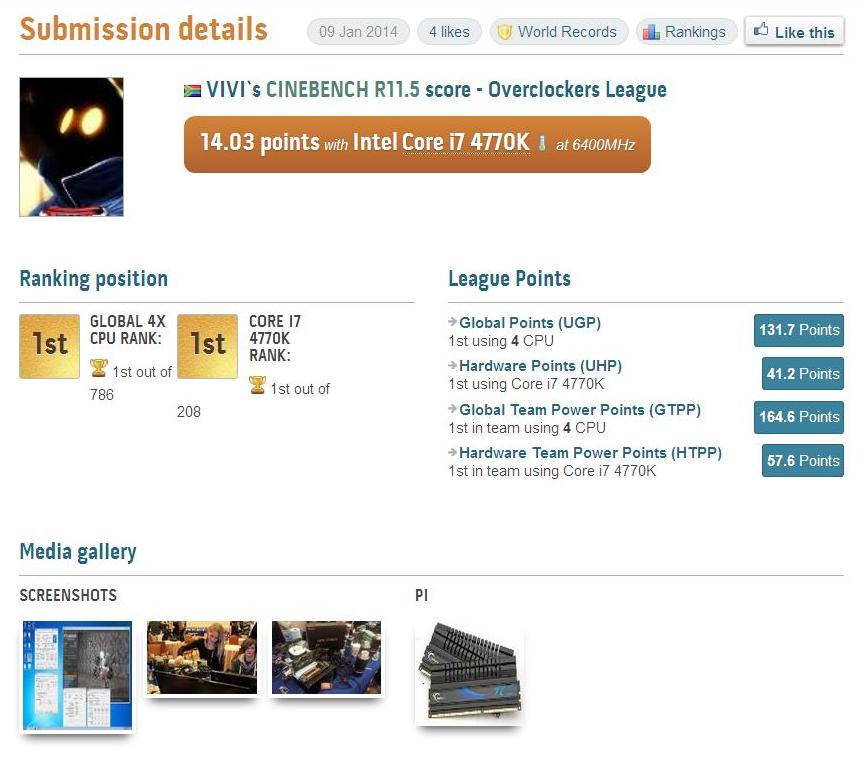 http://hwbot.org/submission/2479643
 Score: 14.03 points
 GIGABYTE Z87X-OC motherboard
 Intel 4770K CPU running 6.4GHz on liquid nitrogen
 G.SKILL Pi series F3-17600CL7 memory running at 2400MHz 8-11-7-25-1T
 GTX780Ti GPU running at 1550MHz on liquid nitrogen
 Enermax MaxRevo 1500 W PSU
Unigine Heaven Extreme – GPU x4 Word Record – STEPONZ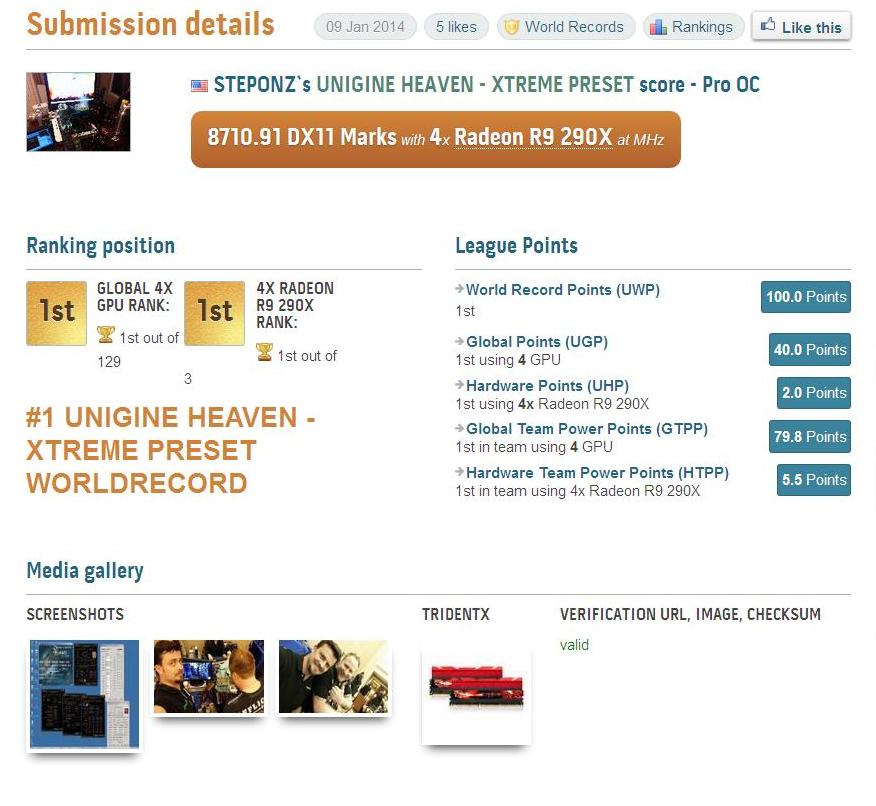 http://hwbot.org/submission/2479579
 Score: 8710.91 DX11 marks
 GIGABYTE Z87X-OC Force motherboard
 Intel 4770K CPU
 GIGABYTE 4x R9 290X GPUs
 G.SKILL 2666C10 memory
 Enermax MaxRevo 1500W PSU
 3DMark06 – GPU x1 World Record – Vivi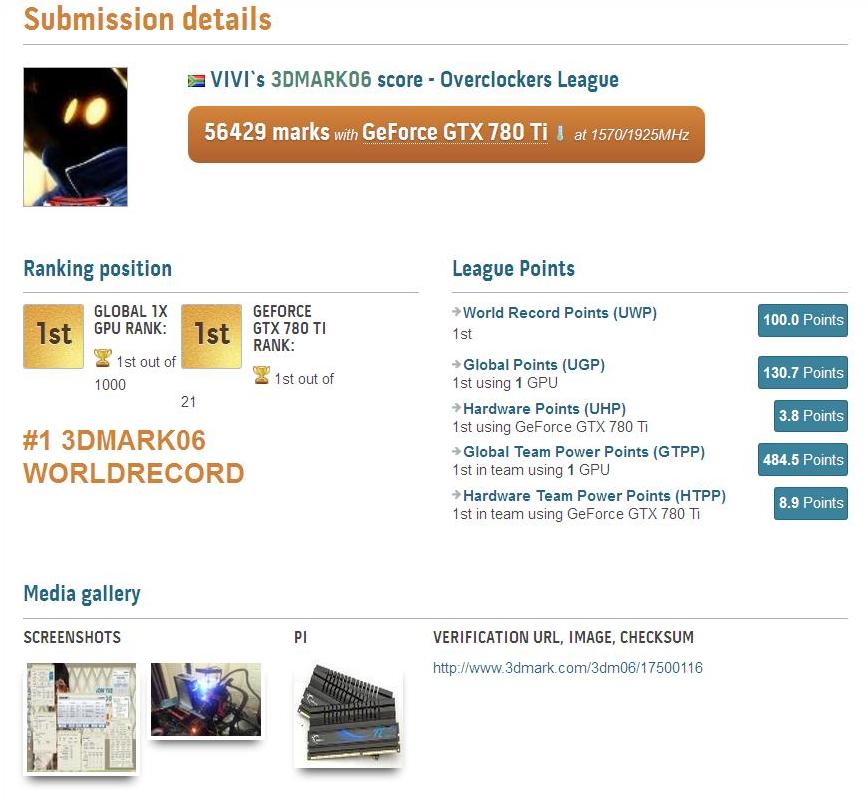 http://hwbot.org/submission/2480831
 Score: 56429 marks
 GIGABYTE Z87X-OC motherboard
 Intel 4770K CPU
 GeForce GTX 780Ti
 G.SKILL Pi series memory
 Enermax MaxRevo 1500 W PSU
For more details regarding GIGABYTE OC motherboards, please go to: http://www.gigabyte.us/MicroSite/336/oc.html
Article Pages: