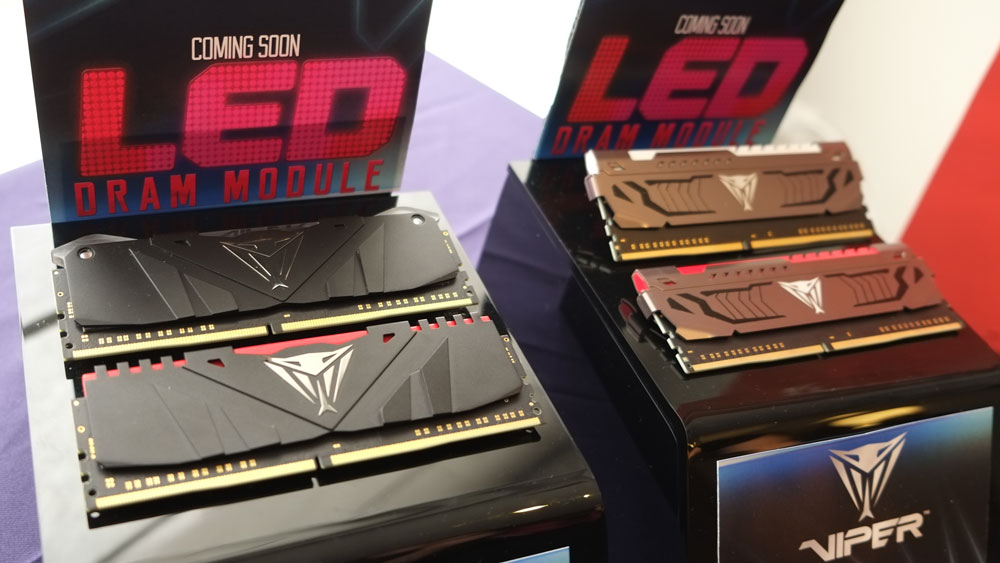 Storage and memory manufacturer Patriot continues their expansion of their Viper gaming line at Computex 2017. On display were several peripherals including the recently released flagship Viper V770 mechanical gaming keyboard. This keyboard has been reviewed here recently and earned Modders Inc's 'Must Have' award. It retails for $139.99, and sits on top of the V760 and V730 on Patriot's mechanical gaming keyboard product stack.
Viper Headset Stand
In terms of headsets, Patriot showed off a new type of headset stand which also doubles as a hub.  It has USB 3.1 Gen 1 ports as well as two 3.5mm audio port for headphone/microphone pass-through. The base is weighted with stainless steel accent so that it does not just topple over. The Patriot Viper headset stand is already available for $39.99, launched on early June.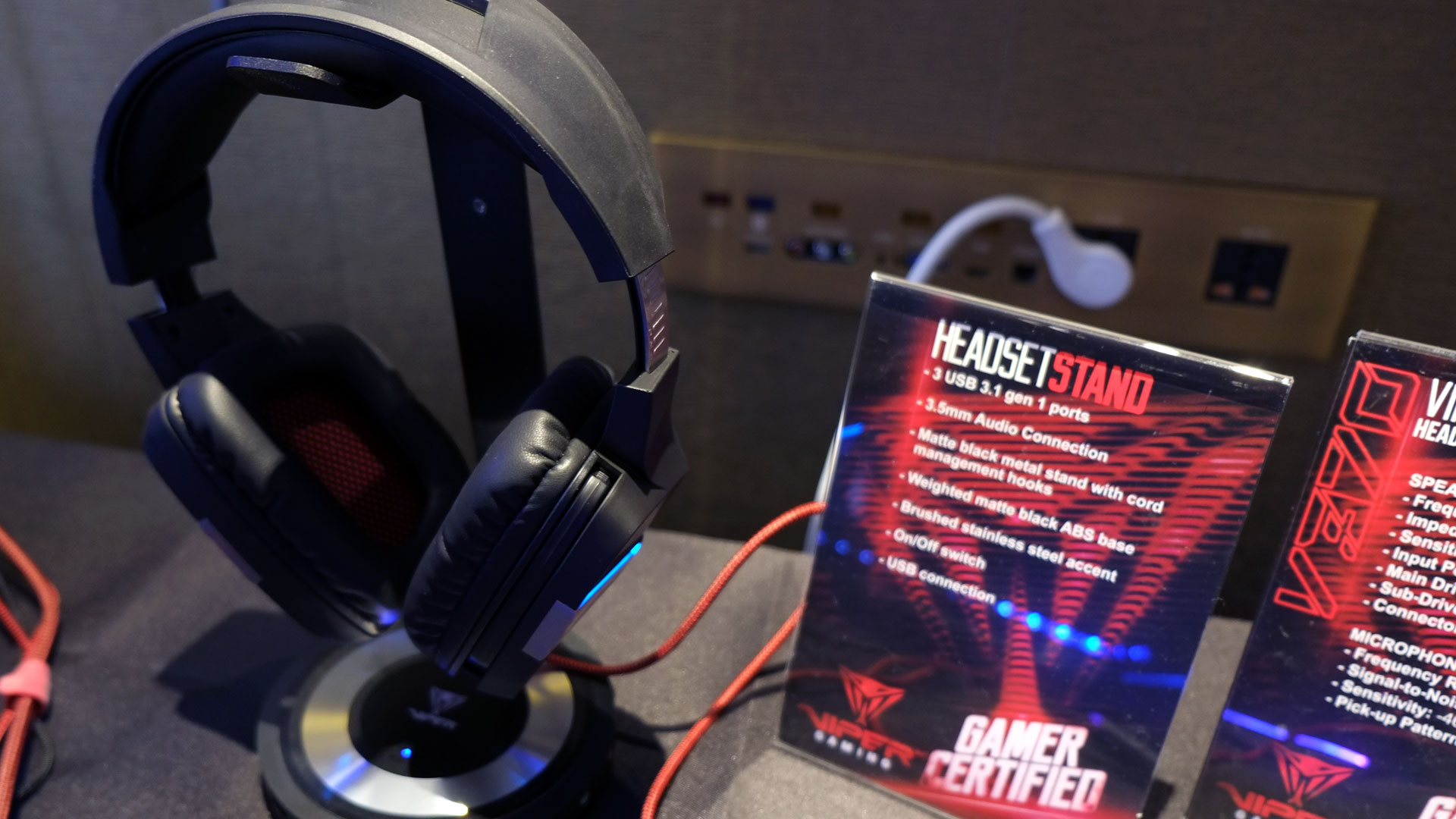 Viper RGB LED Mousepad
Patriot also showcased an RGB LED lit mousepad at Computex 2017. It appears to be modestly sized, although the RGB LED lighting is a bit uneven and subtle along the edges. One good thing about this design compared to other RGB LED mousepads however, is the fact that the connector point is compact. Other designs usually have a bulky edge where the cable comes in at. Also, the RGB LED control is built into the cable itself. This inline cable lets users switch colors and presets without going through software.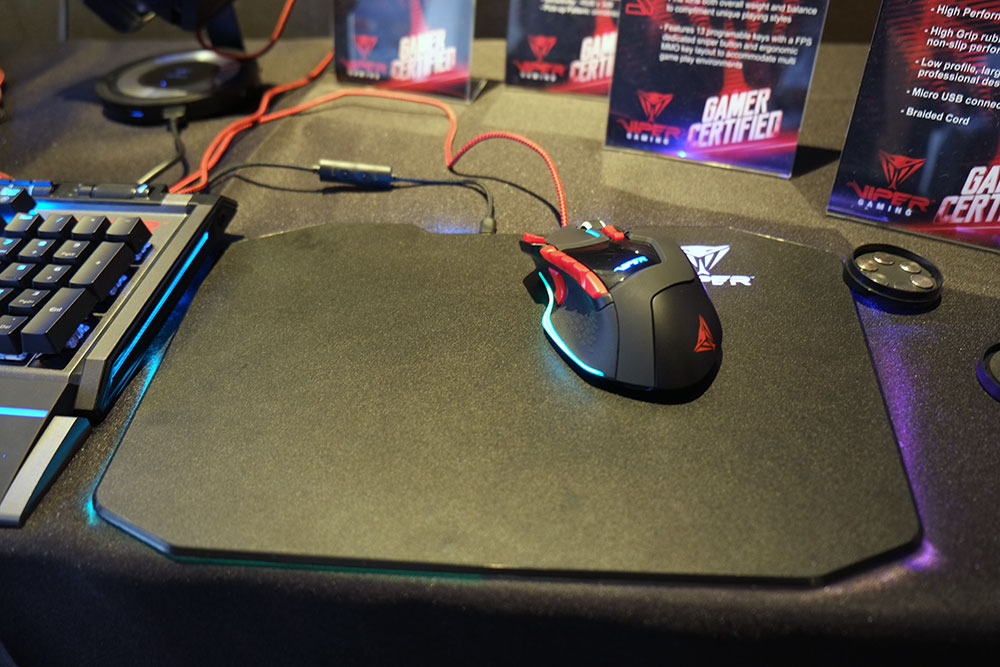 Patriot Scorch M.2 SSD
Patriot also had a new M.2 drive in the form of the Scorch SSD at their suite. This storage device uses a Phison 5008-E8 controller and performs below that of the previously released Patriot Hellfire. It is aimed squarely as a budget alternative for those looking to upgrade to an NVMe drive. It touts sequential read and write speeds of 1200 MB/s and 800MB/s. The Scorch M.2 uses 64-layer BiCS flash with 3-bits per cell TLC NAND from Toshiba. It uses a 2280 form factor and has an MTBF of >2,000,00 hours. There is no word on pricing yet since NAND pricing is volatile.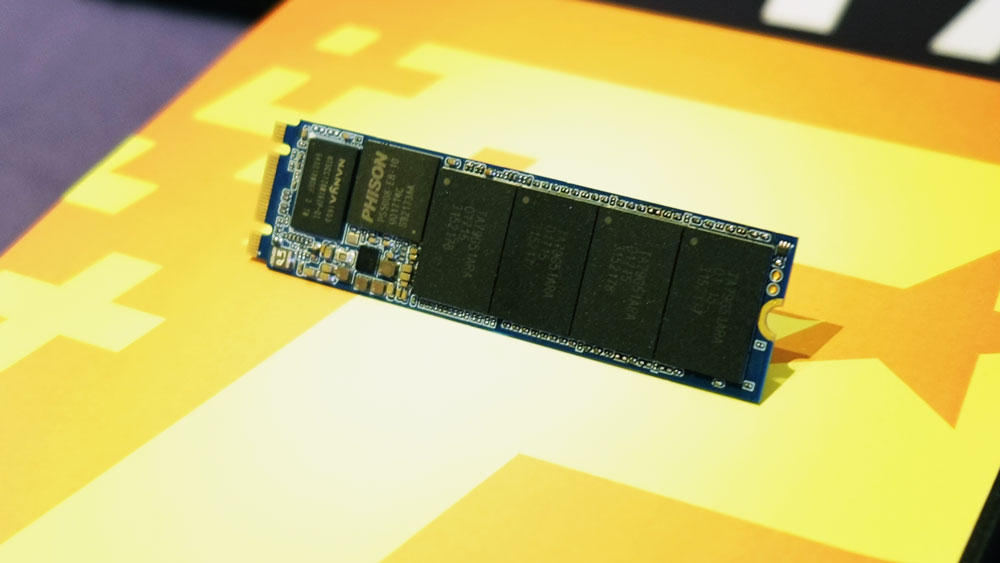 Patriot Spark
A new compact external SSD was also at the suite called the Patriot Spark. It is the size of a credit card, albeit thicker. It uses a USB 3.0 interface with sequential read speeds of up to 465MB/s, and write speeds of up to 460MB/s. The item on display had a 960GB capacity, but Patriot says they will offer a 128GB version at the lower pricing tier. There is no release date or pricing available yet.
Patriot DRAM LED Modules
The final prototype on display at Patriot's suite were new DRAM LED modules. There are four heatspreader prototypes on display, showing the Viper branding in the middle but had varying patterns. The diffuser color and pattern at the top also varied. Patriot is actually asking for feedback from fans to see which style they want on their DRAM modules. The target date for release is sometime around the tail end of Q3 2017.