When Phanteks sent out the Enthoo Luxe for review they also tossed in some other add-on products for us to look at. During this overview we will take a quick look at each item and I will give you some information about them. Included in the box was a wide variety of products that Phanteks offers, which included some LED strip lighting, SSD brackets, pump bracket, Y-splitter for fans and a PWN fan controller hub.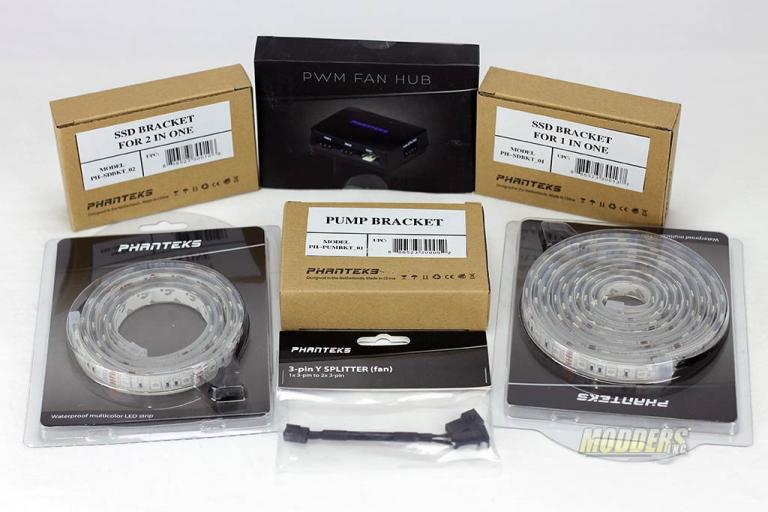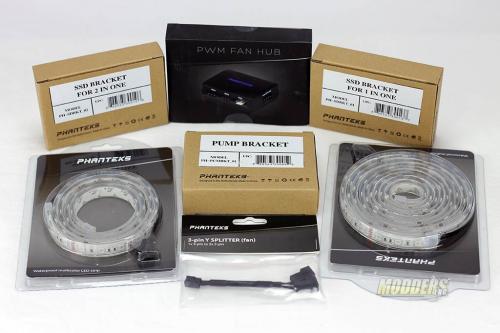 The Brackets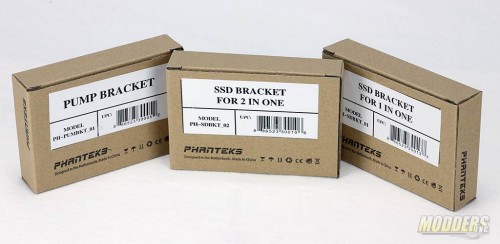 Phanteks sent  a few of the brackets that they offer to help you upgrade your Phanteks case.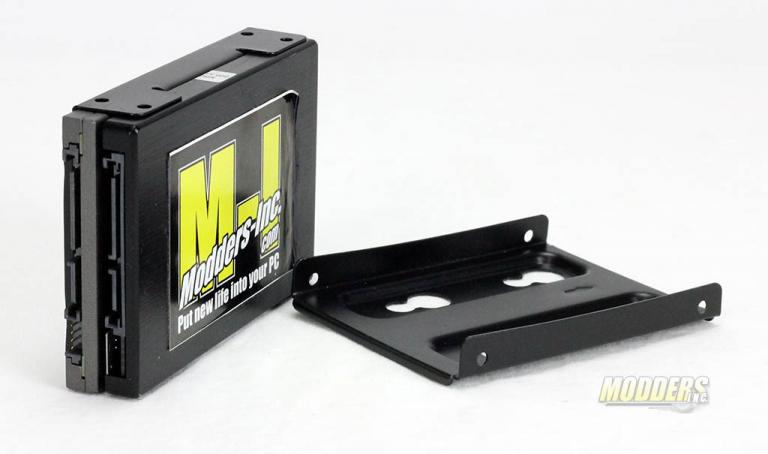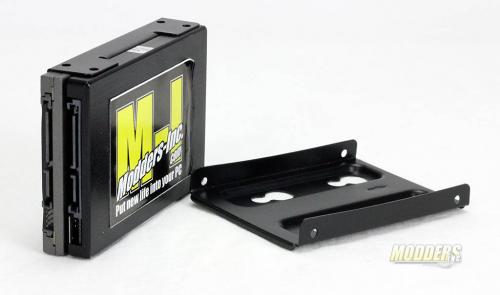 First on our list are the brackets with the double SSD Bracket. The Phanteks Luxe case come with  a couple single SSD brackets, but if you need more space you can grab this one. Just slap in your drives and reinstall into the same place the single bracket was. Even if you do not have a Phanteks case you could still get one of these and install it into any case you have with a little work. The single bracket is well just what it says. One 2.5 inch drive can be mounted to this bracket.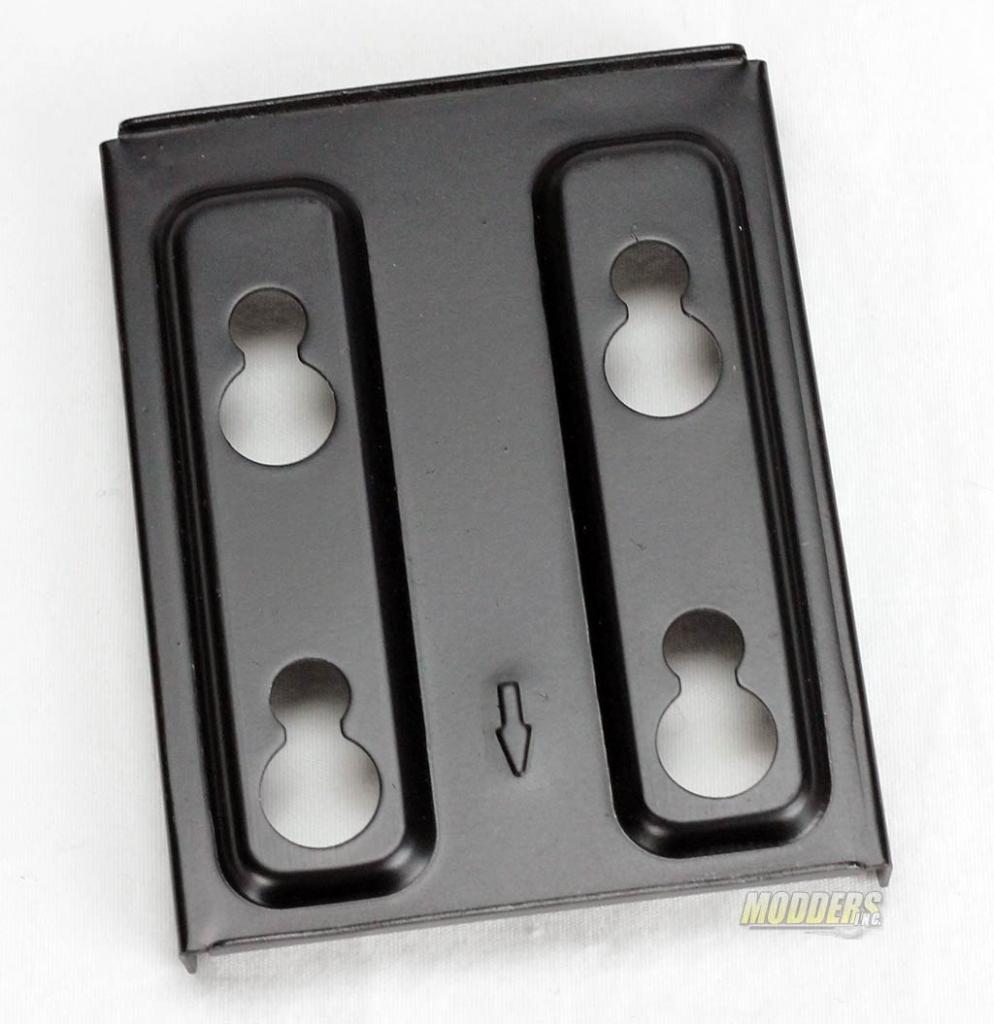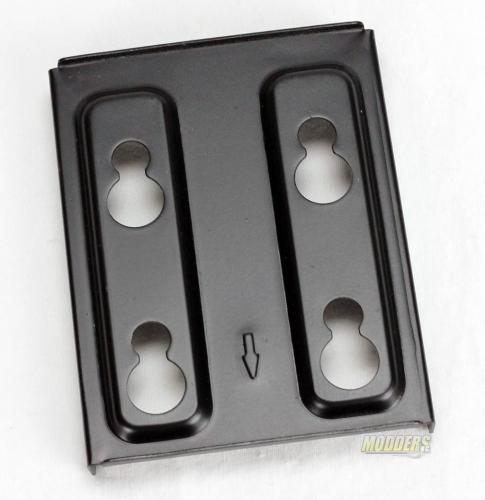 A close up of the one of the brackets shows that it use a rubber mounting system that allows you to slide the bracket on or off with a bit of force. You could mod your current case to accept these brackets if you wanted to mount them in a non standard place.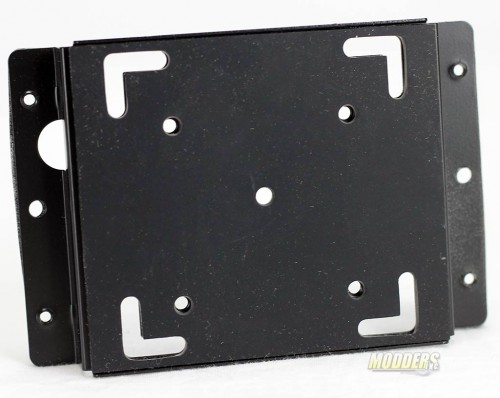 Next up is a bracket that can hold your water cooling pump. They are many different types of pump and with the pre-drilled holes and grooves you should be able to mount right too it.
Type

Pump Bracket

Color
Black
Material
Metal

Package Dimension

3.3" x 1" x 4.7" (85mm x 25mm x120mm )(Wx H x D )

Weight

0.2 Lbs

Warranty

5 Years.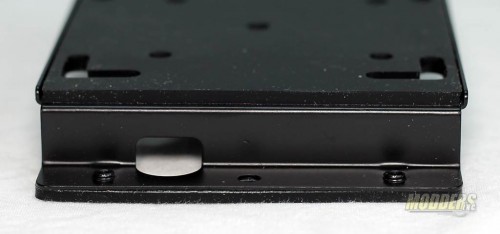 Rubber is attached to the top and to the bottom of the bracket to help keep the noise and vibration from your pump to a minimum.
 The LED's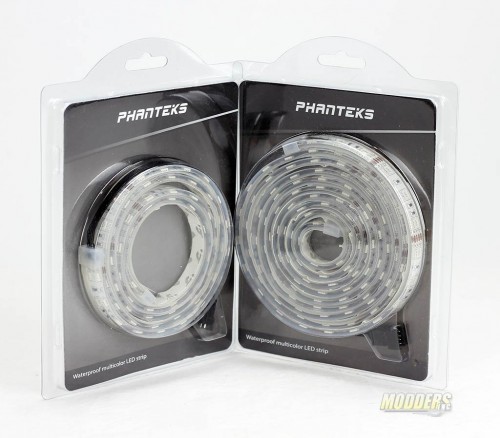 The two LED strips that Phanteks sent are *Compatible with Enthoo Luxe ONLY at this time, but I think at some point they will be able to work with other Phanteks cases. The LED's require a certain controller which appears to only be in the Enthoo Luxe model at this time. The LED's are available in two lengths of 39 inches and 78 inches.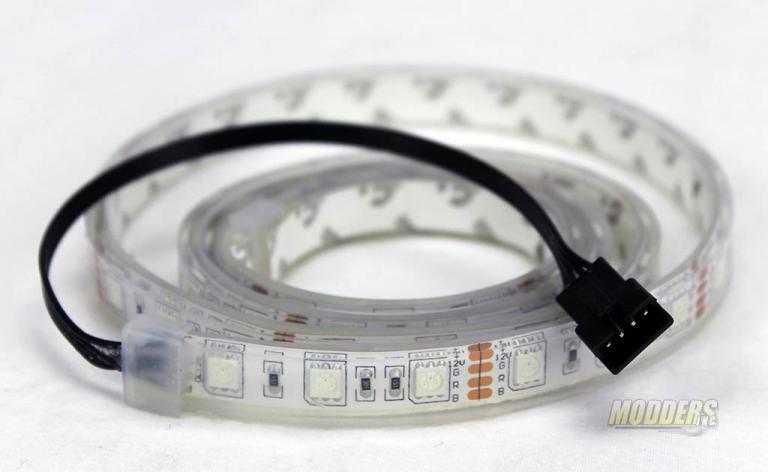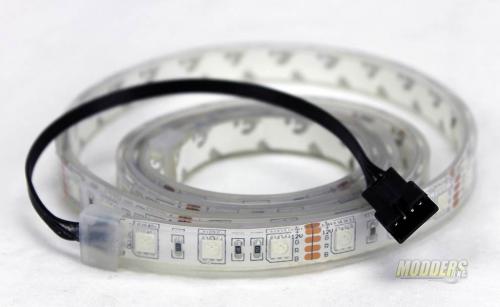 The strips use RGB (Red/Blue/Green) LED's which can give you up to 10 different colors. This matches the available colors that the Enthoo Luxe uses.This is the reason why you can only use it with the Luxe. All you have to do is plug the strip in the included female plug in the Luxe, peel of the backing on the 3m double sided tape, place them where you want and then you can now cycle through the colors and have the inside of the case match the outside colors.
PWN Fan Hub and Fan Y-Splitter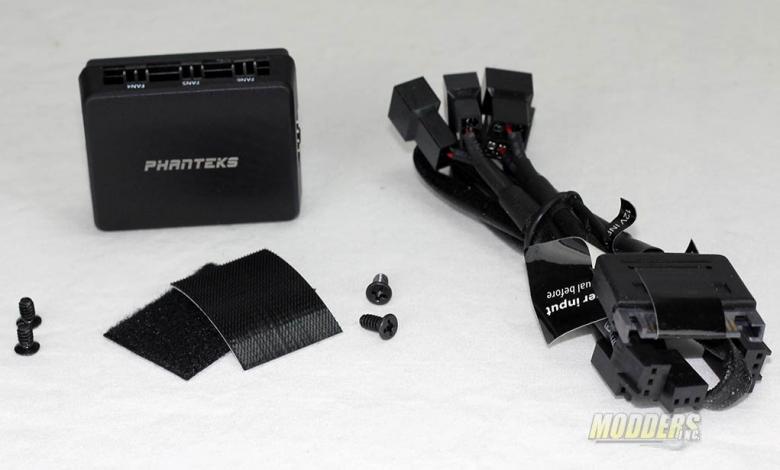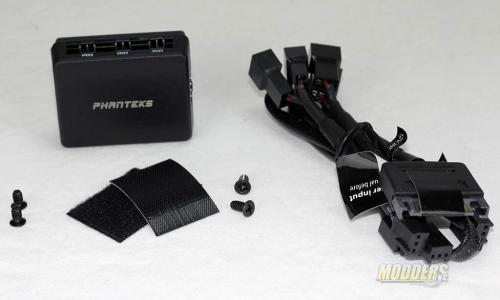 This group of products will allow you to control up to 11 fans while only using one 4-pin header from your motherboard.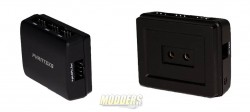 The Phanteks PWM Fan Hub is capable of powering up to *11x fans (3-pin) through PWM modulation, while occupying only 1x 4-pin header of your motherboard per Fan Hub. At the same time this Fan Hub also keeps your chassis interior clean and tidy by centralizing all your fan cables. The PWM hub comes with pre-drilled mounting holes for easy installation to your Enthoo cases and also Velcro strips for use with other chassis.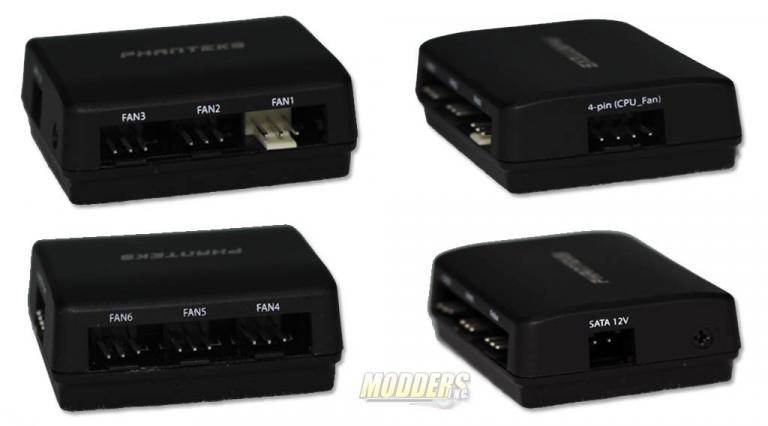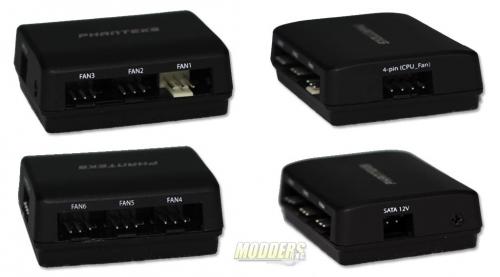 A quick trip around the fan hub shows us all the connections available.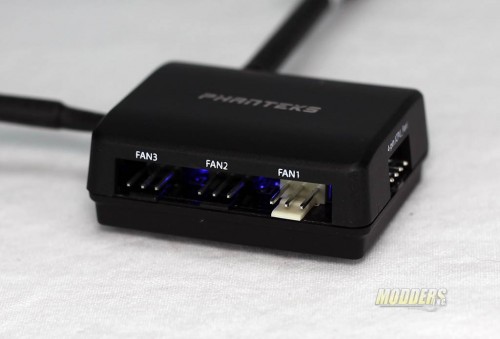 Power LED illuminates the Phanteks Logo when the PWM hub is powered on.
PWM Fan Hub
6 channel
2x PH-CB-Y3P fan splitter
11 fan max (additional splitters required)
Universal Mounting strips
Color
Black
Material
Plastic
Fan Connector Quantity
8 Fans Channels
Fan Channel Wattage
Up to 30W
Fan HUB Dimension
1.5"x0.7"x1.8" ( 38 x 17.5 x 46mm) ( Wx H x D )
Scope of Delivery
1x Phanteks Fan Hub
1x 4 pin to 4 pin cable
1x 2 pin to SATA cable
2x Fan Splitter adapter
1x Velcro Mount
2x Mounting Screw

Package Dimension

3.9" x 1" x 5.5" (100 x25 x 135mm ) ( WxHx D )

Weight

0.2 Lbs

Warranty

5 Years.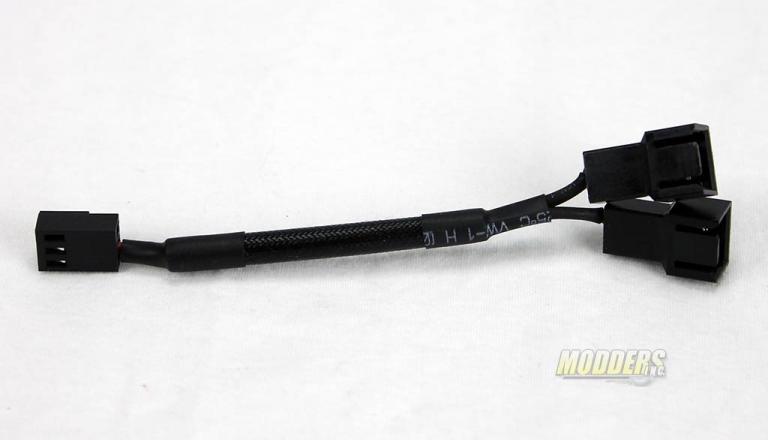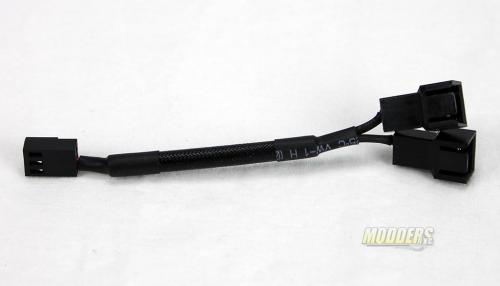 The Y-Spltter will allow you to connect two fans to a single power. This item can be used with any combination of fans that are on the market, but I recommend that you stay with the Phanteks brand.
Color
Black
Connector
1 x 3 Pin (Female ) to 2 x 3 pin (Male )
Cable Length
4.3" ( 110mm )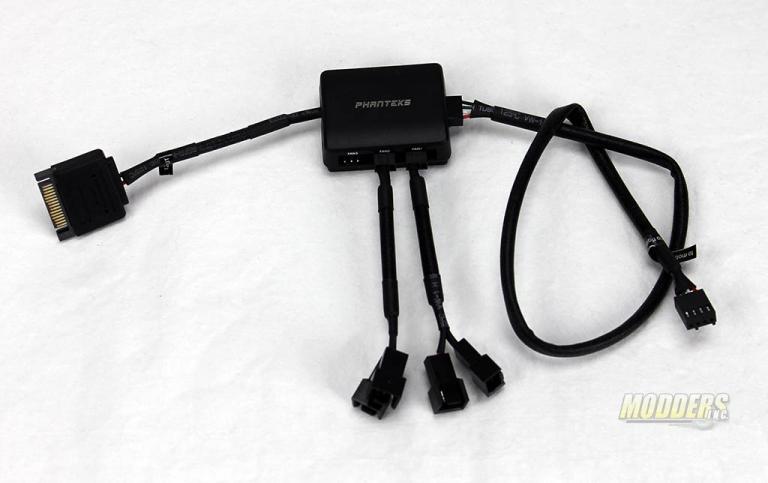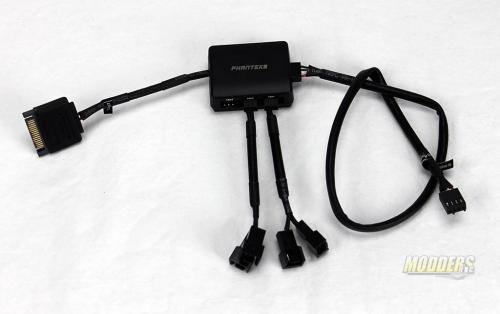 Here we can see the PWN Fan hub with all the cables that we were provided for the overview. The cable on the right is what connects to the PWN header on your motherboard while the cable on the left connects to SATA power.
These items are the only accessories that Phanteks offer on the their site, but with these items you can use them to help take your current Phanteks case to the next level.
[sc:recommended_hardware_award ]