« Testing Procedure and Benchmarks
Final Thoughts about the PowerColor R9 285 2GB Turbo Duo

In terms of performance, only one thing is clear from the results of the R9 285 vs GTX 960; which is that there is no clear result. Despite having the advantage of seeing how the R9 285 perform because it was released earlier, the GTX 960 was not able to fully best the R9 285 convincingly in the benchmarks. Even the R9 285 performance is a slightly lateral move compared to the R9 280X, only performing convincingly over the latter in 3DMark Firestrike. There is still room for improvement here with future drivers but for now both the GTX 960 and the R9 285 will be trading blows and it will be too close to call strictly going by benchmark numbers.
The PowerColor R9 285 TurboDuo is the sole R9 285 "Tonga" representative in this review going against two GTX 960s head-to-head. Both currently priced higher at $209 to $219 compared to the PowerColor R9 285 Turbo Duo closely at $199. Looking at the history of the PowerColor R9 285 TurboDuo pricing however, the price goes as low as $149 at the lowest and averaging under $175 from NewEgg since February which makes it an excellent deal.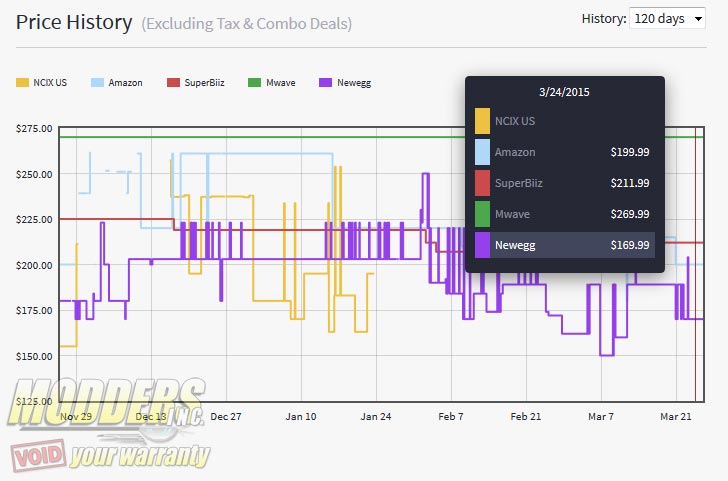 The PowerColor R9 285 TurboDuo's cooling system's pair of 80mm fans are surprisingly quiet for its small size. The unique dual impeller solution also is able to shift up and down fan speeds with even tone and non-distracting whirr. Unfortunately, after seeing the GTX 960 video card's noise level performance, the bar has been raised and expectations have been extended that takes the excitement out of everything else, no matter how well engineered the fans may be. In terms of thermals, efficiency and noise levels, the GTX 960's much efficient power consumption gives the NVIDIA Maxwell GPU the leg up over the Tonga with the ability to run cool enough that the fans are disabled automatically for most of the operation. This is more of an AMD improvement that needs to happen since it is core level performance rather than manufacturer cooling design.
For modders and creative types, the PowerColor R9 285 TurboDuo would suit projects well with its convenient disassembly and use of fan hub for connecting the two fans. This also makes replacing the fans much more convenient. The shroud is metal, not plastic like most mainstream video cards and there are no pesky stickers on the screws so even servicing it for cleaning will not void the warranty, although painting components and hardware changes are another thing entirely. If the pricing trend continues and stays with a $30 (and even up to $40) advantage, even if it is via rebates, then the PowerColor R9 285 TurboDuo is a video card that is easily recommended over any GTX 960.
[sc:recommended_hardware_award ]