News and Articles
be quiet! Embraces Liquid-cooling with New Dark Base Case and Silent Loop AIO Coolers
Although be quiet's chassis debut with the Silent Base series was met with warm welcome, many critics cited its lack of liquid cooling support as a disadvantage. Since then, be quiet! has worked to deliver a new flagship case to the market to more than make up for the previous series' short coming. The result: The Dark Base series featuring an astounding array of liquid cooling options and versatility brought on by reconfigurable motherboard trays, drive cages and more. Mounting possibilities for fans include up to 4x 120mm or 3x140mm at the top (can be configured for up to 2x200mm as well), up to 2x 140mm (or 2x 120mm) at the bottom, up to 3x 140mm (or 3x 120mm) at the front, Up to 2x 120mm at the side panel and 1x 140mm at the rear.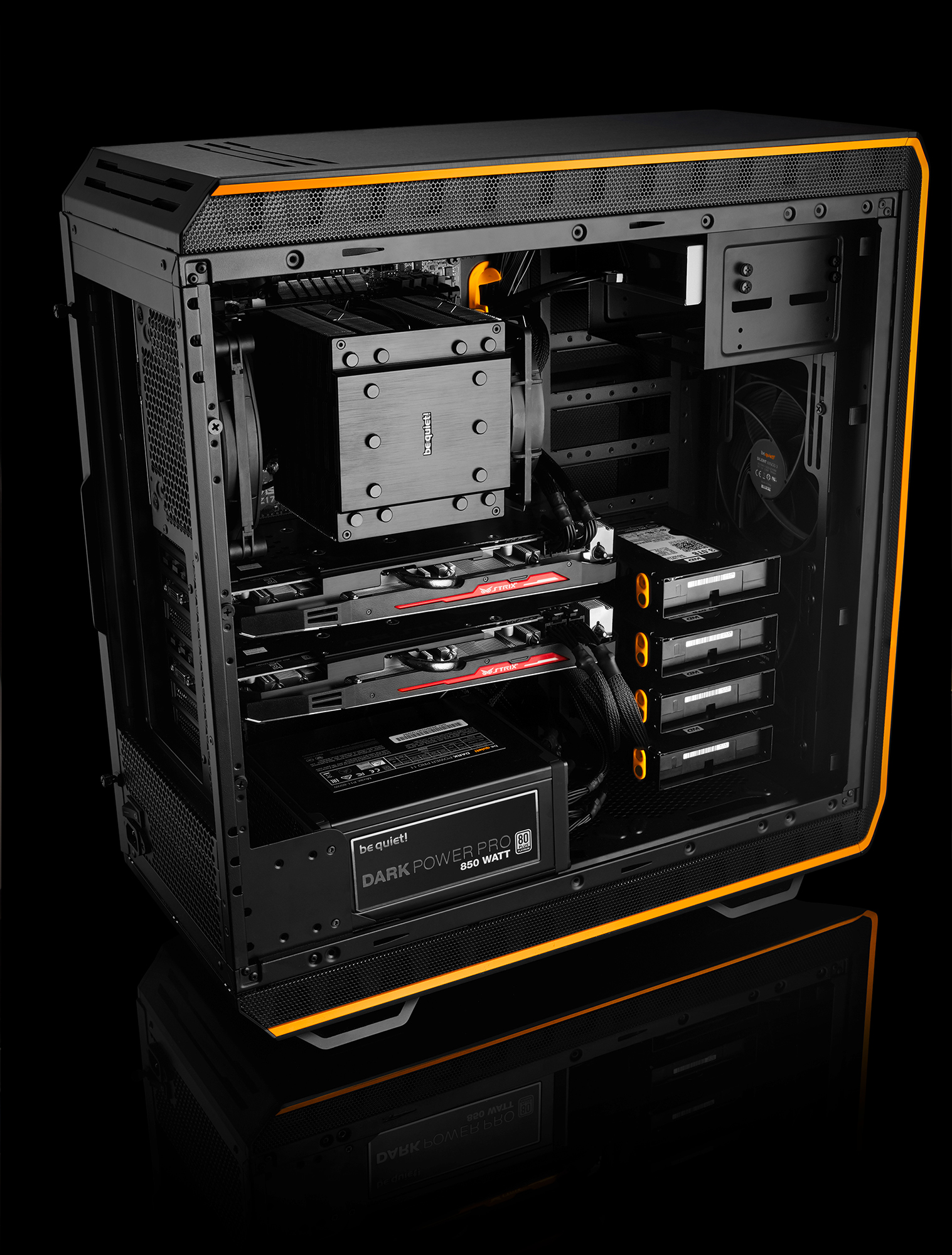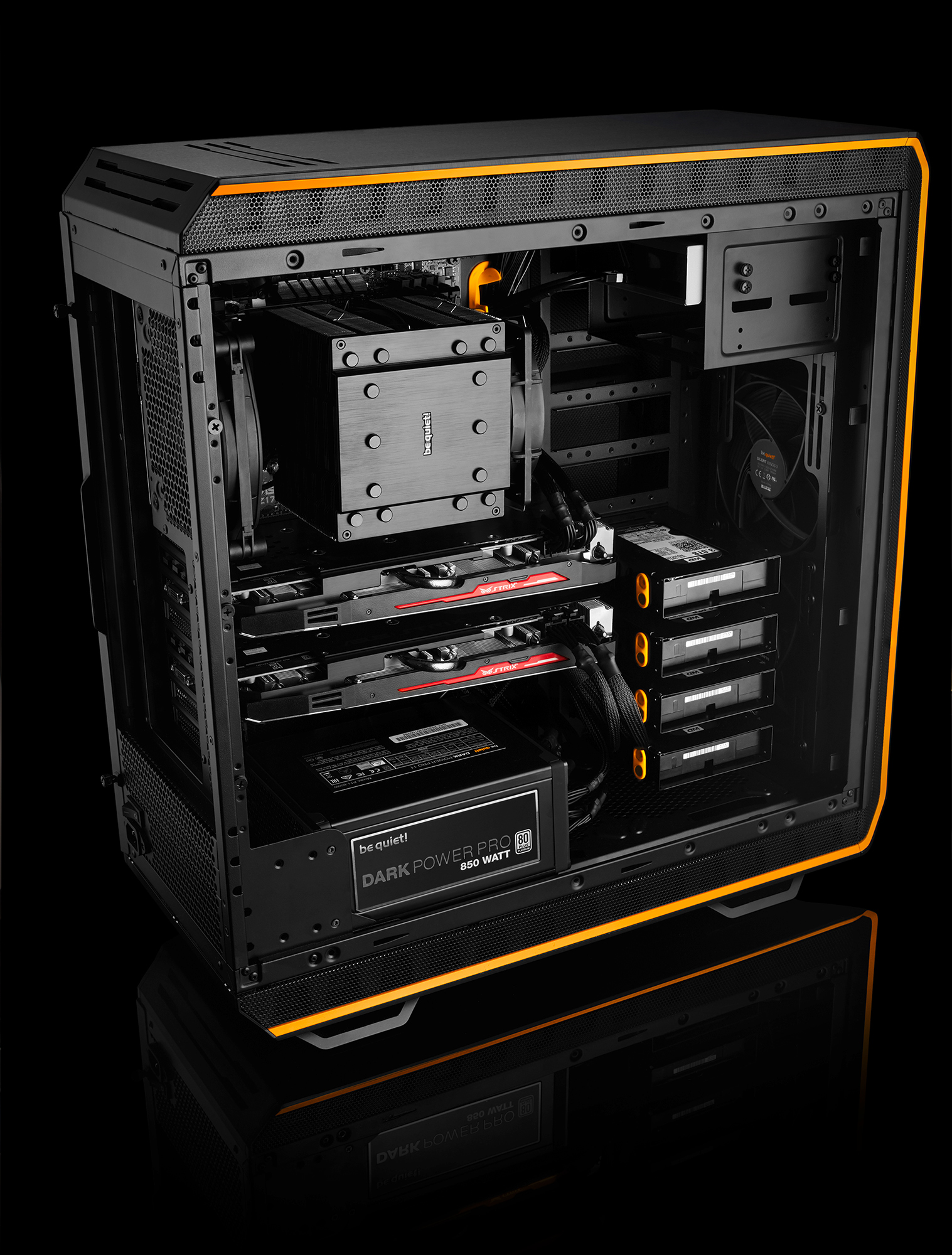 The flagship Dark Base 900 is launching on June 28 and will have a PRO and a non-PRO version with an MSRP of $249 and $199 respectively. The PRO version will have 5-color LED strips bundled, 4mm tempered glass side panel and a QI charger for mobile devices. Both PRO and non-PRO version will come bundled with 3x Silent Wings 3 PWM 140mm fans, up to 15x SSD support, up to 7x HDD support and up to 2x 5.25″ drive support.
During Computex, be quiet! also unveiled their upcoming line of Silent Loop All-in-One water coolers using Alphacool OEM units. These coolers use a reverse-flow pump for virtually inaudible operation, something which be quiet! is well-known for. Three models were displayed: a 120mm, 240mm and 280mm model which will have an approximate MSRP of $109.99, 129.90 and $149.90 respectively (not yet finalized). Each will come bundled with a pair of be quiet! Pure Wings 2 fans.
be quiet! also had some other things on display which are about to launch including a new Pure Rock Slim CPU cooler designed for 120W TDP dissipation with a 92mm fan. The Pure Rock Slim CPU cooler has an MSRP of $27.90 and targetted for low-height clearance mid-tower case builds and affordability. Launch is expected at September 2016.
A month before that launch however, be quiet! is also planning to release the 3rd generation of their Silent Wings fan series featuring a new frame and revamped blade design, increasing static pressure while maintaining the noise level compared to a Silent Wings 2 fan. The mounting kit has also been revised for better compatibility and convenient and will be available in eight variants including PWM, and non-PWM models as well as HIGH-SPEED models that top at 2200 RPM for the 120mm model and 1500 RPM for the 140mm model. MSRP is expected to be $20.90 to $23.90.
Launching during Computex however is be quiet's Pure Power 9 500W and 600W PSU models in North America. These are both targetted for affordability having an MSRP of only $55.90 and $65.90. These are 80 PLUS Silver units and will also have a fully-modular version which are called Pure Power 9-CM.