Share your experiences with a Silicon-Power product and get the chance to win an Apple iPad Air and other great prizes. The campaign runs from March through July 31st, 2015 and is open to any user worldwide. Written and video reviews are accepted so what are you waiting for? More details and contest entrance information available below: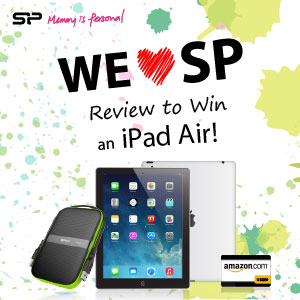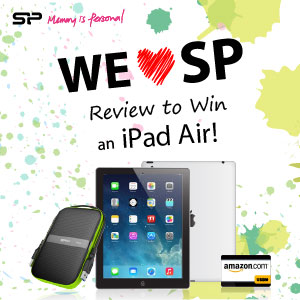 Taipei, Taiwan – April 21st, 2015 – Would you like to tell us how you upgraded your notebook by replacing the hard drive to a SP Slim Series SSD? Or would you like to share your ultimate experience with our extra rugged Armor Series hard drives? Just share what you like about your SP products; chances are you may be the winner of an iPad Air or other great prizes!
The "We Love SP Review Campaign" runs from March to July 31st, 2015, and is open worldwide. During this period, SP/Silicon Power invites you to participate and share your comments or thoughts on any SP product you owned in a written or a video review, whether it is its design, functionality or other distinctive features. SP believes that those feedbacks help us become a better brand and develop more exceptional products.
About SP / Silicon Power
Silicon Power Computer & Communications Inc., founded in 2003 by a group of enthusiastic specialists of flash data storage industry. Well dedicated in brand image and product quality, SP has been recognized and well accepted by millions of end-users in more than 100 countries, becomes the world's leading manufacturer of flash memory cards, USB flash drives, card readers, DRAM modules, solid state disks, and portable hard drives in less than a decade. Headquartered in Taipei, we continuously established various branches throughout the world including Netherlands, Japan, Russia, Mainland China and other emerging market. With superior quality and innovative design, our products stood out in many competitions and awarded with numerous well-known design awards, such as Taiwan Excellence, COMPUTEX Design & Innovation Award, red dot design award, iF Design Award and IDEA . Winning trust of global consumers SP holds a record of successive double-digit revenue growth for last ten years. For SP, the product we introduced is not only a digital storage device but also a real promise to create and preserve your most valuable memory in every moment.