A Closer Look at the Roccat Skeltr Keyboard »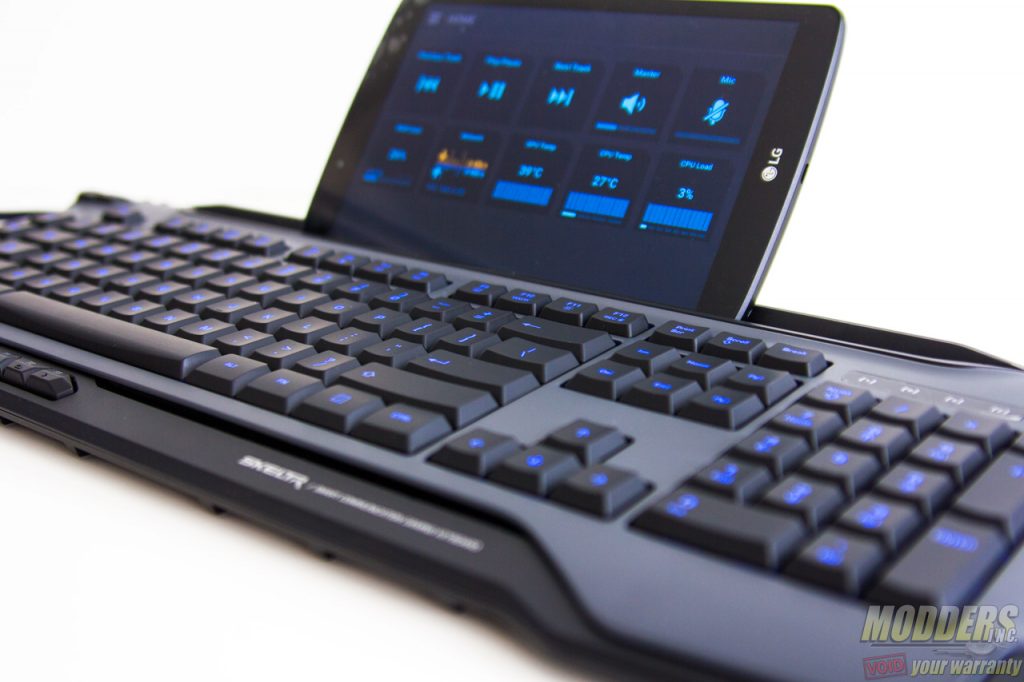 The main idea behind Roccat's latest keyboard, the Skeltr is "integration"; to create a streamlined communication hub between the user's smart devices and the PC in front of them. Unlike other peripheral companies, Roccat puts in a lot of effort in their software solution.  Whereas most of their competitors think of software as an afterthought, Roccat uses software as an asset to drive home the gamer lifestyle and is more ambitious in its scope of delivering an ecosystem with the hardware, which in turn elevates the hardware beyond just another replaceable peripheral. Everyone has a mobile device and everyone needs a keyboard so the marriage just seems natural to Roccat when it came to creating the Skeltr.
The idea of a premium membrane keyboard is very rare and almost sounds crazy these days with the hype of mechanical backlit keys in full swing. With a retail price of $135.99, the Roccat Skeltr is going for the high-end membrane keyboard market, a segment that many manufacturers have all but abandoned. The last keyboard to dominate in that segment was Logitech's G510S and that was released over three years ago.
[sc:sponsor sponsor="Roccat" product_link="http://www.roccat.org/en-CA/Products/Gaming-Keyboards/Skeltr/" product_name="Skeltr" product_price_link="http://amzn.to/2g8h9XZ" product_price="$135.99″ ]
The Roccat Skeltr is packed in a large measuring 55 x 26.5 x 5.5 cm box with full-color graphics on the front and back. It is quite a feature packed keyboard so there are plenty of text although most of it is relegated at the back with multi-lingual translations. The keyboard layout version is marked on the upper right hand corner of the packaging.
A thicker black box containing the Skeltr keyboard and accessories are inside the full-graphics slip cardboard cover. The keyboard itself is covered in an anti-static bag while the cables and cable accessories are stored on the upper compartment area and detachable wrist-rest is housed on the bottom compartment.
In addition to the wrist-rest, quick-install documentation is provided with Roccat stickers and a disposal information sheet. Cables for the phone TRRS audio and Android charger are bundled as well.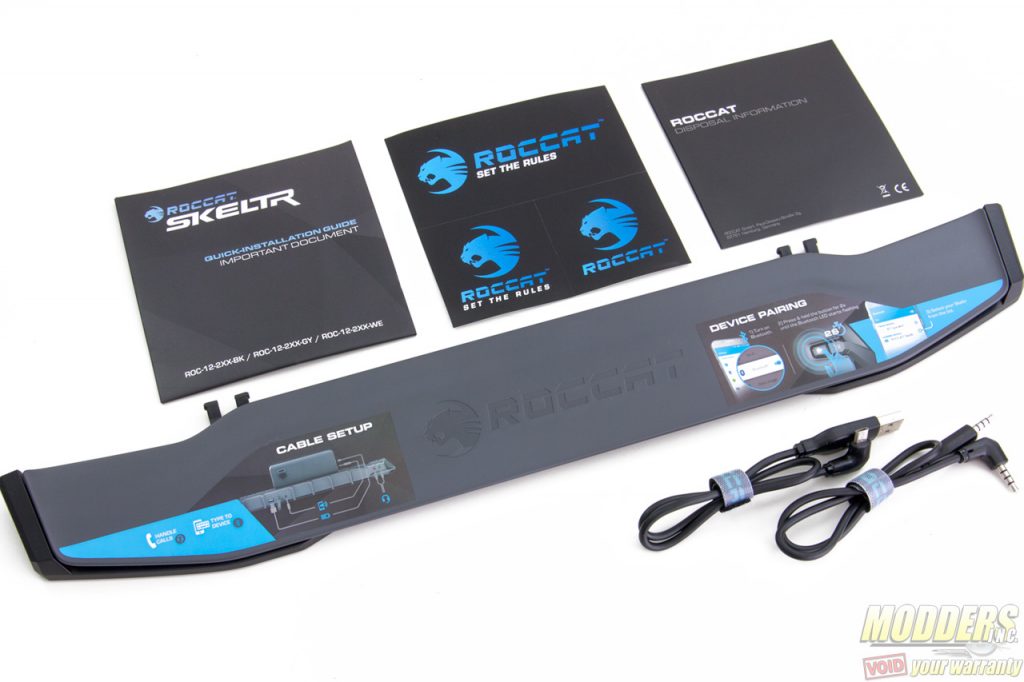 Specifications:
| | |
| --- | --- |
| Key switch | Membrane |
| Macro | 5 programmable dedicated macro keys |
| Extra Keys | 3 programmable thumbster keys |
| Polling Rate | 1000Hz |
| Backlight | Yes, RGB LED |
| Processor | ARM 32-bit |
| Memory | 512kB |
| Palm Rest | Yes, Detachable |
| Audio Passthrough | Yes |
| USB Passthrough | Yes |
| Software | ROCCAT Swarm (download here) |
| OS | Windows 7, 8, 10 |
| Extra Features | Roccat Easy-Shift[+], Roccat Talk, Multimedia Keys, Bluetooth V3.0 |