Keyboards
Thermaltake Level 20 GT RGB Razer Keyboard
Thermaltake Level 20 GT Keyboard
A closer look at the Thermaltake Level 20 GT RGB Keyboard »
Introduction to the Level 20 GT Keyboard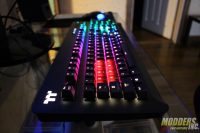 I am, or better yet was one of those people who built a new rig and didn't pay enough attention to my input devices. I spent all this time researching the hardware in my case, and when it came to my mouse and keyboard I bought the cheapest thing possible or "borrowed" them from work (shhh). That is until I got on board with Modders-Inc and got into modern gaming more. Mechanical keyboards always seemed too expensive for me and listening to developers coding apps in C# and hearing every keypress 5 cubicles over while I am on a conference call really made me turn a blind eye to them. I now understand the appeal. Thermaltake sent us one of their Level 20 GT RGB mechanical boards with the Razer Green switches and once I got it onto my desk and starting banging on it I was pretty excited. In fact, I am typing this review on it.
Let's get into it…
Review Sample Provided by: Thermaltake
Product Name/Link to Website: Thermaltake Level 20 GT RGB Razer Gaming Keyboard
Product was given in exchange for work done to produce this review.
Packaging
The packaging front displays the keyboard as well as what type of switches are included (in this case, the Razer Green), and the different connectable applications that are offered. The back highlights the technical specifications and a brief overview of its main features.
Inside the LEvel 20 GT is protected by a foam wrapping as well as denser foam inserts at either side to ensure arrives on your doorstep as intended.
For accessories, included are metallic red keycaps (QWERASDF), a keycap puller, warranty guide, and a user manual.