Page 2 »
The Sapphire HD 4650 adds legs to older PC's that are still running AGP graphics.   Bringing in the newest features that the 4000 series graphics cards offer including cooler running second generation 55nm chips, DirectX 10.1 graphics and HDMI support. The question presented here is can the older AGP systems keep up with today's graphics or is it worth it just to upgrade to PCI-E?
Sponsor: Sapphire
[hr]
First Impression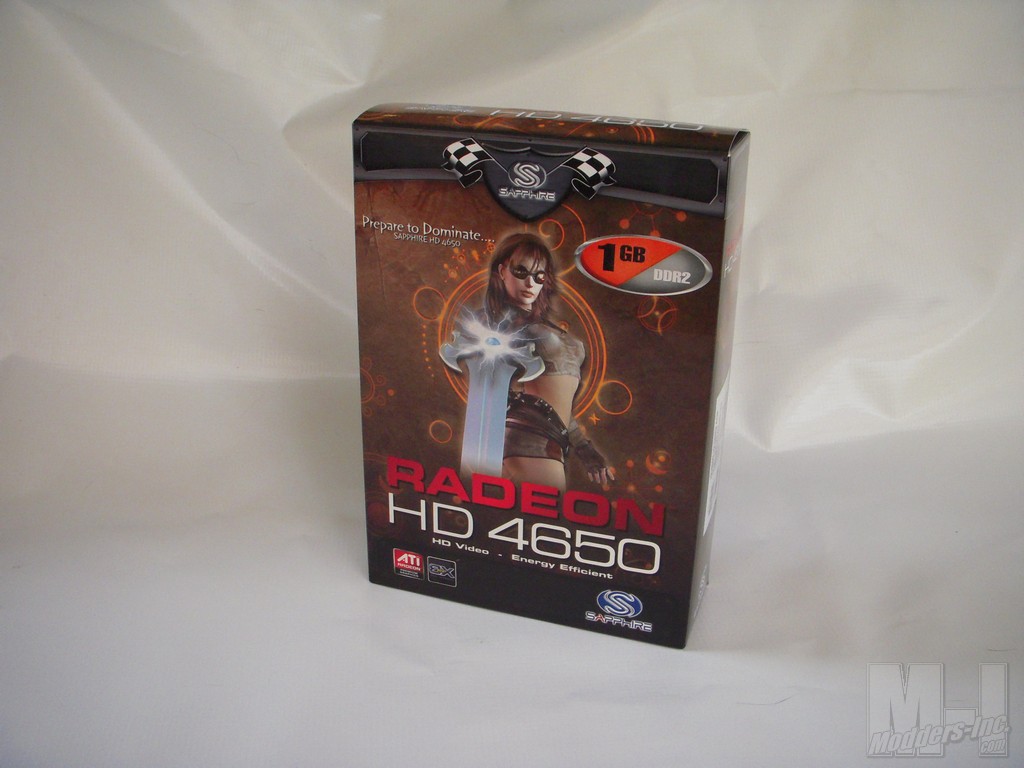 I will be looking at Sapphire's HD 4650 AGP graphics card. Yep, that's right I said AGP. Some of you may have thought this interface was gone with the dinosaurs but it still lives and in fact breaths in many homes. The fact is there are many reasons people still have an old system laying around. Maybe they upgraded and kept the old one or maybe the old one is working just fine for their needs. The fact is they are still around but are slowly fazing out. With the price of a PCI-E systems pretty low these days why would anyone still buy a AGP graphics card? Well, the answers to that are the same as before. Probably the most important of which is because it's cheaper. If you can get by with what you have for an  upgrade for under $100 bucks why not just do that? This is where the 4650 comes in. It's cheap, and according to it's specs it looks very likely that this card might make older systems still able to hang in there with today's games and needs.
  Before we get too much into the details of the graphics performance lets get a general overview of the product. Firstly, the Sapphire HD 4650 AGP comes in a nice small box and from first glance looks almost identical to the box from the HD4650 OC review that I did a while back. The give away is the small black symbol in the bottom left corner that says 8x AGP. The rest as far as graphics goes is the same. On the back and side you will find a nice list of features that this card is capable of. It is Vista capable so DirectX10.1 is on the table providing your older system can handle the abuse that Vista dishes out. I'm assuming it is Win7 compatible too as my other ATI AGP card runs fine under Win7 and this one is more up to date.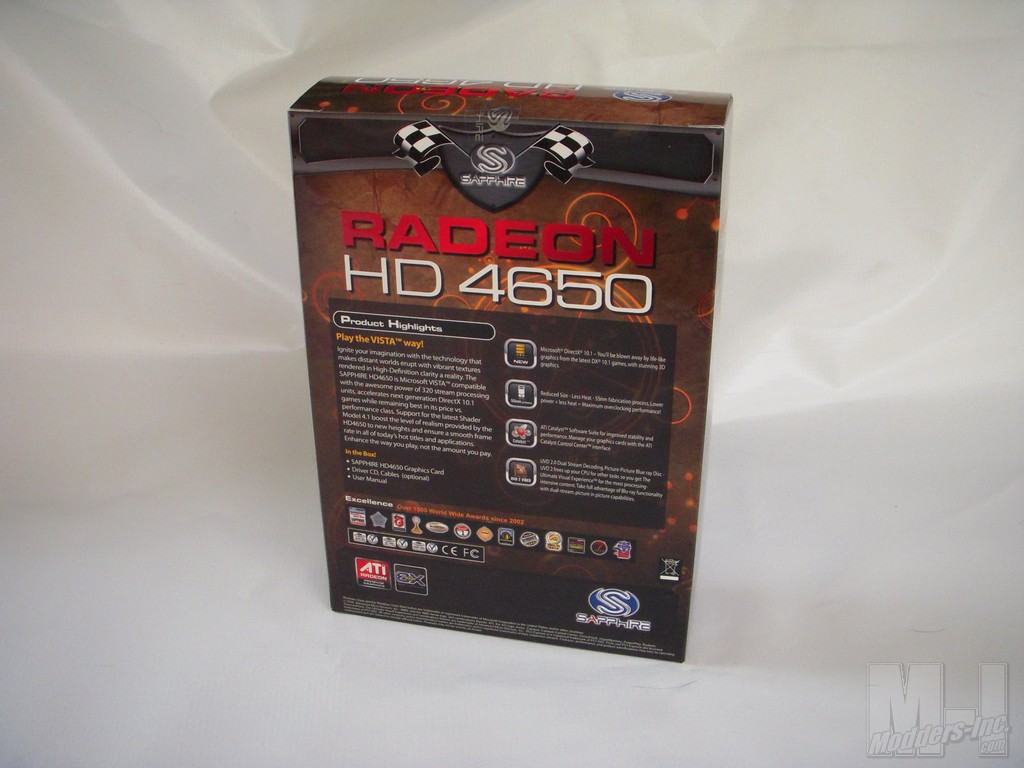 Inside you will find the graphics card nestled inside a cardboard egg crate looking package.   the card is wrapped in an anti-static bag with the accessories loosely placed underneath it. Included inside is a Driver DVD, HDTV cable, power cable adapter, DVI to HDMI adapter, S-video to composite adapter and a DVI to VGA adapter. Not a bad haul and as you can see from the bundle the HD4650 seems like it would pair nicely with a media center setup.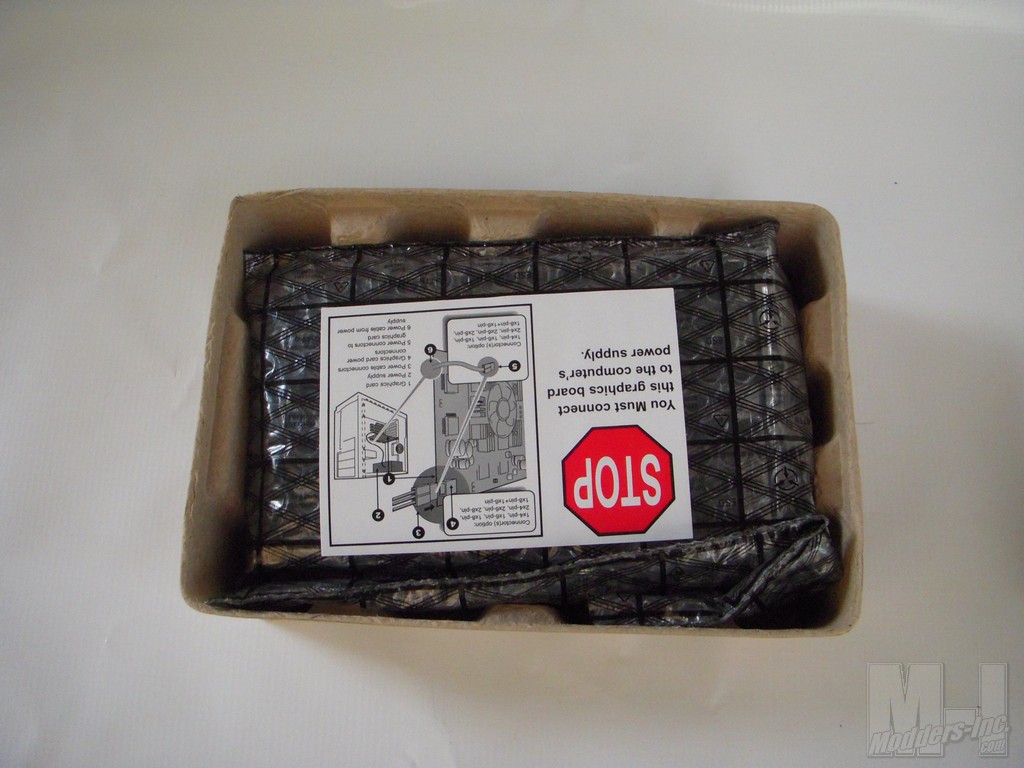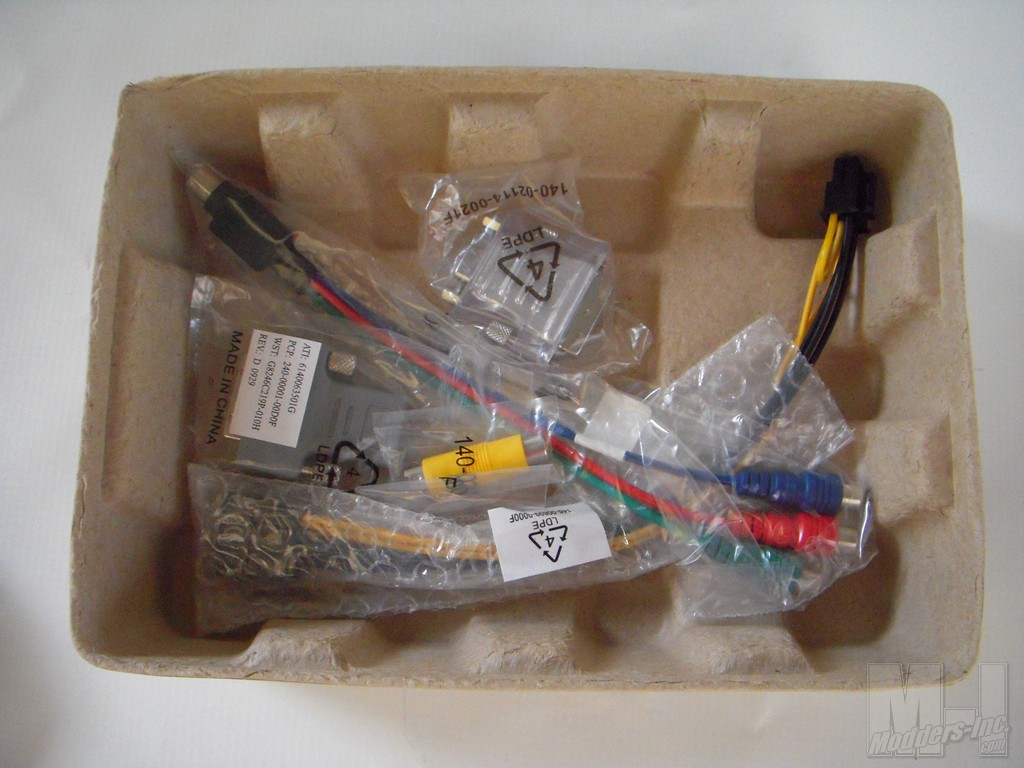 Redefine HD Gaming
320 Stream Processing Units
Enough power to tackle the most demanding HD games and applications.
Microsoft DirectX 10.1
Play today while preparing for tomorrow with state-of-the-art DirectX 10.1 graphics capabilities.
Enhanced Anti-Aliasing (AA) & Anisotropic Filtering (AF)
High performance anisotropic filtering and anti-aliasing (4X AA) smooth jagged edges and create true-to- life graphics, for everything from grass to facial features.
Go Beyond HD Video
Unified Video Decoder 2 (UVD 2)
UVD 2 frees up your CPU for other tasks so you get The Ultimate Visual Experience™ for the most processing- intensive content. Take full advantage of Blu-ray functionality with dual-stream, picture in picture capabilities.
 Accelerated Video Transcoding(AVT)
Edit and transfer your videos to a portable video player with new Accelerated Video Transcoding (AVT) technology.*
Upscale Beyond 1080p
Watch the hottest Blu-ray movies or other HD content at full 1080p display resolution and beyond.**
Enhanced DVD Upscaling, Watch standard DVD movies in near high-definition quality with DVD upscaling. The GPU uses post processing algorithms to enhance standard and low resolution videos and movies on your HD display.
Dynamic Contrast, Dynamic Contrast automatically adjusts the contrast and brightness during scenes to consistently deliver a crisp, vibrant picture.
* Some digital rights management restrictions may apply
** The ATI Radeon HD 4600 Series GPUs can upscale video display to 2560×1600 on dual-link monitors which is almost twice the display resolution of 1080p displays.
Break-through Efficiency
Dynamic Power Management
ATI Radeon HD 4600 Series graphics cards feature ATI PowerPlay™ technology, delivering high performance when needed and conserving power when the demand on the graphics processor is low.*
More Performance Per Watt, ATI Radeon HD 4600 series deliver up to 3x the performance per watt of AMD's previous generation GPUs.
Energy Efficient Manufacturing Process
Second generation 55nm chip uses the industry"s most energy efficient manufacturing process.
* ATI PowerPlay™ technology consists of numerous power saving features. Not all features may be available in all ATI Radeon HD 4600 Series graphics cards.
Specifications:
ASIC:
Radeon HD 4650
Bus Interface:
AGP 8X / 4X
Memory:
DDR2 1024MB / 128bit
Clock Speed:
600 Eclk / 400MHz Mclk
Cooling System:
Single slot active cooler
Bracket:
Full Height
Current (A):
0.23
Display Support:
2x DL – DVI-I/HDTV-Out
VGA (via adapter)
HDMI (DVI to HDMI adapter), video signal only
HDCP:
Yes
External Power:
1 x 6 Pin power connector
Standard Accessories:
HDTV Out Cable adapter x 1
S-Video to Composite adapter x 1
6 pin to 4 pin power adapter x 1
DVI to HDMI adapter x 1
DVI to VGA adapter x 1
System Requirements
AGP based PC is required with one 4X/8X AGP slot available on the motherboard
400 Watt or greater power supply is recommended with one 6 pin power connector
Certified power supplies are recommended. Refer to for a list of Certified products
1GB of system memory recommended
Installation software requires CD-ROM drive
DVD playback requires DVD drive
Blu-ray playback requires Blu-ray drive and full 1080p display requires a 1080p-capable monitor