Page 2 »
Summer is quickly coming to an end and with it we will be looking at some cool concepts by the one and only Icy Dock. When it comes to Internal Docking systems Icy Dock has what you need with a wide variety of options. During this review we will be looking at the Icy Dock EZ-Fit Pro Dual 2.5″ to 3.5″ 

Hard Drive

 & SSD Bracket. Now that's a bit of a mouthful but let us take a look at this interesting twist on a fairly simple product.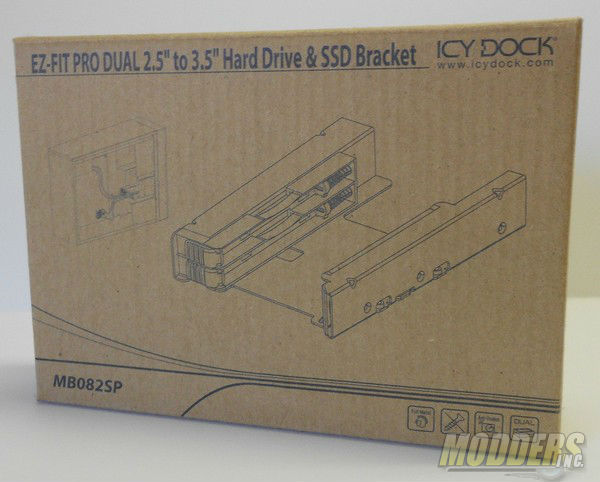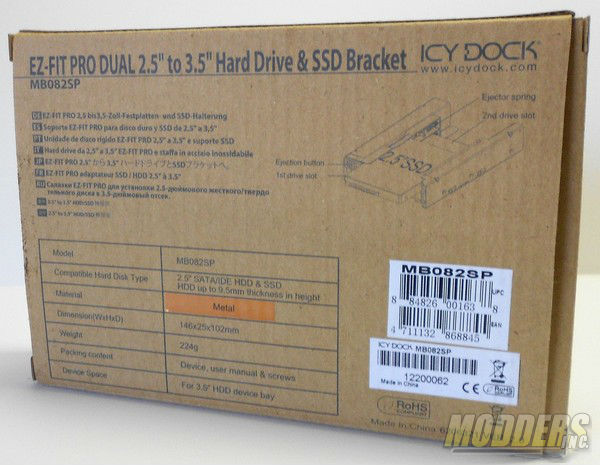 The EZ-Fit Pro comes in a fairly plainly packaged brown box with a line drawing of the dock on  the outside. The box does however display most anything you would like to know about the product.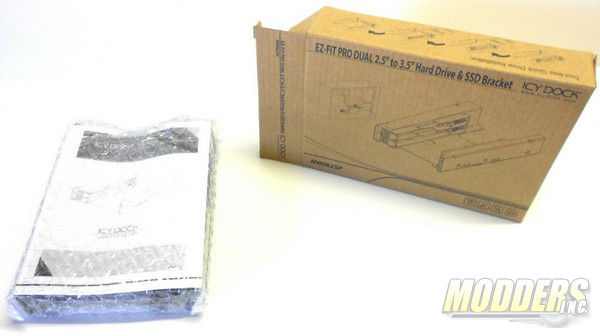 Inside the package you are supplied with the Dock, Hardware, and Install Guild. The dock itself comes wrapped in a nice amount of protective bubble wrap.
Features: 
*EZ-Lock mechanism for tool-less drive installation
* Heavy Duty Full metal construction with matte black finish
* Fits 2 x 2.5" SSD/HDD into one 3.5" device bay
* Compatible with SSD or hard drives up to 9.5mm height
* Anti-Vibration design for improved reliability
* Universally designed screw placement for maximum compatibility
Specifications:

MB082SP

Color :

Black

Compatible Drive Type :

2.5″ SATA/IDE HDD & SSD
HDD up to 9.5mm thickness in height

Device Fit :

Internal 3.5″ device bay

Support HDD Capacity :

No Limitation

Structure :

Metal

Dimension (L x W x H) :

146 x 102 x 25mm

Weight :

244g