Page 2 »
We will be taking a look at one of the newest graphic cards from AMD and Sapphire, the HD 6850. This card has the second generation of GPU in it, code name Bart, which will be driving the next series of video games to the limit. With a lower price than the current 5850 cards will this card be worth the upgrade? Read farther as we drag the Sapphire HD 6850 through the benchmarking trenches.

Sponsor: Sapphire
[hr]
First Look and Information
The SAPPHIRE HD 6800 series of video cards feature the second generation of graphics technology from AMD which is designed to support all the features of Microsoft DirectX 11 and DirectCompute 11. The new GPU's are built in AMD's 40nm process to deliver high performance with a low power consumption. Advanced hardware features include a enhanced Tessellation unit, dedicated HDR Texture compression, multi-threaded communication with system CPU cores, embedded support for many of the DirectCompute 11 instructions, 3D stereoscopic support and HDMI 1.4a. This new GPU pretty much has everything you could ask for.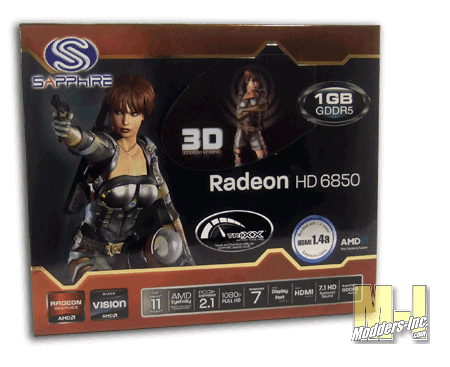 The media sample that we were given has a slightly different box from a second sample we received, which is probably a retail box. Our box came with a sticker that displayed that the new overclocking tool is available, but our second box did not display that. I do believe that it will be available for the retail version but the version we got was a beta tool. The new box is a nice color change from the last few that we reviewed and like always Sapphire has ALL the information you need to learn about this new card.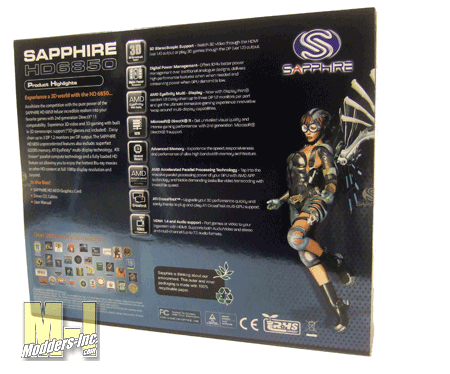 Did I see something on the box? Well this is a first for me! I have not seen on previous boxes anything about 3D and the 6850 proudly displays it.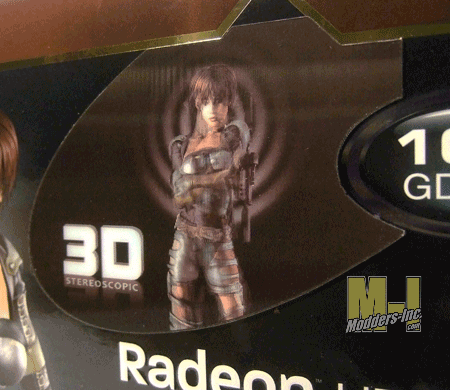 | | |
| --- | --- |
| |  Enjoy the most immerse experience possible with full support for High Definition Stereoscopic 3D, a technique that presents 2D images (movies, games, photos) in a format that creates the illusion of three-dimensional depth when using compatible 3D displays / glasses / software.  |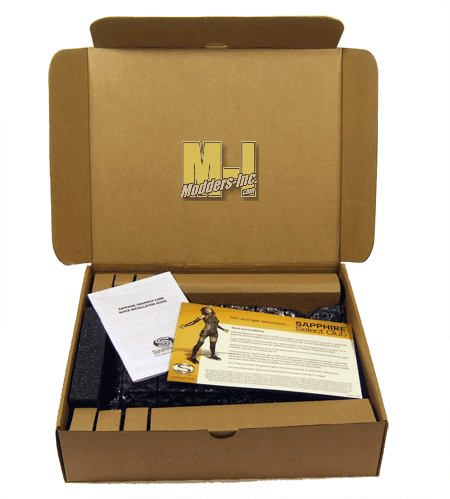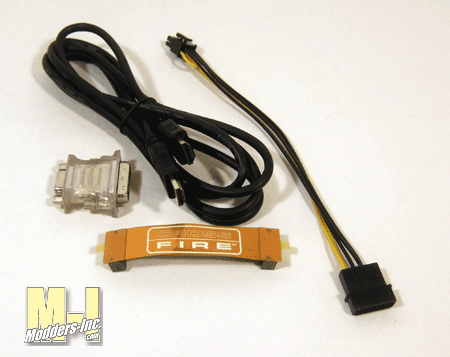 Included in the box is the Driver CD, CrossFire Bridge, VGA-DVI adapter, a molex to six pin power adapter, and a 1.4 HDMI cable. Like always Sapphire makes sure you get everything you need and more to connect your card to your display.
Specification
Output
1 x Dual-Link DVI
1 x HDMI 1.4a
1 x DisplayPort
1 x Single-Link DVI-D
GPU
775 MHz Core Clock
40 nm Chip
960 x Stream Processors
Memory
1024 MB Size
256 -bit GDDR5
4000 MHz Effective
Software
Driver CD
SAPPHIRE TriXX Utility
Accessory
1 CrossFire™ Bridge Interconnect Cable
D-Sub Adapter
6 PIN to 4 PIN Power Cable
HDMI 1.4a high speed 1.8 meter cable(Full Retail SKU only)
System Requirements
PCI Express® based PC is required with one X16 lane graphics slot available on the motherboard.
500 Watt Power Supply is required.
1 X 75Watt 6-pin PCI Express power connector is required.
2 X 75 Watt 6-pin PCI Express power connector is required for CrossFireX™ system.
Certified power supplies are recommended. Refer to for a list of Certified products.
1024 MB Minimum of system memory.
Installation software requires CD-ROM drive.
DVD playback requires DVD drive.
Blu-ray™ / HD DVD playback requires Blu-ray / HD DVD drive.
For an ATI CrossFireX™ system, a second same ATI Radeon™ graphics card, an ATI CrossFireX™ Ready motherboard and one ATI CrossFireX Bridge Interconnect cable per graphics card (optional) are required.
To support 3 displays, one of the monitors has to support DisplayPort.